Brinjal Gravy for Biryani | Muslim Style Brinjal Gravy for Biryani (VIDEO)
January 22, 2018
Aloo Gobi Paratha
January 23, 2018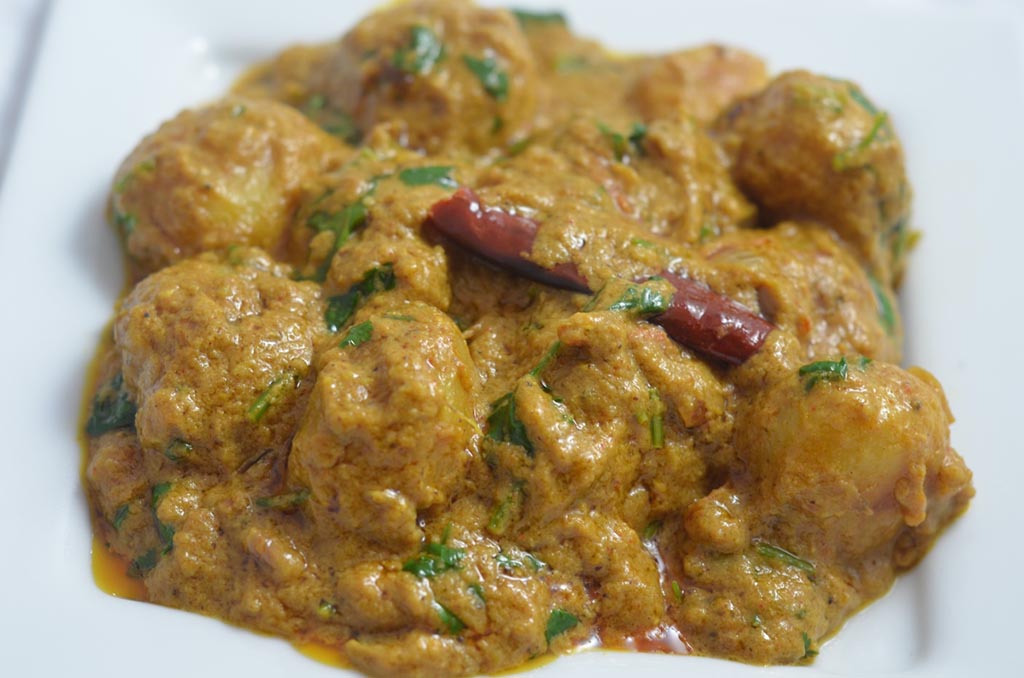 Aloo Dum is made with small potatoes, which are shallow fried and added with smooth creamy gravy. This lip-smacking recipe goes well with Rotis, Nann, Pulao or Jeera Rice.
Ingredients
10 Numbers Baby Potatoes
1 Onion, finely chopped
1 Tomato, finely chopped
2 Tablespoon Ginger Garlic Paste
1 Teaspoon Turmeric
2 Tablespoon Chilli Powder
1 Tablespoon Garam Masala
2 Tablespoon Coriander powder
½ cup Yogurt
Oil
Salt, to taste
To roast and grind

1 onion, roughly chopped
1 Teaspoon Cumin
1 Teaspoon Fennel Seeds
1 small Cinnamon
3 Cloves
10 cashews
To temper

1 Red Chilli
1 Bay Leaf
Oil
Method
For Baby Potatoes

Cook baby potatoes and remove the skin.
Heat oil in a pan, shallow fry the cook and peeled baby potatoes.
Once potatoes are shallow fried, remove from oil and keep it aside.
For Onion Cashew paste

Heat oil in the same pan, add roughly chopped onion, cumin, fennel seeds, cinnamon, cloves and cashews. Fry for 5 minutes on medium heat.
Remove from heat and set aside to cool. Once cooled grind it to fine paste by adding very little water.
For Gravy

Heat oil in a pan, add red chilli, bay leaf and finely chopped onion and fry till transparent.
Add ginger garlic paste and ground paste and fry for 3 minutes.
Then add chopped tomatoes and salt and cook the mixture till the oil separates from the curry.
Now add yogurt and mix well with the gravy.
Once yogurt is mixed well add fried potatoes and add little water and cook for about 5 minutes.
Garnish with coriander leaves.
Serve Aloo Dum with Rotis, Naan or Veg Pulao.
Tips and Variation:

Shallow fry or deep fry gives nice texture to the potatoes.
http://www.shadesofkitchen.com/aloo-dum/
Serve with Love