Chicken Manchurian | Indo Chinese Chicken Manchurian (VIDEO)
November 27, 2017

Ambur Chicken Biryani | How to make Ambur Chicken Biryani (VIDEO)
November 27, 2017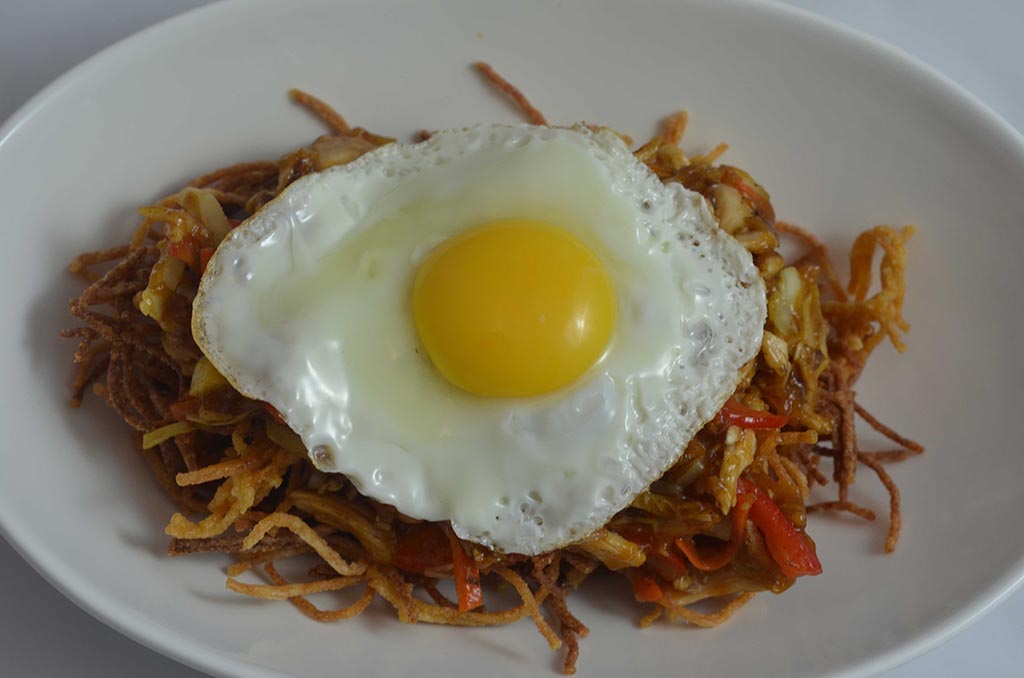 American Chop Suey is a pasta dish made with Macaroni and Beef but in Indo Chinese way it is served with crispy noodles, crunchy vegetable, chicken, tangy sauce and egg. You can find this dish in most of the Indian Restaurant.  This is the easy way to feed vegetables to kids. Chop Suey is one of my favorite dishes and had no clue how they prepare until my Sister in law (Ramya) introduced me to this recipe.
Ingredients
200 gms of Noodles, boiled
100 gms of Chicken (cooked and shredded)
1 or 2 Medium size Egg
1 cup of Carrot, julienned
1 Bell Pepper
1 cup of shredded Cabbage
½ cup sliced Onions
2 cloves of Garlic, finely chopped
Oil for cooking
Salt and Pepper, to taste
For Sauce

2 Tablespoon of Cornflour
1 Tablespoon of Soya sauce ( Dark or Light)
2 Tablespoon of Tomato Ketchup
1 Teaspoon of Vinegar
Salt, to taste
Method
Cook the noodles according to the package instructions and deep fry them on medium till they are brown and crispy.
Fry the noodles in batches.
Combine the corn flour, soya sauce, tomato ketchup, vinegar and salt with 1 cup of water in a deep bowl, mix well and keep aside.
Heat the oil in a non-stick pan, add the onions and sauté on a medium flame for 1 minute.
Then add the carrot, bell pepper and cabbage and sauté on a medium flame for 2 to 3 minutes.
Add in cooked chicken with the vegetables and cook for 30 seconds.
Now add the sauce mixture (Point No 3) with the vegetable and chicken mixture, cook till the sauce thickens.
Now crispy noodles and tangy sauce is ready.
Prepare sunny side up with 1 or 2 medium size eggs. Once egg is cooked, remove and keep aside.
How to assemble the Chop Suey

Place one portion of crispy noodles on a serving dish and top it up with the tangy sauce (vegetables and chicken) evenly over it. Finally, place the sunny side up egg on the top of the sauce and serve. To retain the crispiness of noodles serve immediately after assembling.
http://www.shadesofkitchen.com/american-chop-suey/
Note: Mix everything well before you eat.
Recipe Credit: Thank you Ramya for sharing the recipe.
Serve with love