Dindigul Mutton Biryani is one of the famous biryanis in South India. We add a hand made biryani masala, which gives a good flavor to the biryani. Make this Biryani using Seeraga samba rice to get the real taste. To prepare thalappakatti biryani in a restaurant-style at home, watch my video. In this video, I have prepared the delicious biryani easily at home.
I have used jeera samba rice, this will naturally enhance the flavor and taste of biryani but if you don't have this rice then use basmati rice. Also, I have used lamb here, you can also use mutton but you have to cook for 6 to 7 whistles so that it cooks well. Any party or function is made complete with a biryani. Make your guests happy and satisfied in attending your party with homemade thalappakatti biryani.
Once you do this at your home and everyone in your family will turn to be a fan of your cooking. There are several types of biryani and thalappakatti is one of the special biryani among the other special recipes. You can serve this biryani with raita or thalappakatti gravy which will make your biryani taste too good. Try once and let me know your comments. Also, if you want the cooking method of any other recipes you can comment on me, and I will post that video for your kind perusal.
Here we use hand-made biryani powder. Don't use any store-bought powder because this biryani powder which we make is the main ingredient for this recipe. We get more hand-made powder when we use the below-mentioned quantity but use only 2 tbsp for the biryani for the measurements I have shown. Remaining powder, you can store them in the air-tight container and use it for any mutton or chicken curry.
Check out the recipe video here:
Detailed Recipe:
Take the below-mentioned ingredients in a blender and grind it to a smooth powder. You don't have to roast the ingredients before grinding. Once you made it, keep it aside. Let's move on to the next step.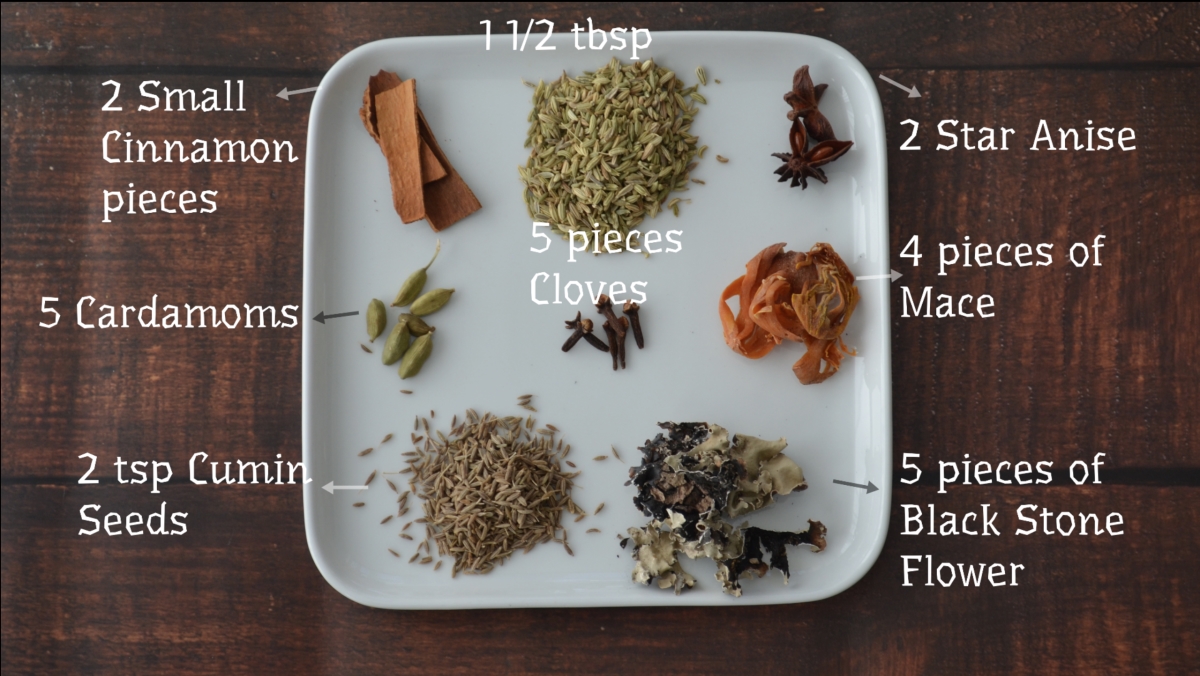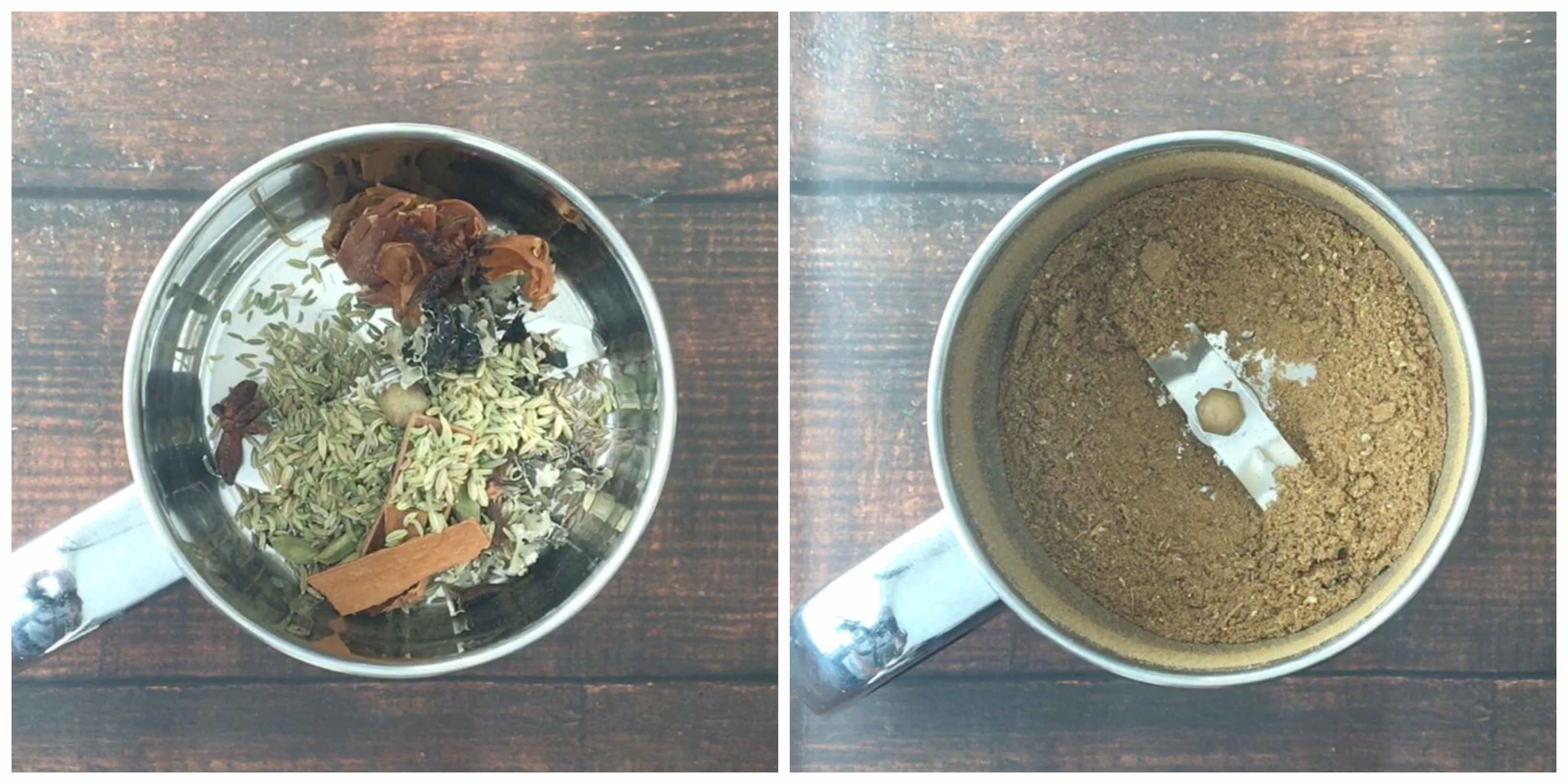 Now, take 2 big onions, 4 green chillies (you can add more if you prefer more spicy), and add 2 tbsp ginger garlic paste. Take everything in a blender and ground it to a smooth paste without adding water.
Note: If you prefer adding fresh ginger and garlic, then take 7 to 8 garlic cloves and 2 small pieces of ginger instead of ginger garlic paste.

Make a smooth paste of onions, green chillies, and ginger garlic paste and keep it aside.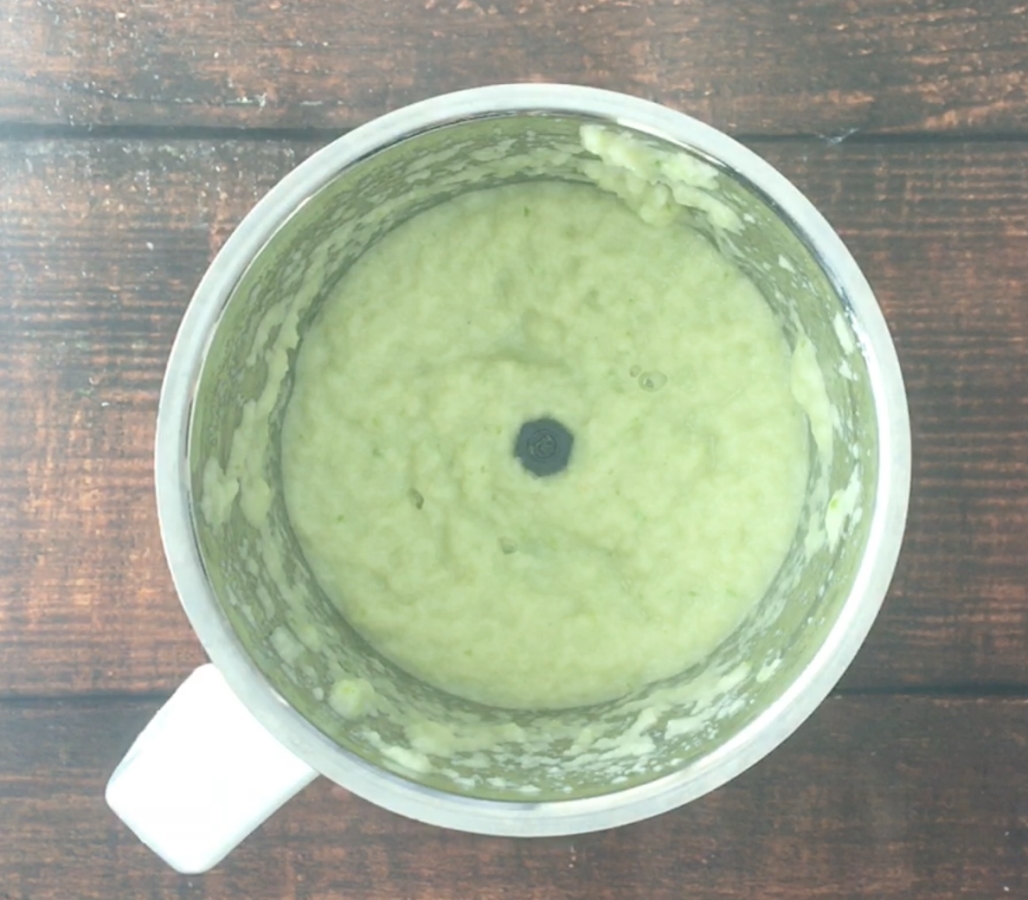 The next process is to cook the mutton/lamb. Take 800 gms of mutton, 1 tsp turmeric, salt to taste and add 1 cup water and cook for 2 whistles in the pressure cooker.
Note: If you are using mutton then cook for 6 to 7 whistles. Lamb cooks faster than mutton.

Once you cook the lamb in the pressure cooker, you get lamb stock. We will use that stock to cook biryani and if you have more stock then you can reserve them to cook thalappakatti mutton curry which goes excellent with this biryani. Check out the curry recipe here.

Now let's start making the biryani. Take a big pan, add 150 ml of oil, add 1 bay leaf. We have made hand-made biryani powder which gives more flavour so we are adding very little whole spices here.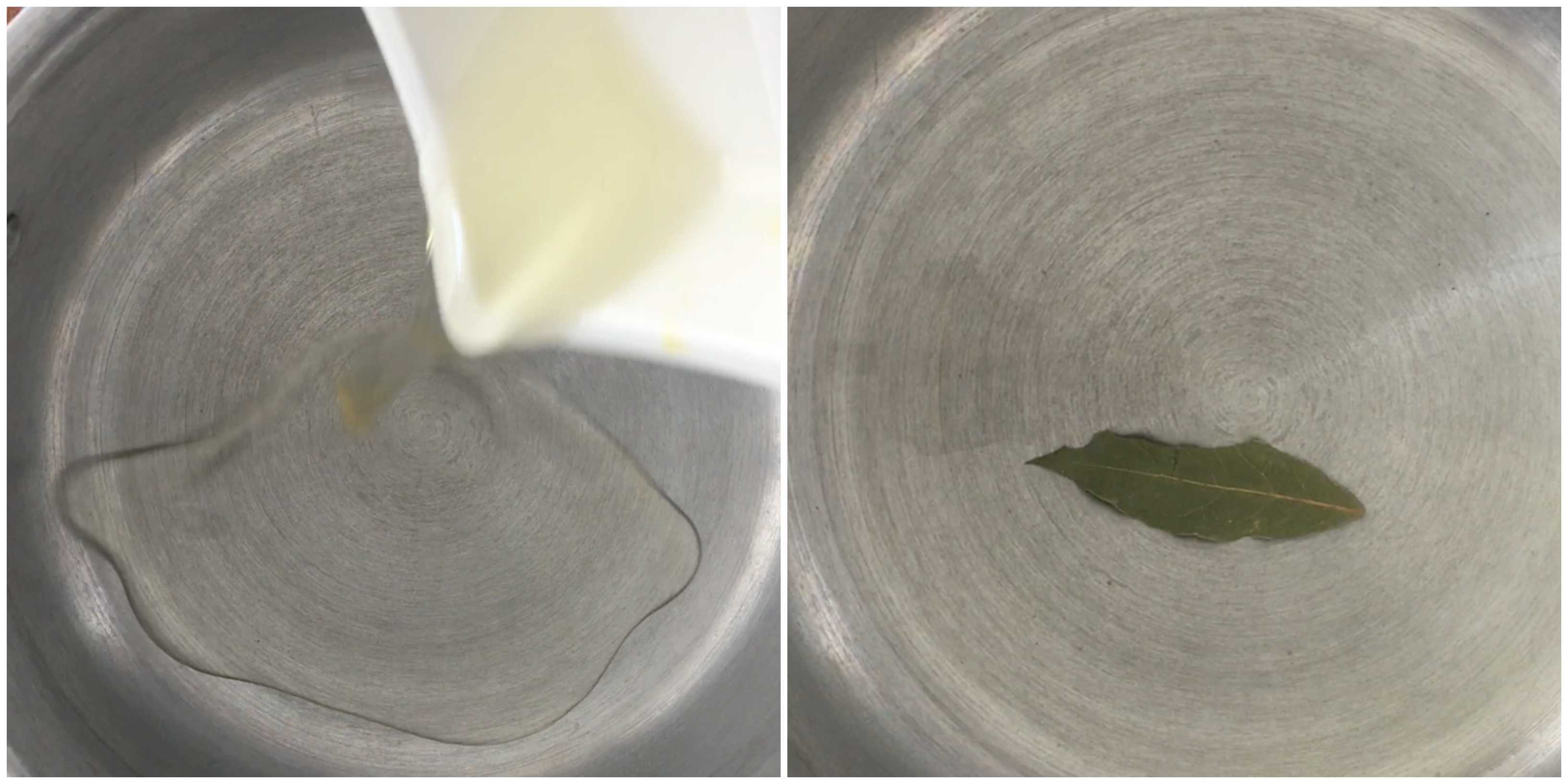 Then add 2 to 3 cardamoms and few cloves and saute them. Then add grounded onion paste and saute well in the oil for 8 to 10 minutes till we remove the raw smell completely from the masala.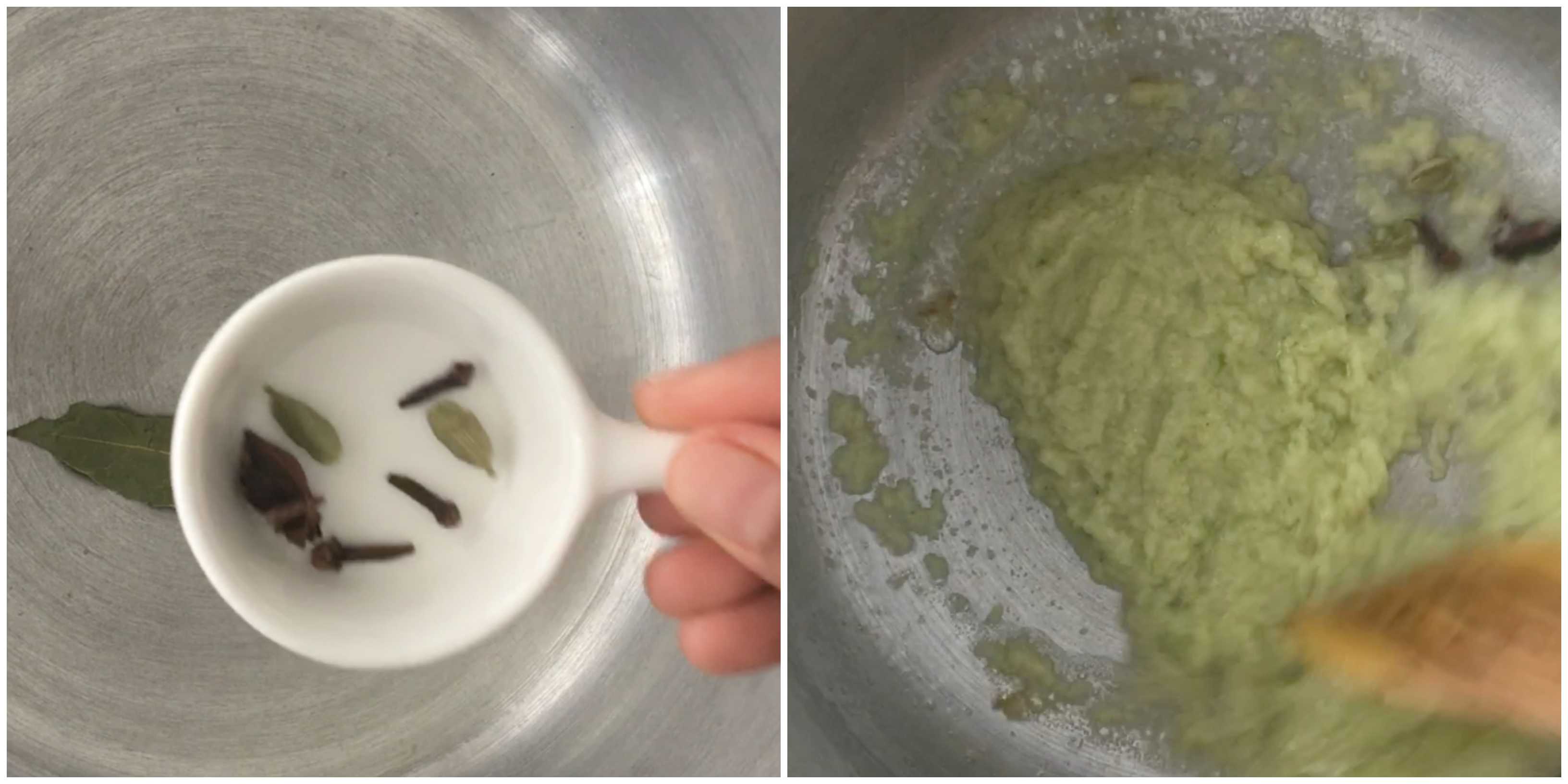 Masala is cooked well in the oil, Now add 1 tbsp chilli powder (I have added kashmiri chilli powder). In thalappakatti mutton biryani, we use both green chillies and chilli powder. You can adjust the chilli powder according to your preference.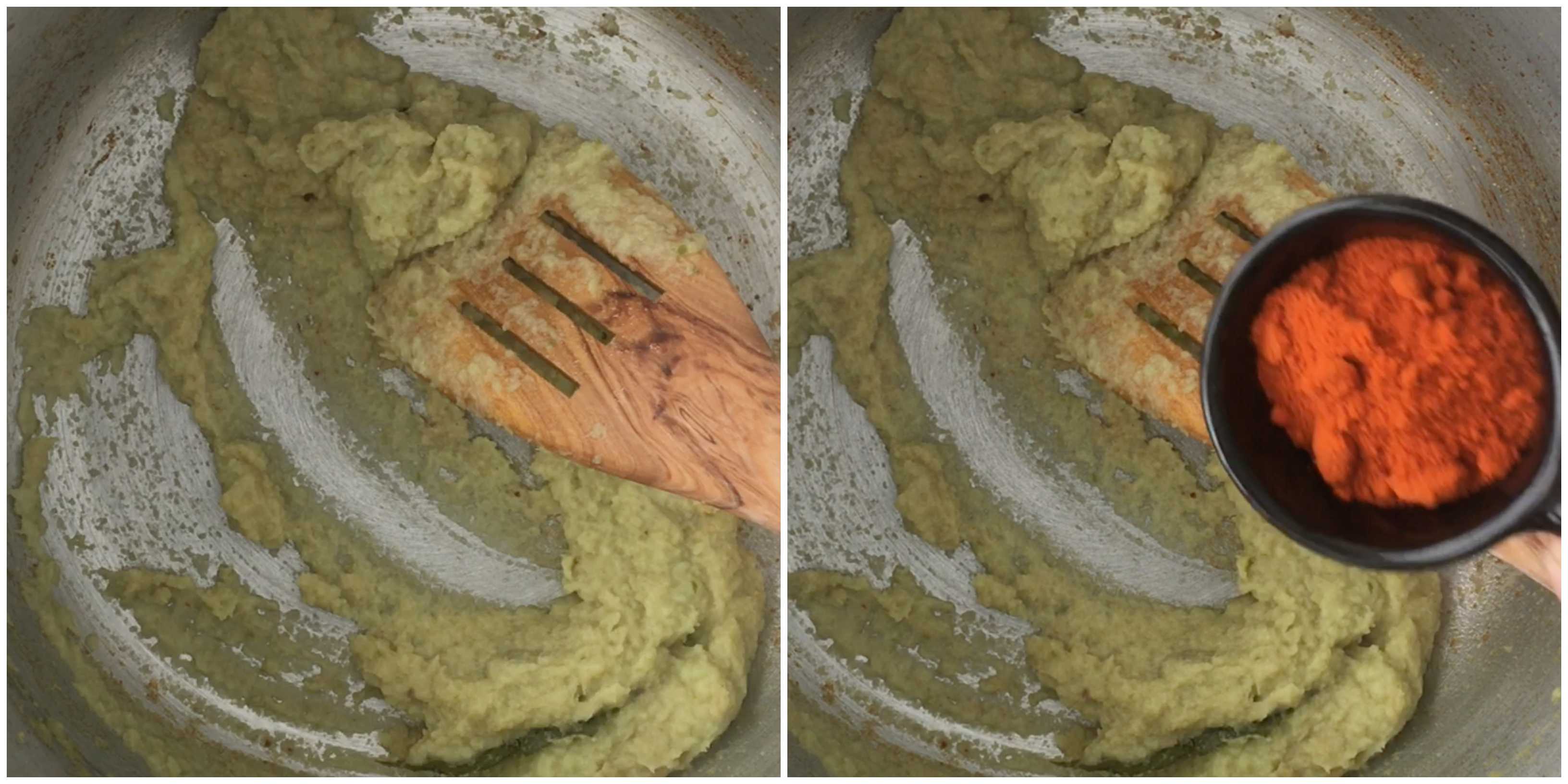 Now, add 1 tsp pepper powder and some salt to taste.
Note: We have already added salt while we cooked lamb/mutton so adjust accordingly.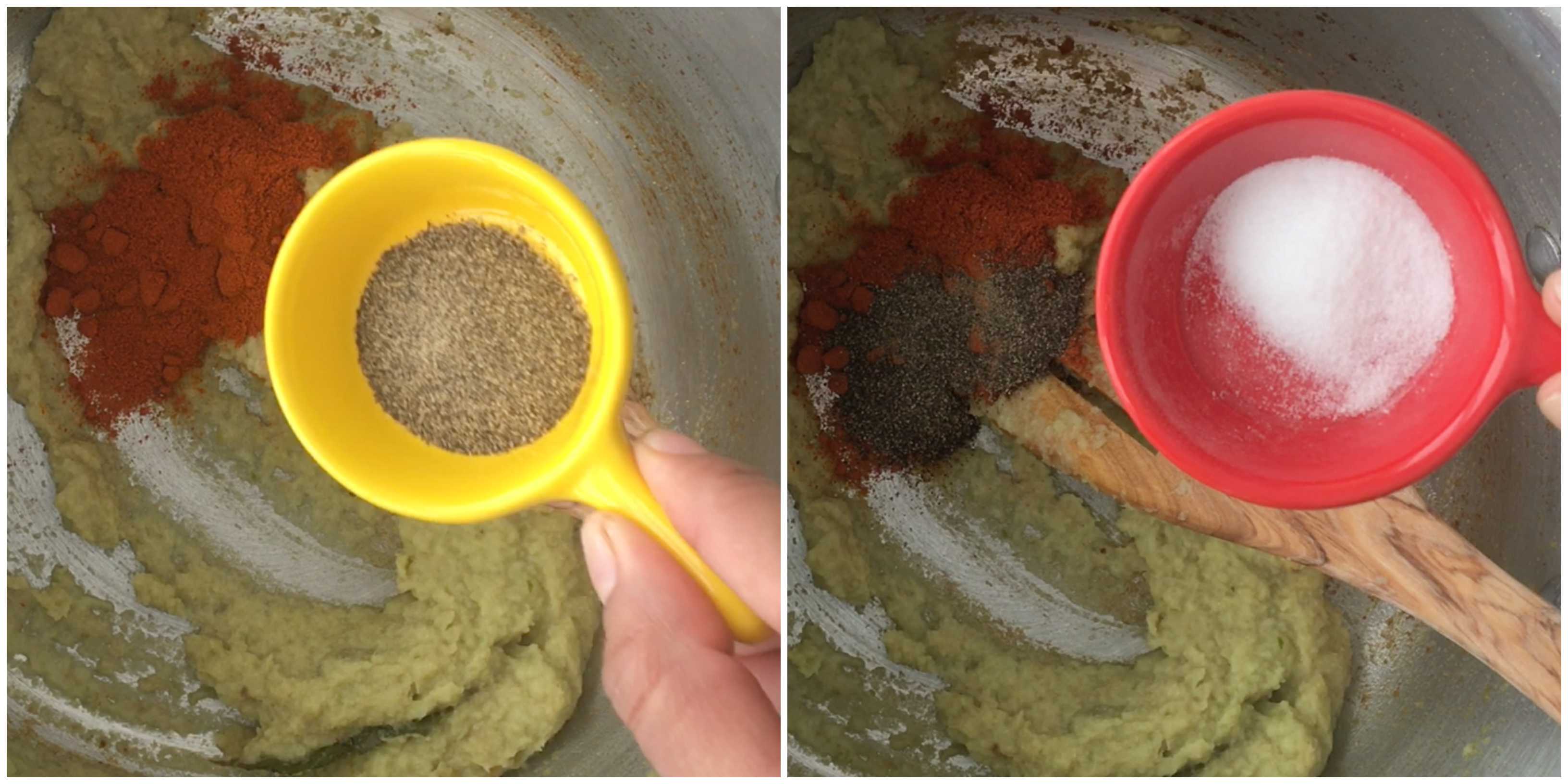 Now add 2 tbsp from our hand-made biryani powder and mix everything well. Add little water to avoid burning.
Note: You can even add 1/4 cup yogurt at the stage, I didn't add in my biryani this time.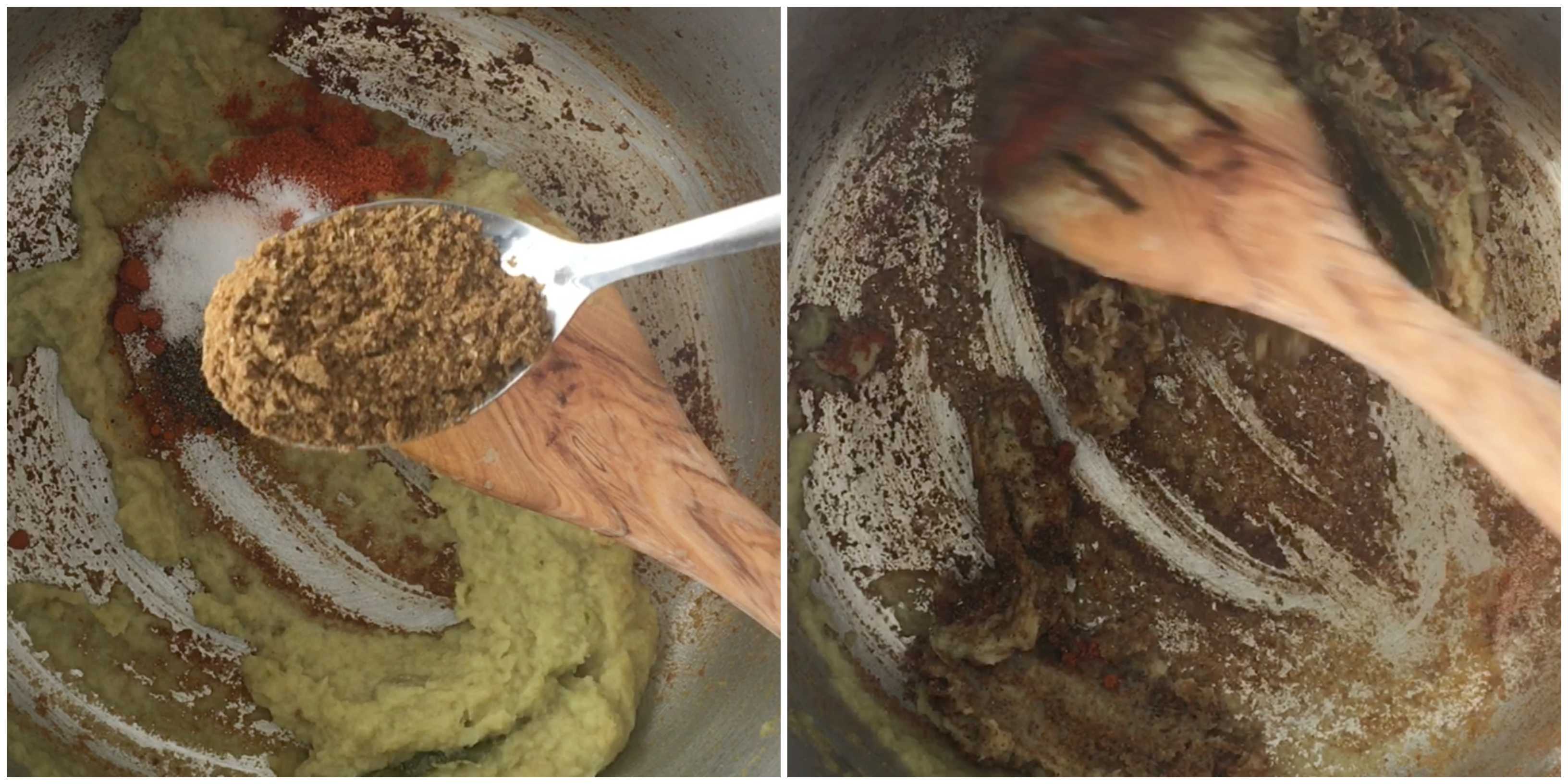 Once all the ingredients are combined well, add our cooked lamb/mutton. Don't add the stock now.
Note: If you don't have enough stock to cook the rice then add some water but stock gives more taste.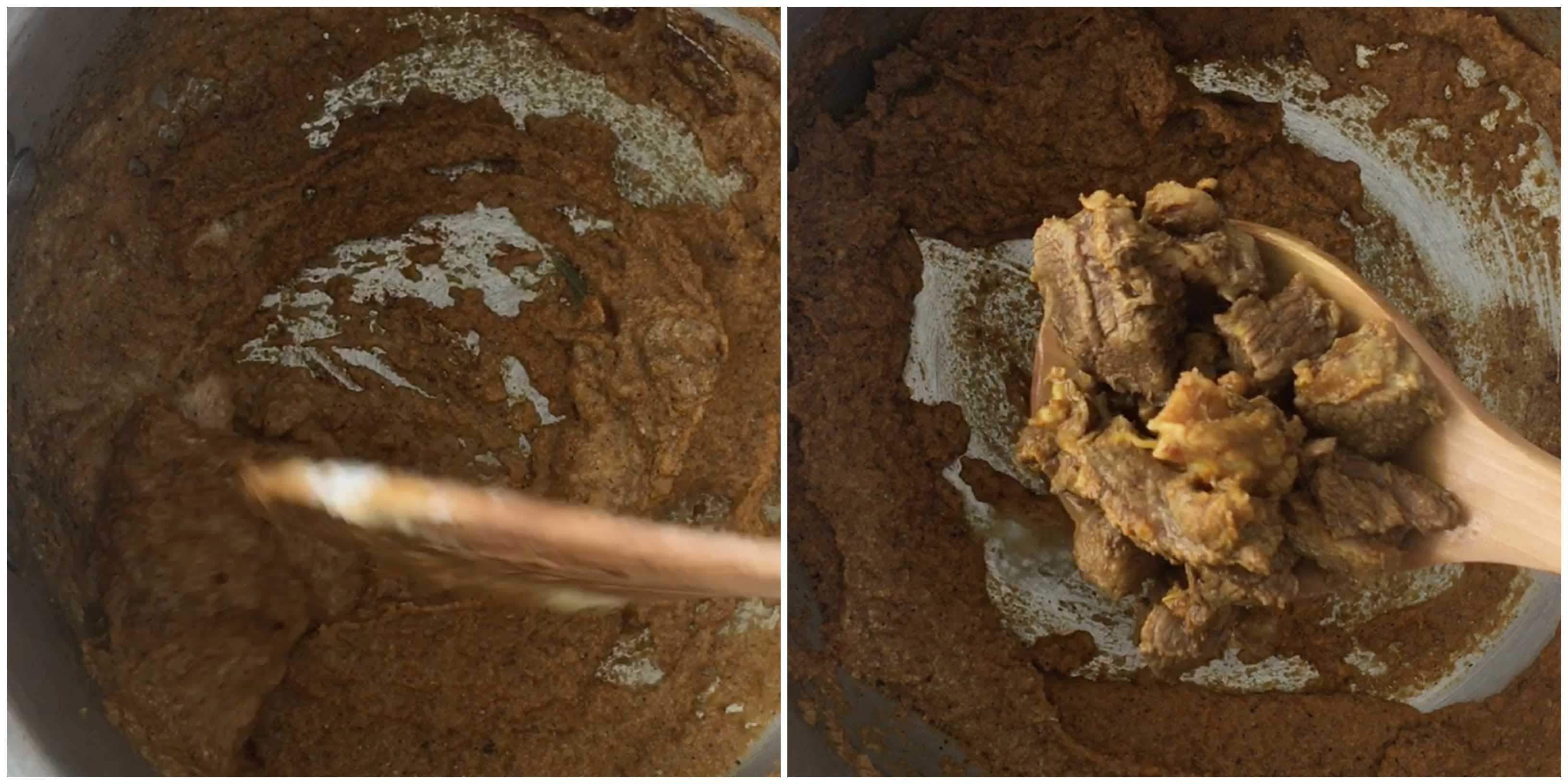 Mix the lamb/mutton pieces well with the masala and now add the lamb stock. I have taken 2 1/2 cups of Jeera samba rice (seeraga samba) so adding 2 1/2 cup stock (if you have less stock then add some water). I always add water and rice in the equal ratio and it works perfectly but if you think your rice needs more water then add extra water/stock.
Note: I have washed and soaked Jeeraga samba for 30 minutes.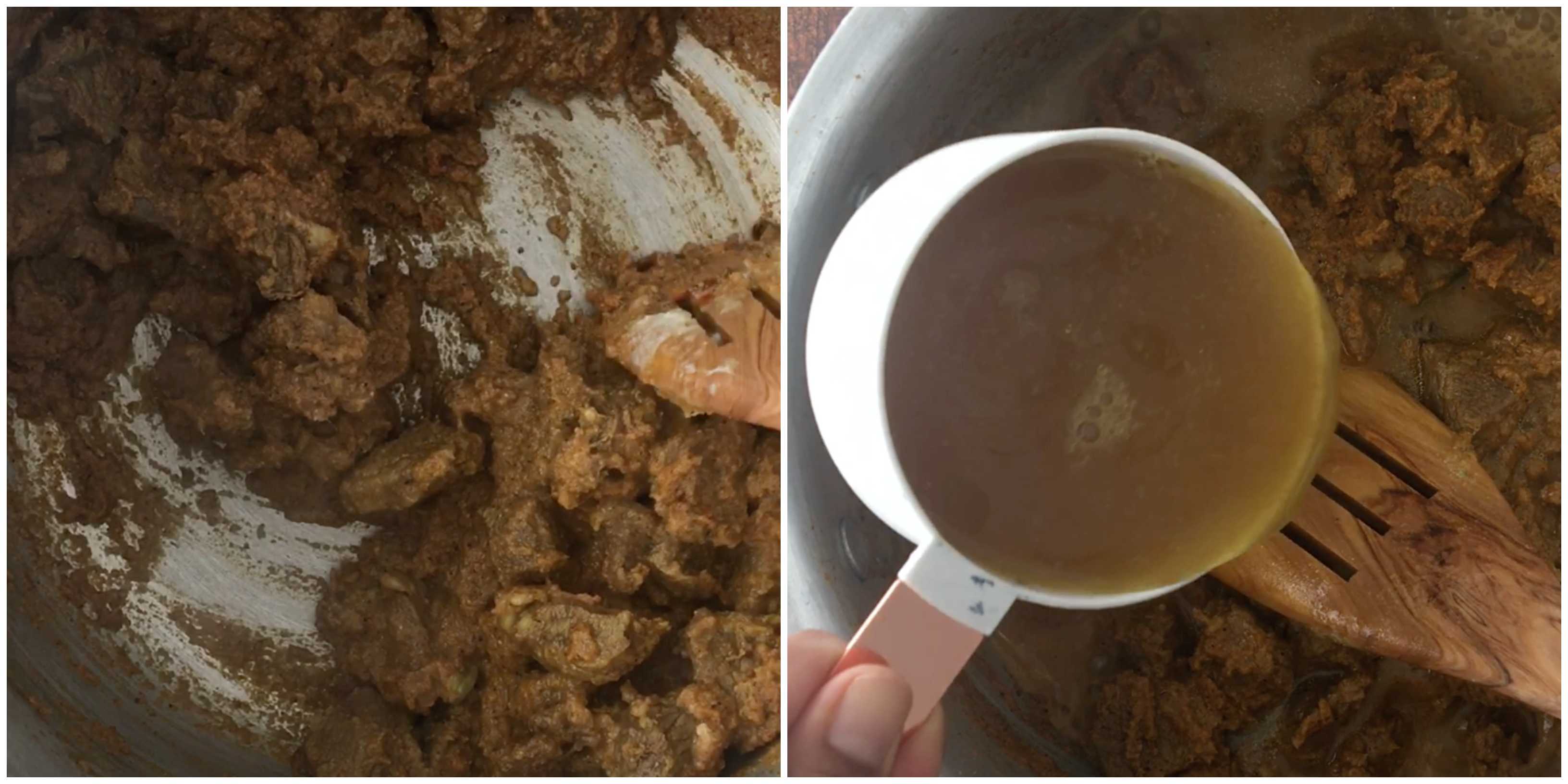 Now mix the stock well with everything and cover and cook for 4 to 5 minutes.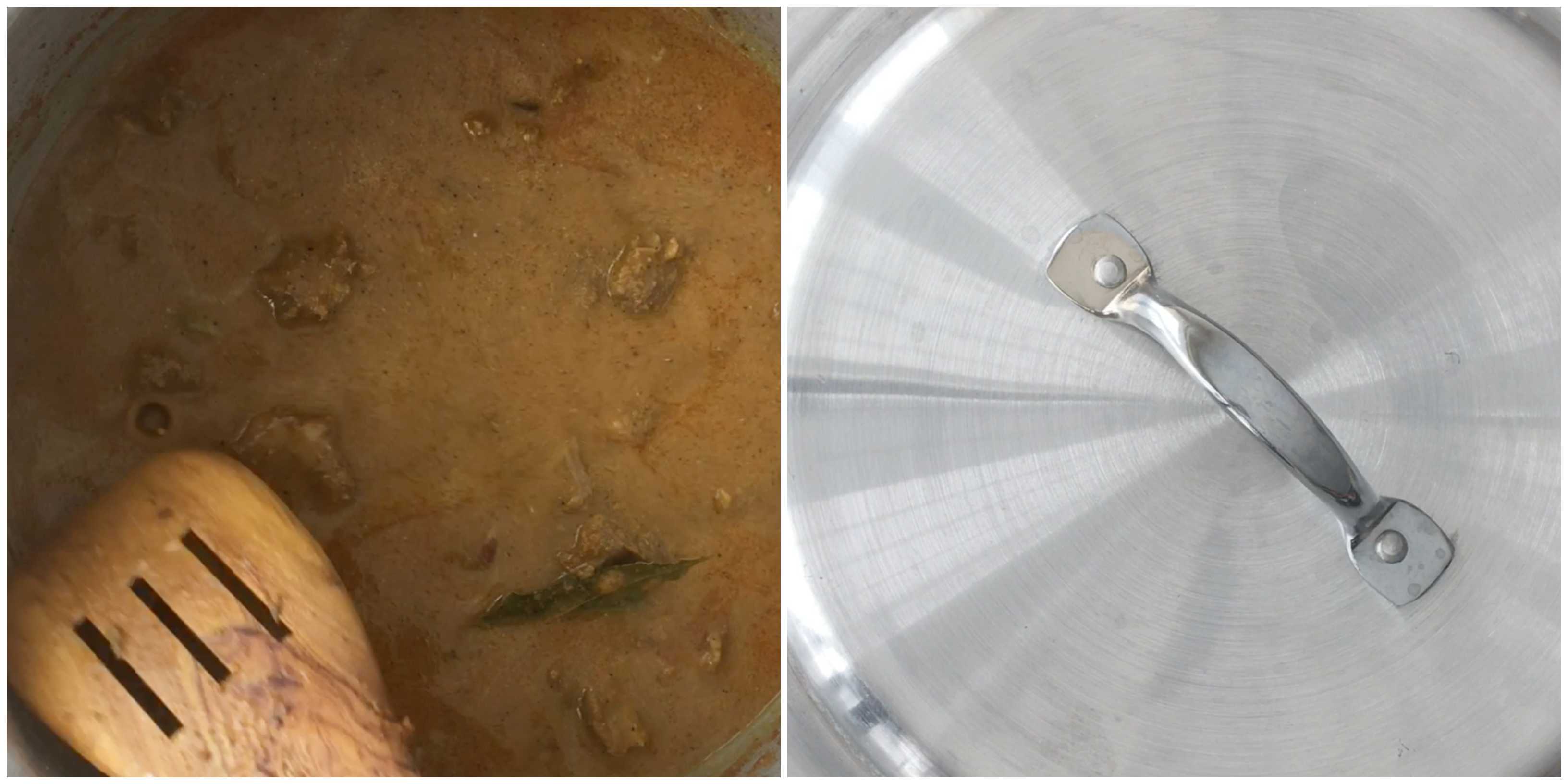 Once the water boils, add 1/2 cup coriander leaves and mix well.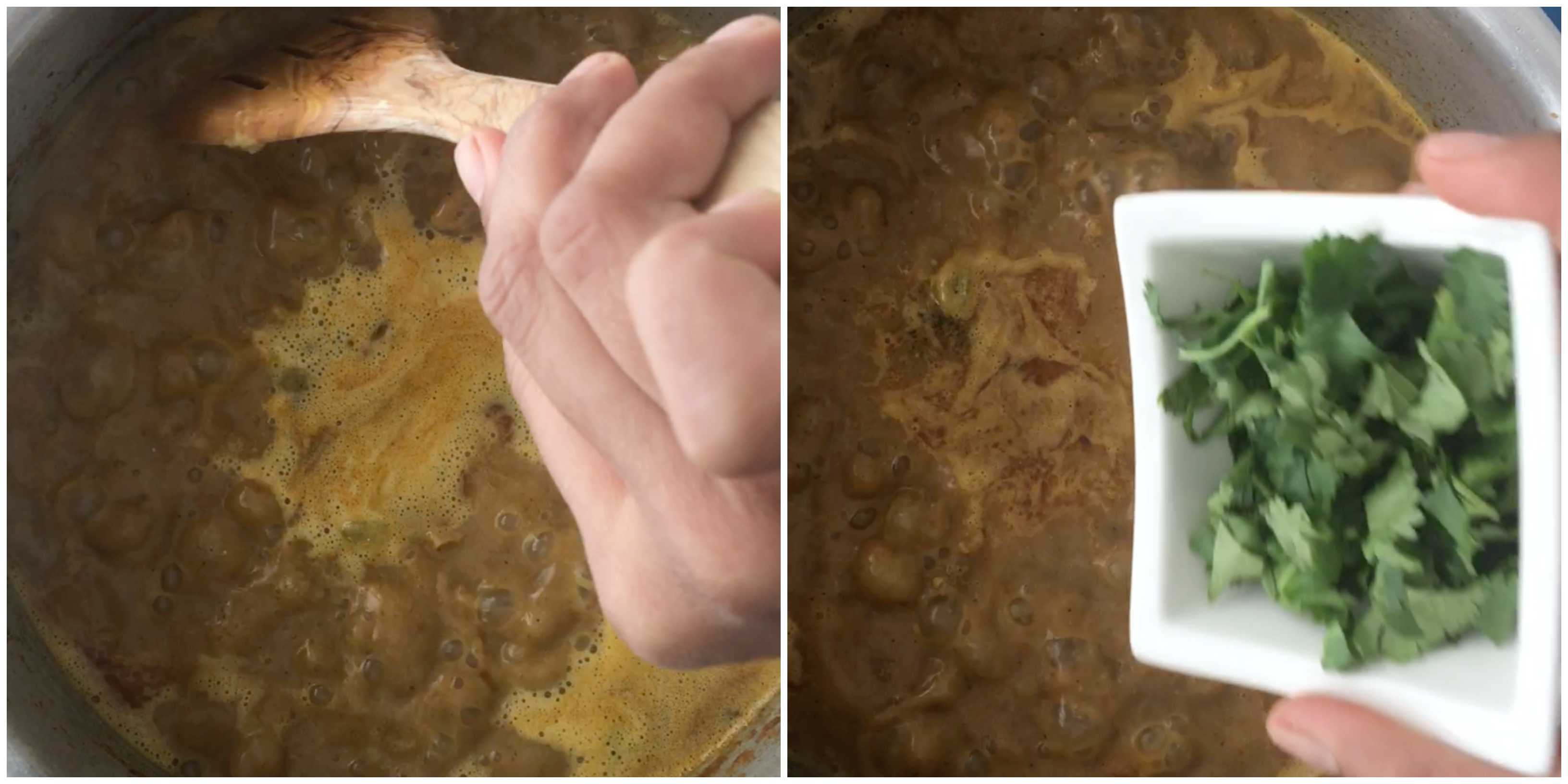 Then add washed and soaked jeera samba rice and mix well. You can add basmati rice if you don't have jeera samba rice. Mix well and check for salt at this stage.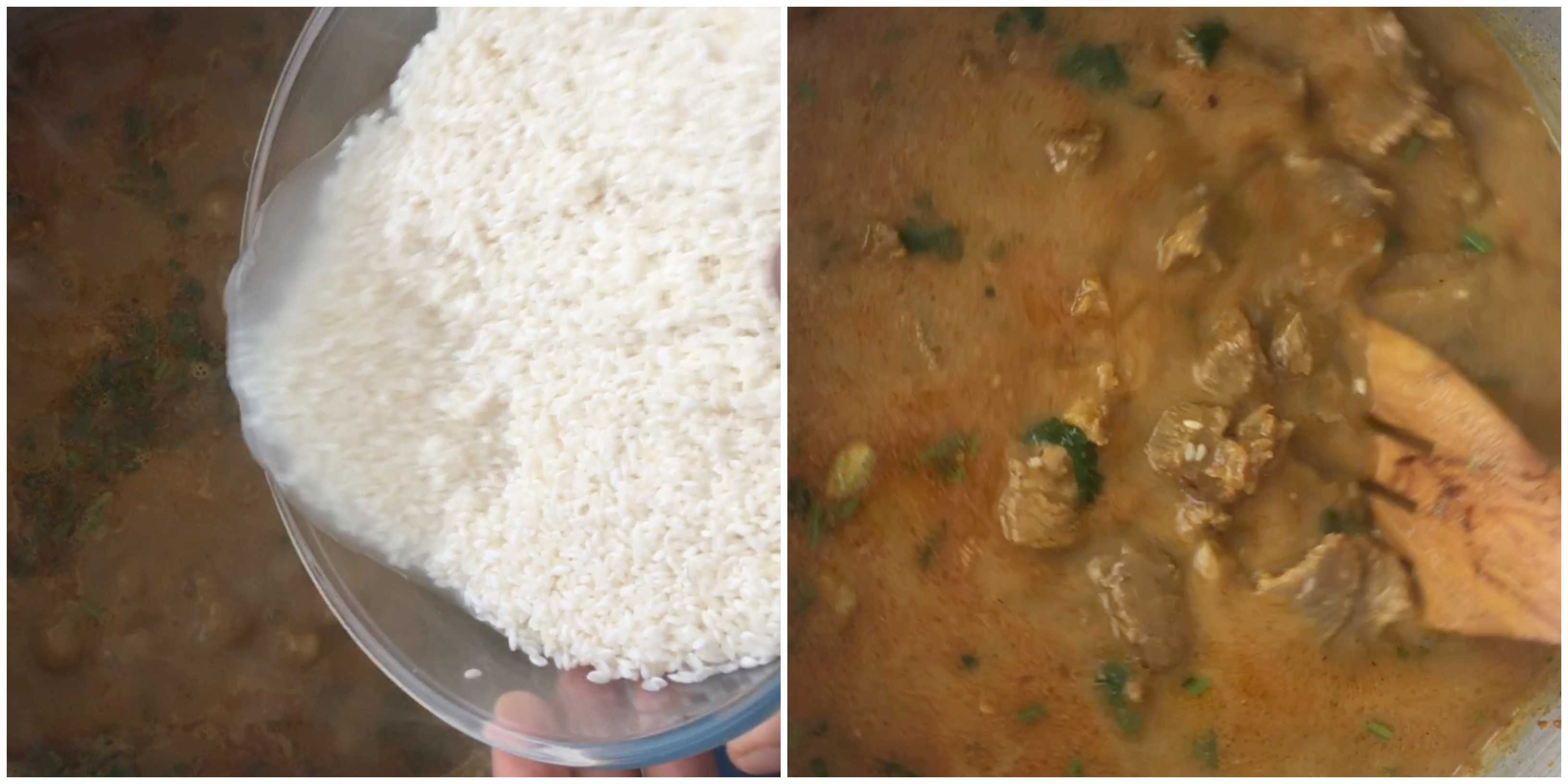 Cover the pan and cook until rice absorbs all the water. Ref 2nd pic for how it looks once the water has been absorbed completely.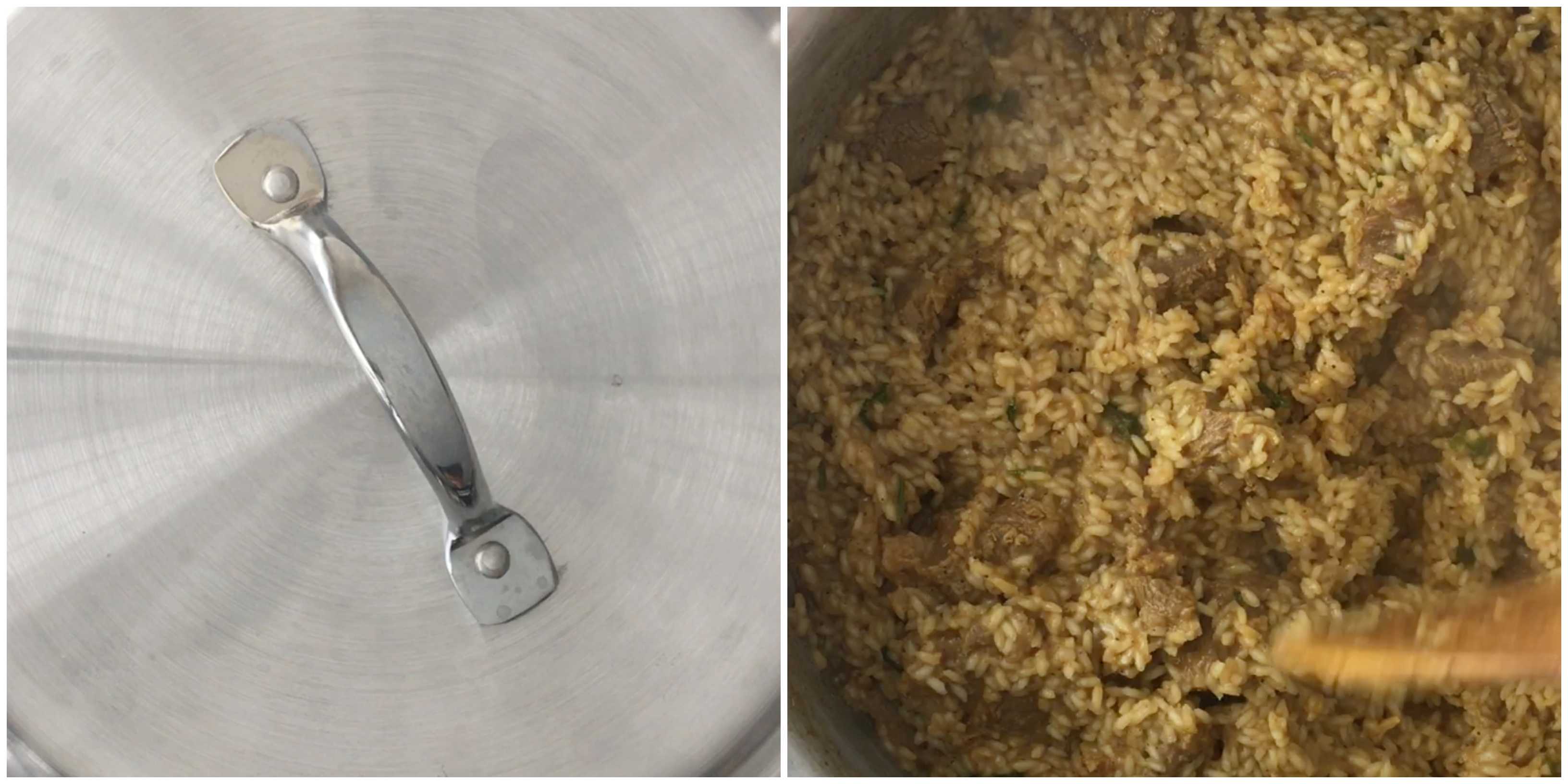 Once the water has completely absorbed, cover the pan and cook on a very low flame for 10 to 12 minutes.
Note: 1. You can place a heavy object on the lid to keep the biryani in dum or place a foil on the pan and cover the lid to keep on dum. I have used the foil method to keep biryani in dum for 10 minutes.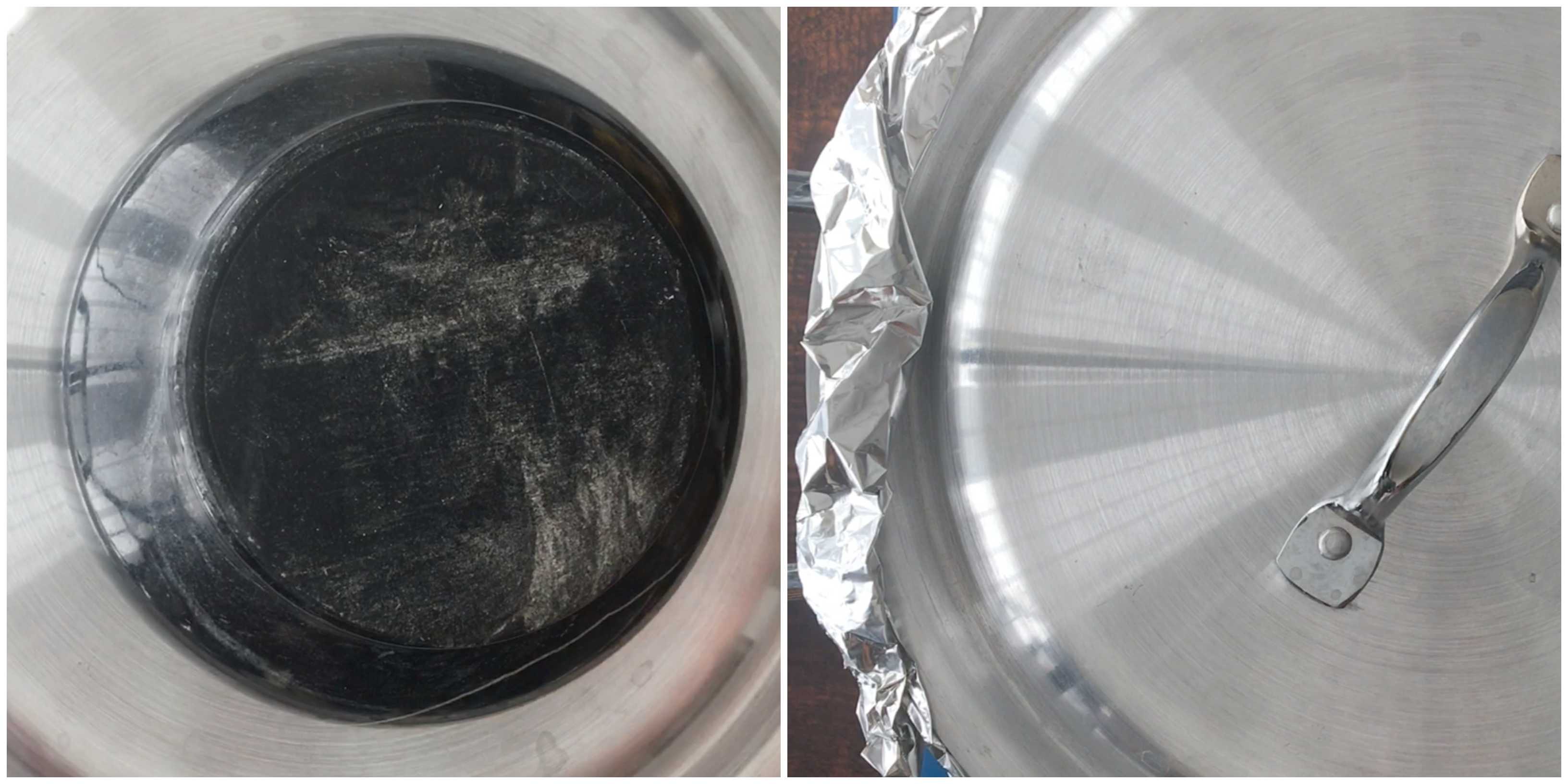 After 10 minutes of dum, rice is perfectly cooked. Allow the rice to rest for 10 minutes before you mix them.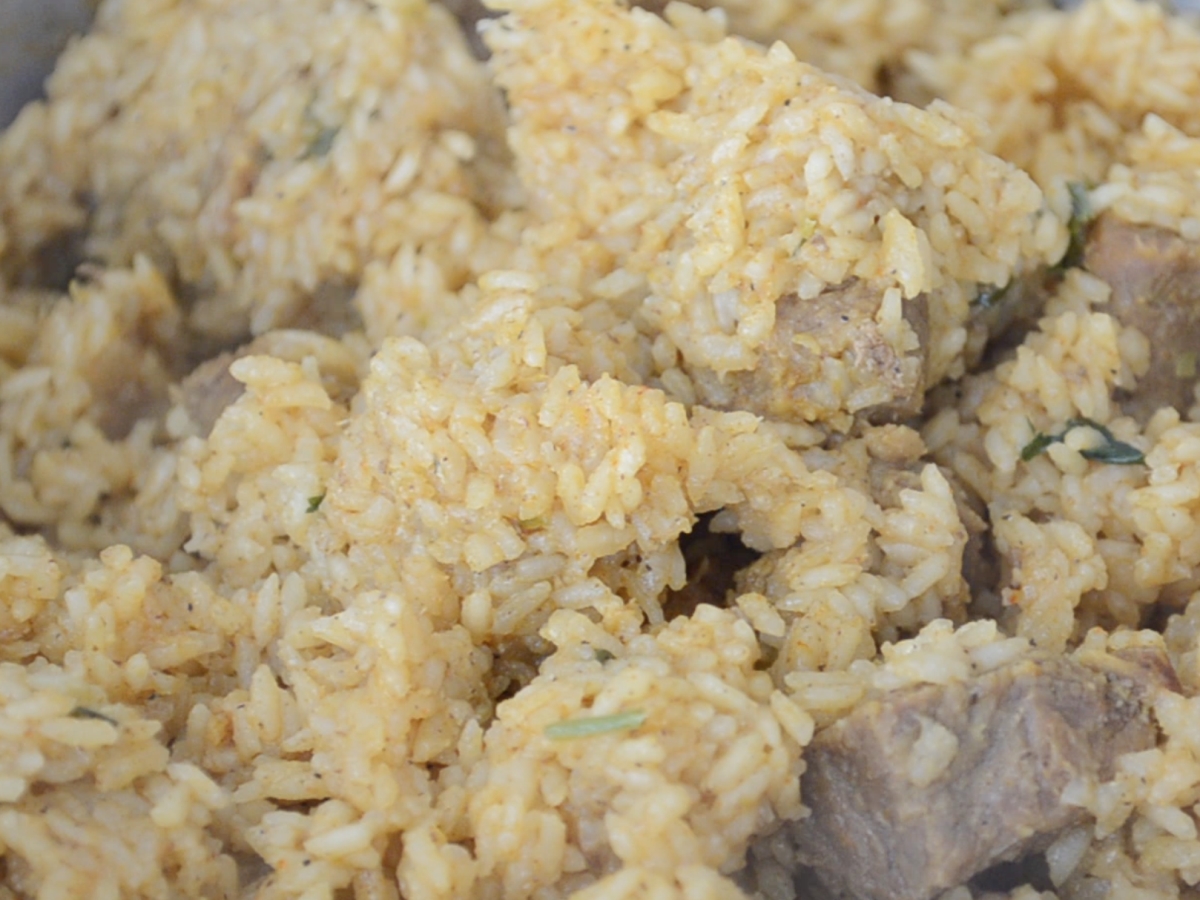 Thalappakatti Mutton Biryani is ready to serve with Raita and Thalappakatti Mutton Gravy. Check out our Gravy recipe.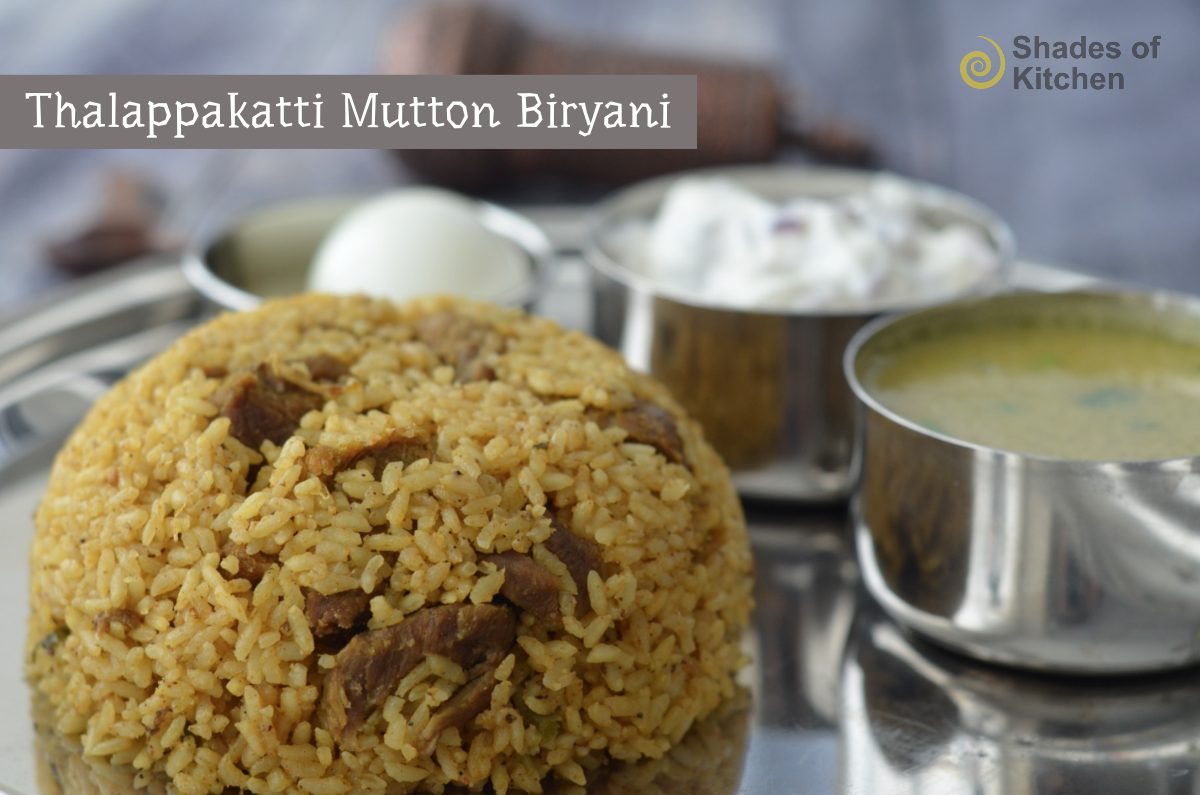 You may also like
Ambur Chicken BiryaniHyderabadi Chicken Biryani
Dindigul Thalappakatti Mutton Gravy
Muslim Style Brinjal Curry
Dindigul Thalappakatti Mutton Biryani | Mutton Biryani (VIDEO)
Ingredients
To cook lamb/mutton

Lamb/Mutton - 800 gms
Turmeric - 1 tsp
Sat, to taste
Water - 1 cup
To make Biryani Powder

Star Anise - 2 nos
Mace - 4 pieces
Cloves - 5 pieces
Black stone Flower - 5 pieces
Fennel Seeds - 1 1/2 tbsp
Cumin Seeds - 2 tsp
Cinnamon Sticks - 2 small pieces
Cardamoms - 5 nos
For Masala:

Onions - 2 nos (roughly chopped)
Green Chillies - 4 nos (adjust to your preference)
Ginger Garlic Paste - 2 tbsp
Other Ingredients:

Jeera Samba Rice - 2 1/2 cups
Chilli Powder - 1 tbsp
Pepper Powder - 1 tsp
Coriander Leaves - 1/2 cup
Salt, to taste
Oil - 150 ml
Method
Take fennel seeds, cumin seeds, cardamoms, cinnamon, star anise, mace, cloves and black stone flower in a blender and grind them to a smooth powder and keep it aside.
Again in a blender, take onions, green chillies, ginger garlic paste and grind them into a smooth paste without adding water.
In a cooker, take 800 grams lamb, turmeric, salt and 1 cup of water, now allow it to cook for 2 whistles for lamb and 6 to 7 whistles for mutton.
In a pan, add oil, whole spices like bay leaves, cardamom, cloves, add the grounded masala and saute for 8 to 10 minutes.
Now add 1 tbsp of chilli powder, 1 tsp pepper powder, salt, 2 tbsp handmade biryani powder, add some water if the masala is too dry and saute for 3 to 4 minutes.
Now add the cooked lamb and mix the lamb well with the masala.
Add 2 1/2 cup lamb stock and mix well, now cover and cook for 3 to 4 minutes.
Now add coriander leaves and 2 1/2 cup of jeera samba rice, combine the rice well with the masala.
Cook for 5 to 6 minutes on medium flame, place a heavy object to place the biryani in dum.
Cover with a foil paper and cover the lid for 10 to 12 minutes on low flame.
Thalappakatti Mutton Biryani is now ready to serve with Thalappakatti Mutton Gravy
Tips and Variations:

If you are using lamb leave it for 2 whistles but if you use mutton cook for 6 to 7 whistles.
I have added 2 ½ cup stock or water for 2 ½ cup rice and it works fine. If your rice requires more water, then add accordingly.
If your pan is likely to get burn while leaving it for dum them, please place a griddle or tawa under the pan before placing the biryani in dum.
Add mutton stock in biryani otherwise you won't get the taste.
If you don't have seeraga samba rice then you can replace them with basmathi rice.
http://www.shadesofkitchen.com/dindigal-thalappakatti-mutton-biryani-lamb-biryani/
Serve with love