Chicken Drumstick Fry
January 24, 2020

Veg Biryani | Pressure Cooker Veg Biryani | Vegetable Biryani (VIDEO)
February 19, 2020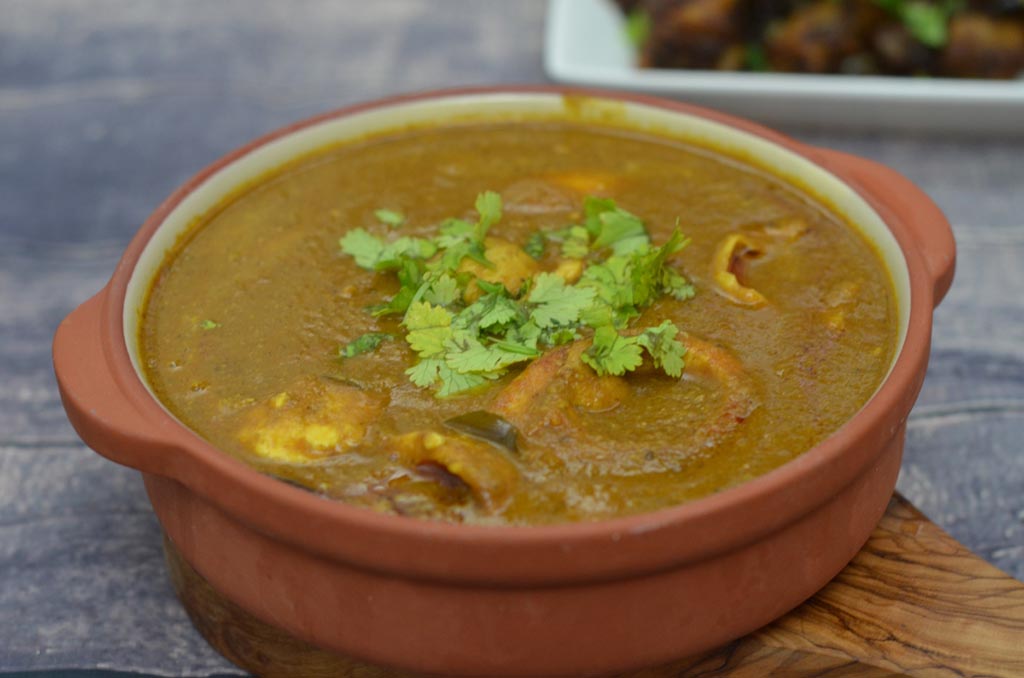 Egg curry is muttai kulambu in Tamil. This can be made in so many different ways but this is my favourite recipe and I always follow this for my egg curry. I make with usual spice mix that is available in our pantry but adding 1 tablespoon of egg curry masala which is store bought will give extra flavourful to the dish. Some people prefer to add tamarind in this recipe but I always prepare without tamarind. We can add boiled eggs or egg drop method with this curry.
If you prefer extra flavour in your egg then halve them and shallow fry with little turmeric, chilli powder and salt and then drop the eggs in the curry. I feel the whole boiled eggs gives bland taste. This can be served with steam rice, idly, dosa or chapathi. I made this few days ago along with chicken drumstick curry and the combination was so good.
Recipe in short:
Spicy egg curry with onion, tomato, spice mix and coconut.
Coconut gives thickness and good texture to the curry. You can even replace coconut with coconut milk.
Egg Curry | Muttai Kulambu | South Indian Style Egg Curry
Ingredients
Eggs – 5 (boiled and peeled)
Onion – 2 big size (roughly chopped)
Tomato – 2 big size (roughly chopped)
Ginger Garlic Paste – 1 tbsp
Cinnamon – small stick
Fennel Seeds – 1 tbsp
Cumin Seeds – 1 tsp
Peppercorns – 1 tsp
Chilli Powder – 1 tbsp
Coriander Powder – 1 tbsp
Turmeric – 1 tsp
Garam Masala – 1 tsp
Curry Leaves – 1 spring
Coconut – ½ cup grated
Coriander Leaves – 2 tbsp (finely chopped)
Salt, to taste
Oil
Method
Heat 2 tbsp oil in a pan, then add roughly chopped onion saute for 3 minutes.
Then add ginger garlic paste along with cinnamon, cumin seeds, peppercorns, fennel seeds and cook for a minute.
Now add in tomatoes and cook with onion for 5 minutes or till the tomatoes are nice and soft.
Once tomatoes are cooked well, add chilli powder, turmeric, garam masala and coriander powder.
Add little water and cook until oil separates from the mixture.
Then add the grated coconut and saute for 2 minutes and switch off the flame.
Allow the mixture to cool down completely and grind it to a smooth paste.
Now heat 2 tbsp oil in a pan, add the grinded paste and cook on medium heat till the oil separates.
Then add curry leaves, salt and add 1 cup water (adjust the water according to your preferred consistency).
Let it cook for 6 to 7 minutes then drop the shallow fried eggs and leave it for 2 minutes.
Finely garnish with coriander leaves.
Serve with steam rice, chapathi, idly or dosa.
Shallow Fried Egg:

Heat 2 tbsp oil in a pan, add chilli powder, turmeric and salt.
Keep the flame in low.
Halve the boiled eggs, then drop them slowly in the oil and shallow fry both the sides.
It takes 2 to 3 minutes to shallow fry both the sides.
Tips and Variations:

Adding store bought egg masala or egg curry powder gives wonderful smell.
Add less or more water at the end to adjust the consistency.
We can skip shallow fry step but I always prefer to give more taste for eggs.
http://www.shadesofkitchen.com/egg-curry-muttai-kulambu-south-indian-style-egg-curry/
Serve with Love