Neer Mor or Spiced Buttermilk is the best coolant during summer. We get this on the roadside during summer along with kambu koozh. Neer mor is prepared in various ways. The simple version is just adding more water with yogurt without any tempering or ingredients added with the buttermilk and the other version is adding a tempering with some extra flavour.
In the below video, you can see 2 variations in buttermilk. One is spiced buttermilk and the other one in masala buttermilk. In masala buttermilk version, we grind a few simple ingredients and mix it with buttermilk. This is the best way to keep our body cool rather than having aerated drinks.
Neer mor can also be consumed with rice. Mix neer mor with steam rice that tastes great with some pickle. Consuming any form of buttermilk is healthy and a body coolant too. I prefer storing them in an earthen pot, so it helps us to keep the buttermilk cool for a longer time, and also it retains the taste rather than storing it in the fridge.
People started having squash or other drinks that have preservatives, but this homemade buttermilk is healthy and also no artificial flavouring, colour, or sugar. I add rock salt which adds extra flavour to the buttermilk.
Check out the recipe video here:
Try this simple Neer Mor recipe
Take 1 cup of yogurt (curd) in a bowl. I have used earthen pot to keep the buttermilk cool for a longer time. You can even store them in the fridge once it is ready.

Add 500 ml water along with Yogurt (You can add more if you prefer very thin buttermilk).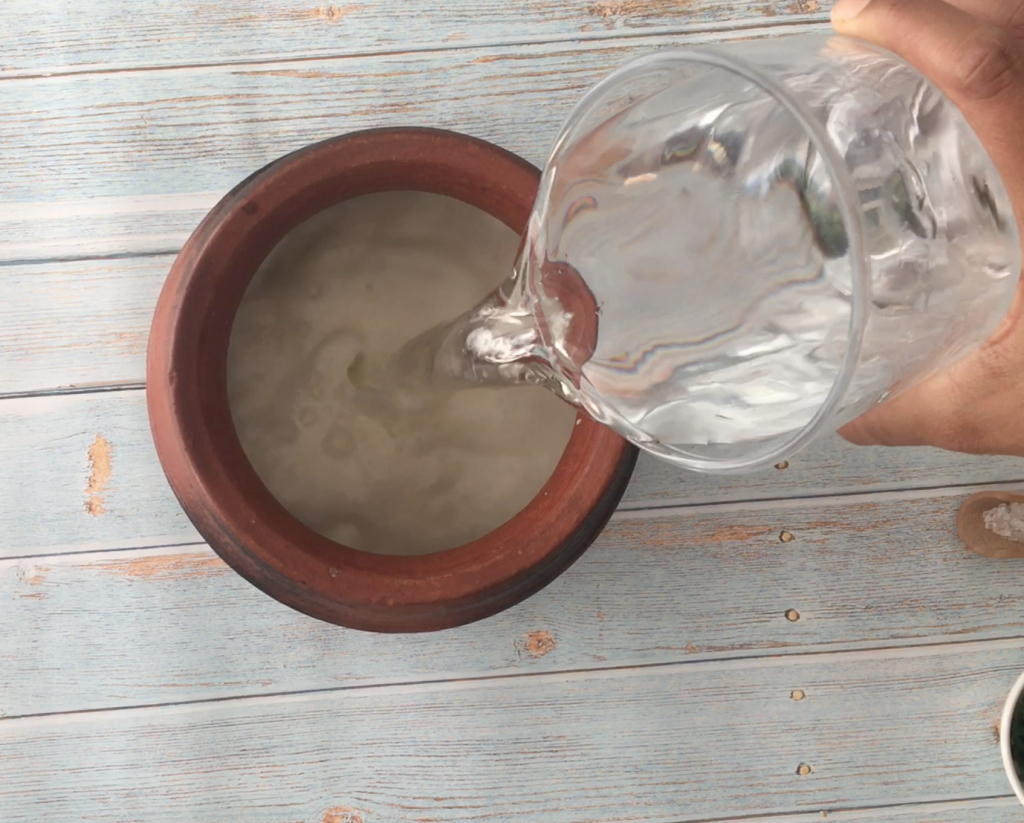 Add 2 tbsp Coriander Leaves(finely chopped). Coriander leaves give a nice flavour to buttermilk so try not to avoid this.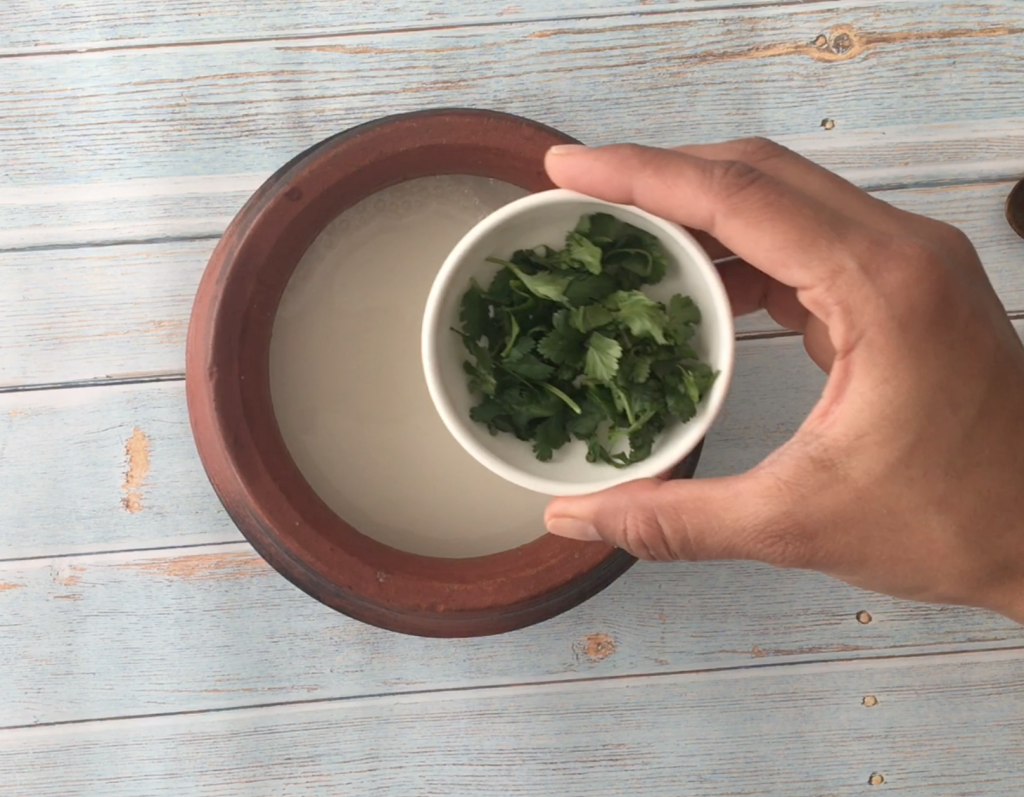 Add grated ginger(small piece). Try to add grated ginger so kids can also enjoy the flavour. If you add chopped ginger then some may not like to have them in the mouth while drinking.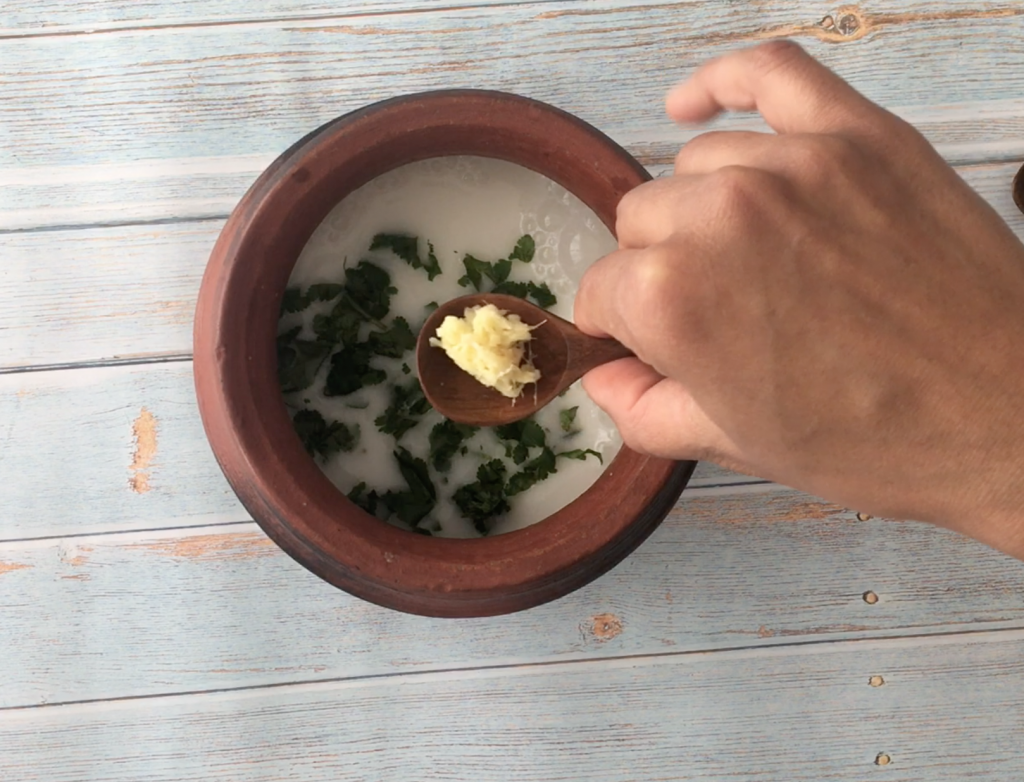 Add finely chopped Green Chilli. Green chilli adds punch to the buttermilk. You can remove them before serving especially when you serve children.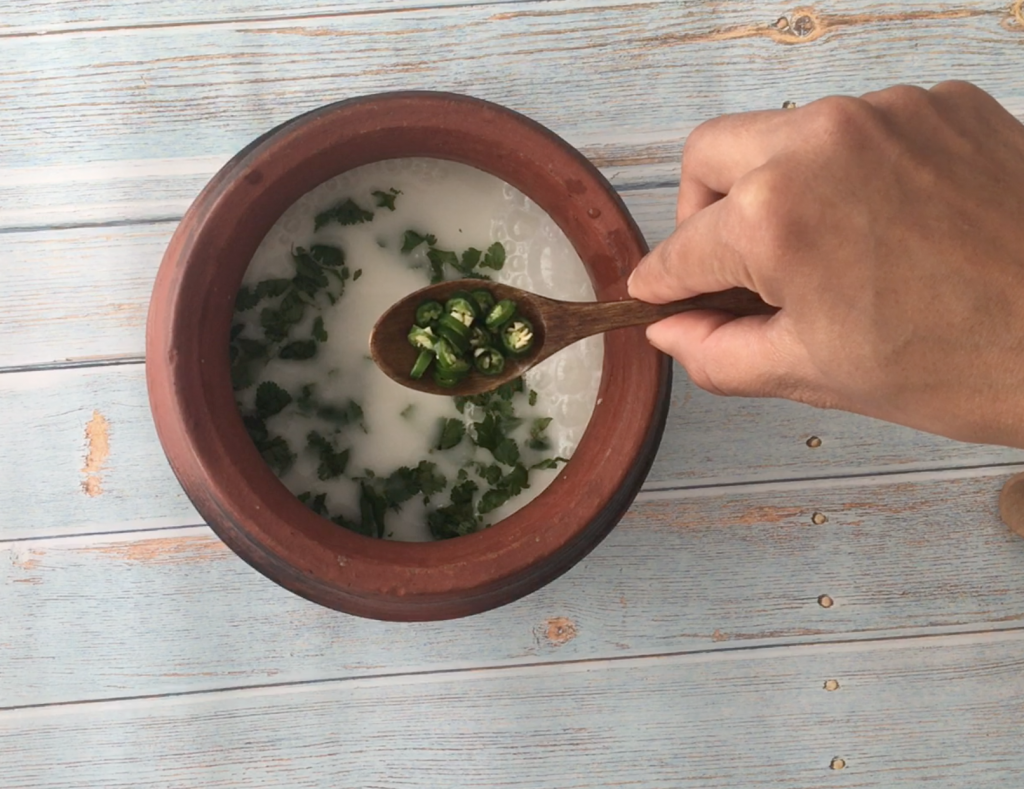 Add salt (preferably rock salt). Rock salt is good for health and also adds extra taste to the dish. You can even add black salt but it is optional. Now churn the buttermilk using whisk or churner. All the ingredients mix well only when we churn them. We use traditional buttermilk churner but you can use a whisk also.
For Tempering, take a small pot or pan(tempering is optional). I use this lamp for buttermilk tempering. You can use any small pan for tempering. I use this lamp so that I can pop the tempering along with the lamp in the buttermilk pot.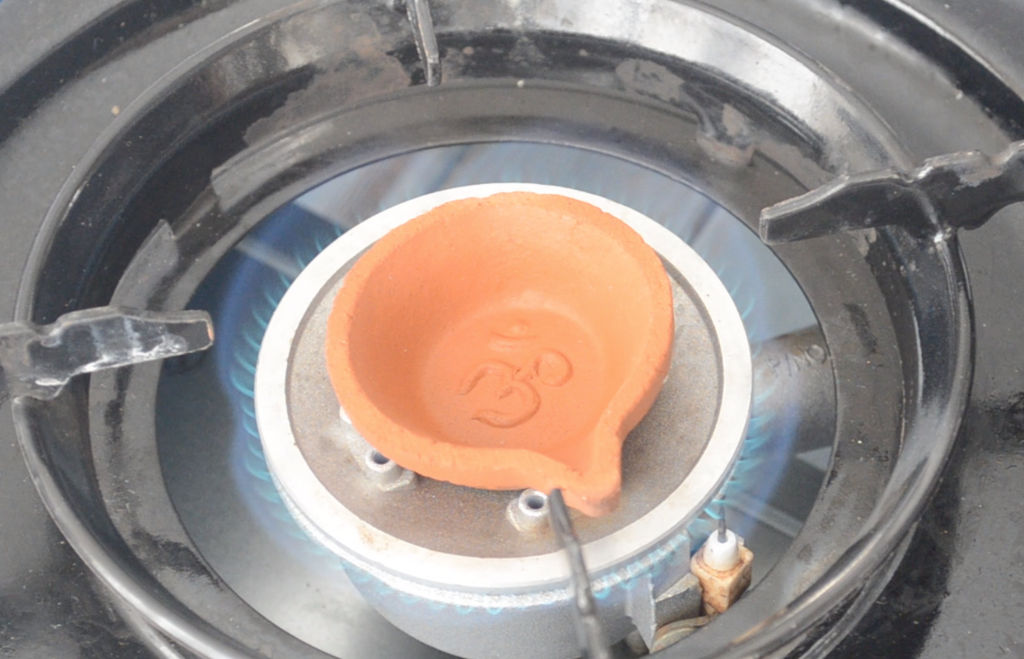 Add 1 tbsp oil(use any oil). Allow the oil to heat well before adding the next ingredient.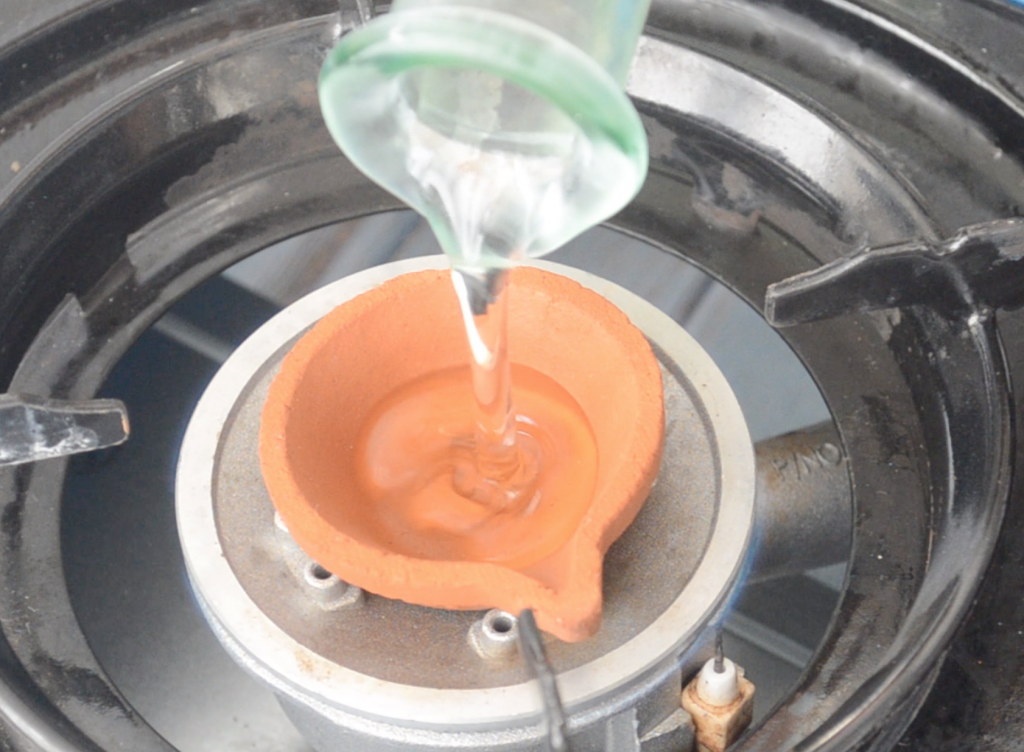 Add 1 tsp Cumin Seeds and allow the cumin seeds to crackle well. Let it sit until the colour changes. Crackled cumin seeds give unique taste while drinking.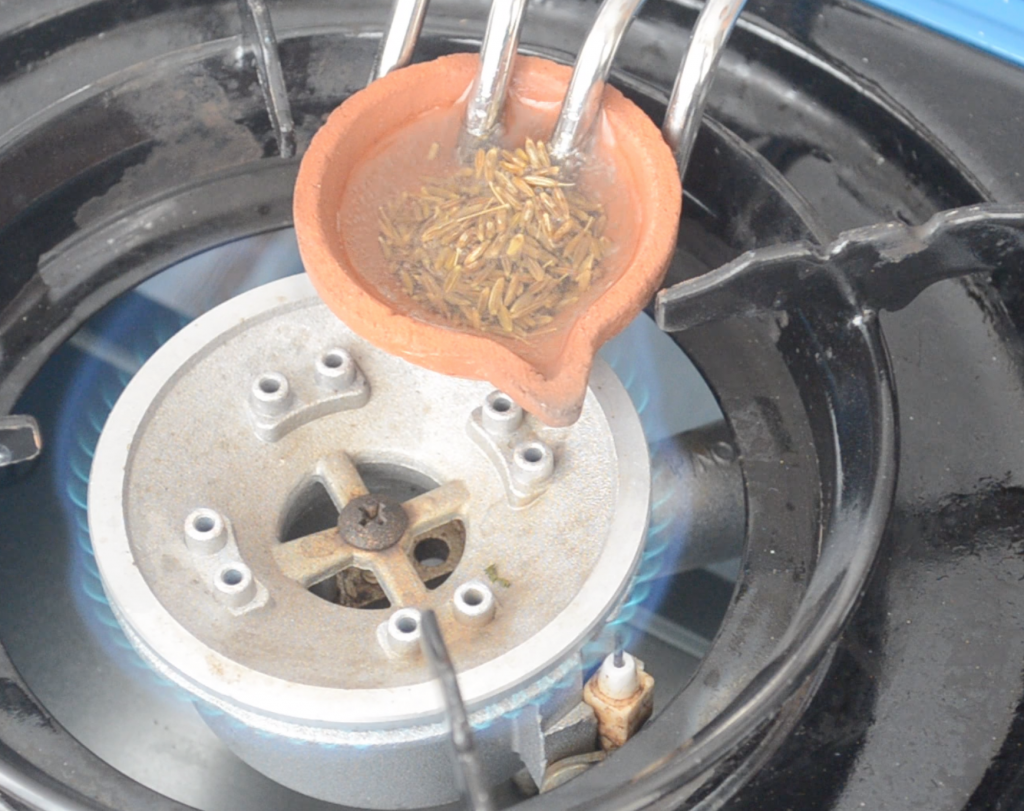 Allow cumin seeds to crackle and changes its colour.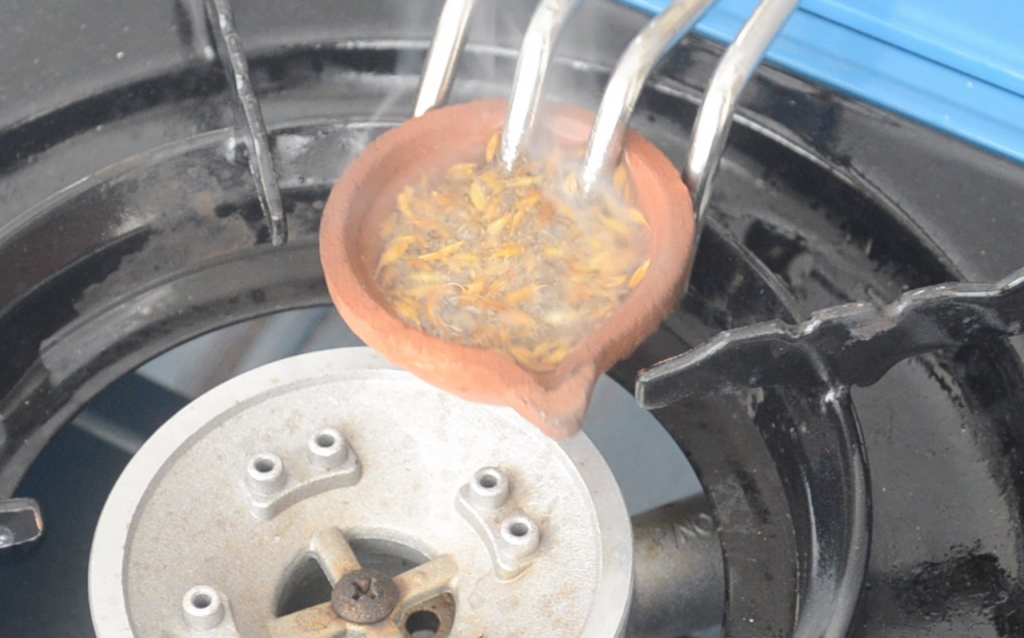 Add cumin seeds with buttermilk. Put the tempering along with the tiny earthen pot. I like the sizzle when we pop the hot pot inside the buttermilk. Churn the buttermilk well before serving.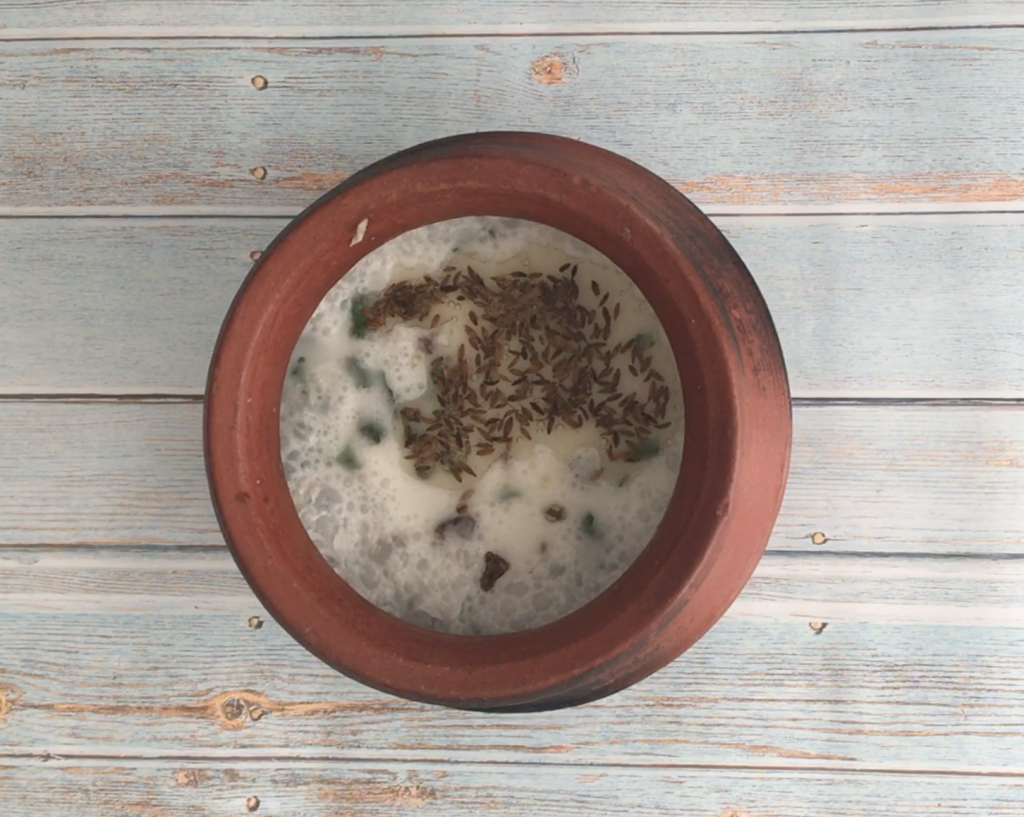 Neer Mor or Spiced Buttermilk is ready to serve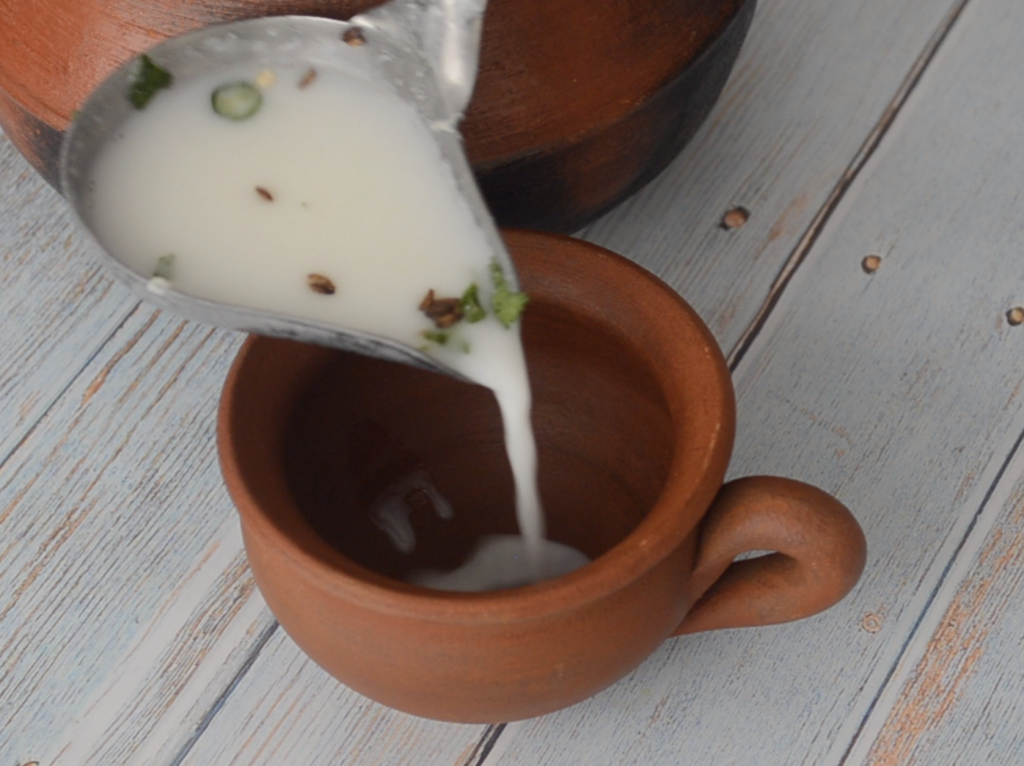 You may also like
Masala Buttermilk (VIDEO)
Golden Milk (VIDEO)
Ginger Tea (VIDEO)
Neer Mor | Spiced Buttermilk | Summer Drink
Ingredients
Yogurt - 1 cup
Water - 500ml
Coriander leaves - 2 tbsp
Ginger - 1/2 tsp
Green Chilli - 1 no (Finely chopped)
Cumin seeds - 1 tsp
Salt - To taste
Oil – 1 tbsp
Method
Take 1 cup yogurt in a bowl.
Then add 500ml of water to the yogurt.
Now add 2 tbsp of coriander leaves, 1/2 tsp ginger, 1 number of finely chopped chilli, and salt.
Churn well to prepare buttermilk.
Tempering is optional, heat the oil, add 1 tsp of cumin seeds and allow it to crackle, add it to the buttermilk and churn again.
Neer mor is now ready to serve.
Tips and Variations

Tempering is optional. You can even use a normal pan to do the tempering.
Allow the cumin seeds to change its colour.
http://www.shadesofkitchen.com/neer-mor-and-masala-buttermilk-spiced-buttermilk/
Serve with Love