Onion Chutney
November 24, 2017

Maravalli Kizhangu Stir Fry/ Tapioca Stir Fry/ Kappa Masala (VIDEO)
November 24, 2017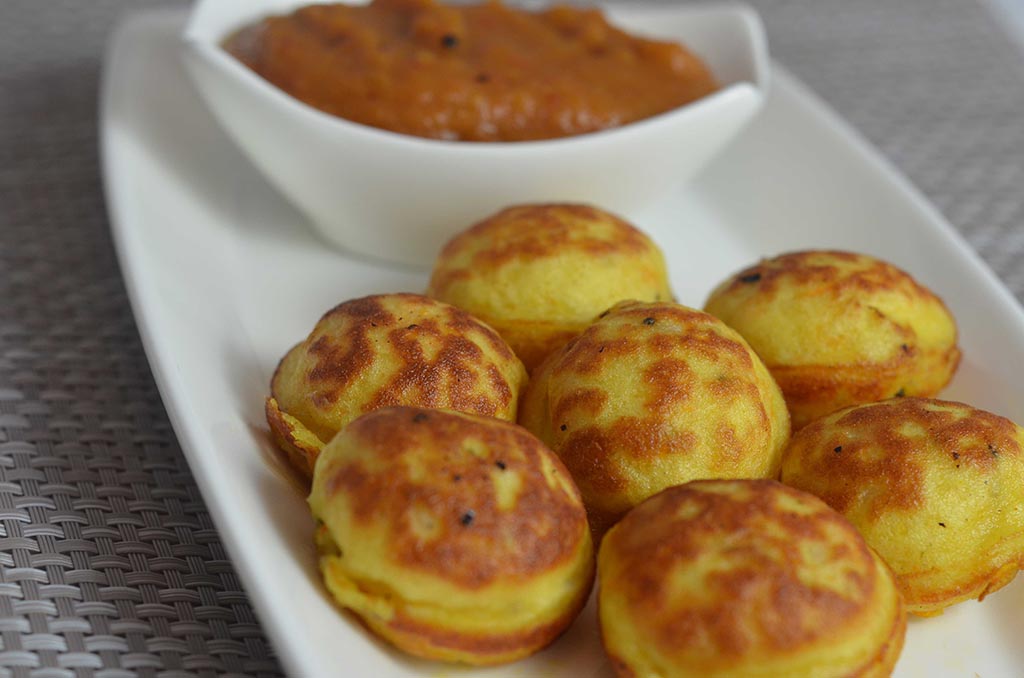 Paniyaram is a South Indian breakfast. It is also known as Kuzhi Paniyaram. It is made using Idly/Dosa batter. I have added onion and grated carrot. You can also add finely chopped French beans, grated beetroot, finely chopped bell peppers. This can also be served as a snack. You can add this recipe to your Lunchbox list. Serve Paniyaram with Onion chutney or Coconut chutney.
Paniyaram, Kuzhi Paniyaram
Ingredients
2 cups of Idly/Dosa Batter
1 Teaspoon of Mustard seeds
¼ Teaspoon of Cumin seeds
1 Teaspoon of Channa dal
1 spring of Curry leaves
¼ Teaspoon of Turmeric
1 Tablespoon of Cilantro
1 Medium size Onion
2 tablespoons of grated Carrot
Oil
Salt, to taste
Method
Heat oil in a kadai, temper mustard seeds, cumin, channa dal and sauté for few minutes.
Then add chopped onion, turmeric and salt. Cook for 2 minutes till onions are soft.
Switch off the flame and set it aside.
Once it is cool down, mix the tempering with idly or dosa batter.
Now add the grated carrot and chopped cilantro, mix all the ingredients really well.
Heat appe pan or paniyaram pan over medium heat. Pour few drops of oil in each cavity of the pan.
Pour the prepared batter into each cavity using a spoon and cook for 2 minutes on medium heat to avoid burning.
Turn each paniyaram using a skewer or small spoon and cook on the other side.
Remove from heat and follow the same procedure for rest of the batter.
Tips and Variation:

You can add vegetables of your choice.
You can also add finely chopped green chillies while tempering. I have not added in this recipe to make it easy for the kids.
http://www.shadesofkitchen.com/paniyaram-kuzhi-paniyaram/
Serve with love