Methi Thepla
November 27, 2017

Bisi Bele Bhaat
November 27, 2017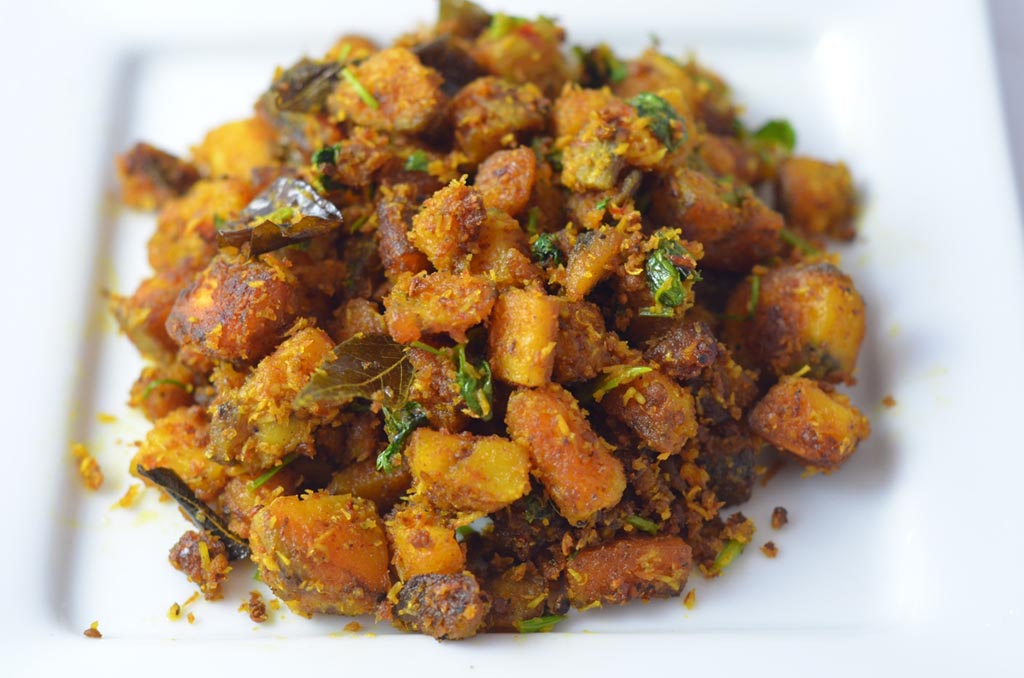 Plantains are very healthy and easy available vegetable. It contains less sugar than bananas hence it is good. This sabji is made with few aromatic spices which are easily available. We can have this sabji with roti or rice and sambar.
Ingredients
2 medium size chopped Plantain
2 Red Chilies
1 Teaspoon Mustard seeds
1.2 Teaspoon or Urad dhal
1 spring of Curry leaves
¼ cup Grated coconut
1 Teaspoon Cumin
1 Teaspoon Coriander seeds
5 Peppercorns
½ Teaspoon Turmeric
1 Teaspoon Chilly Powder
1 Teaspoon Madras curry powder
2 Tablespoon of Coriander leaves
Lemon Juice
Oil
Salt to taste
Method
To begin with Plantain sabji, first make the spice powder.
To make the spice powder, heat a pan over medium heat; add red chilies, cumin, coriander seeds and peppercorns. Sauté till you get the roasted aroma.
Then add grated coconut and sauté for few minutes. Turn off the heat and allow it to cool completely.
Once cooled make a coarse paste of the mixture.
Heat oil in a pan, once oil is hot add mustard seeds and let it splutter. Add urad dhal, curry leaves and let it crackle.
Add the chopped plantain and sauté really well.
Now add turmeric, chilly powder, madras curry powder and salt. Let the plantain cook with these spices.
Once the raw smell of masala has gone add the coarse paste of handmade powder with plantain and mix well.
Make sure not to cook for too long. Plantain cooks really fast.
Add lemon juice and cook for a minute.
Finally, add coriander leaves.
Serve with rice or roti.
http://www.shadesofkitchen.com/plantain-coconut-fry/
Serve with love