Palak Panner/ Cottage Cheese in Spinach Gravy
December 27, 2017

Veg Pulao
December 27, 2017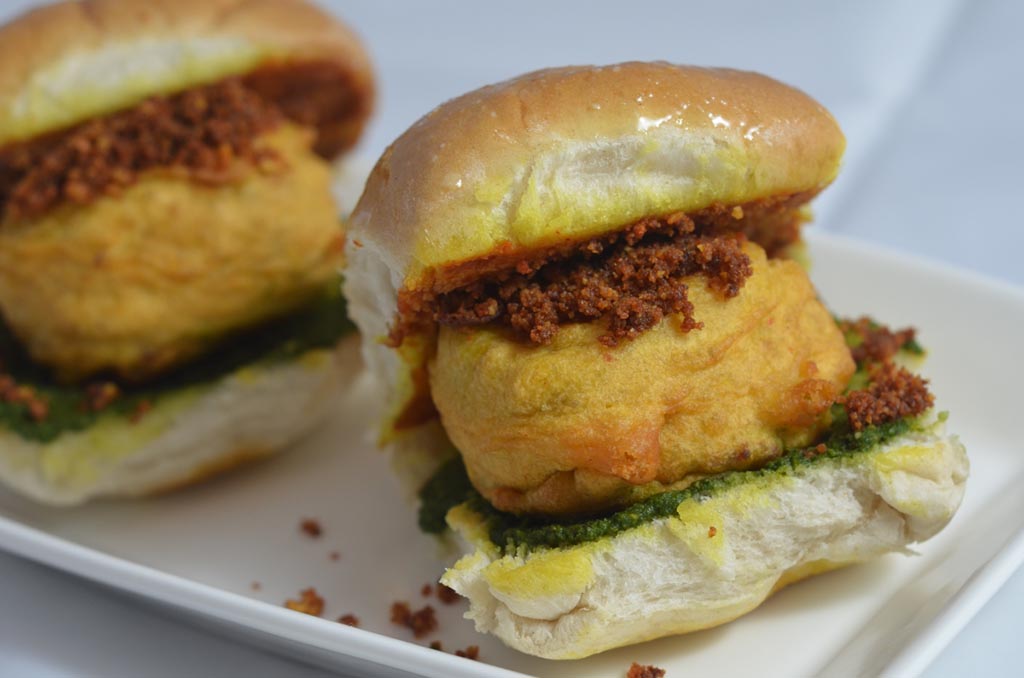 Vada pav is deep fried potato dumpling placed inside a bun. It's a street food in Mumbai, which is also known as Bombay Burger. My little sister (cousin) introduced it to me when I visited them during the school holidays in Pune. I used to make in my own style till I get to know 2 lovely Gujarati friends, Hina and Gita. Their tips enhanced my version of vada pav to a great extent. Each and every tip was very useful to achieve the tasty vada pav. Instead of thanking them, I will treat them with proper South Indian food and I am sure that they will prefer the later.
Ingredients
8 Pav buns
¼ cup Coriander Chutney
¼ cup Dry Garlic Chutney
Ingredients for Vada Filling

3 Potatoes, boiled and mashed
1 Teaspoon Mustard
3 Garlic Cloves, grated
1 inch Ginger, grated
1 Green Chilli, finely chopped
1 Onion, finely chopped
¼ Teaspoon Asafoetida(Hing)
1 spring of Curry Leaves
½ Teaspoon Turmeric
2 Tablespoons Coriander Leaves
Oil, for frying
Salt, to taste
Ingredients for Vada Batter

½ cup Besan Flour
¼ Teaspoon Turmeric
¼ Teaspoon Chilli Powder
Salt, to taste
Method
For the filling

Heat the oil and add the mustard seeds. When they crackle, add ginger, garlic, green chilli, curry leaves and asafetida.
Once all the above ingredients are added, cook for few seconds and add boiled potatoes, turmeric, salt and mix well.
Add coriander leaves and remove from fire and cool.
Divide the potatoes into 8 equal portions. Make it as 8 small balls.
For the Outer Covering

Combine all the ingredients given under vada batter and make a batter using 1/3 cup of water.
Dip and coat each filling into the batter and deep fry them in hot oil till they are golden brown.
Drain them in kitchen towel.
How to assemble

Slice the pav buns into half. Spread butter and toast them on the pan on both sides, until the surface is lightly golden and crisp.
Spread Coriander Chutney on the pav and place the fried potato dumpling on the pav(bun) and sprinkle some dry garlic chutney on the top of the potato dumpling and serve.
Tips and Variations

Make sure you toast the pav before placing the vadas.
Don't skip Coriander Chutney and Dry Garlic chutney.
http://www.shadesofkitchen.com/vada-pav/
Serve with love