Fish Masala
November 27, 2017

Veg Pulao
December 27, 2017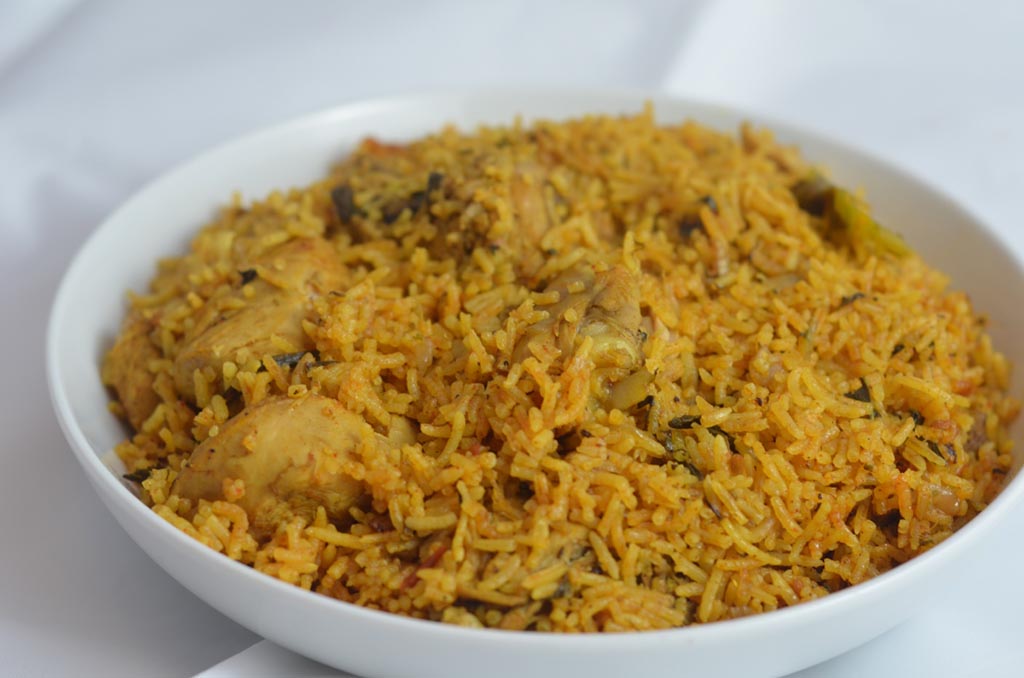 Biryani is an aromatic dish prepared with lots of spices. There are many different types of biryani. This particular recipe I got it from my co-sister. We enjoyed every bit of this biryani. I would like to share this recipe with you all. You can try this and serve your family with Love.
Ingredients
500 gms of Chicken
500 gms of Seeraga Samba Rice
Ingredients 1:

1 Bay Leaf
1 Black Stone Flower
1 Mace
2 Star Anise
Ingredients 2:

1 Tablespoon Fennel Seeds
1 small Cinnamon
5 Cardamoms
5 Cloves
Ingredients 3:

2 Big Onions
2 Green Chillies
2 Tablespoons Ginger Garlic Paste
Other Ingredients

½ cup Mint Leaves
¼ cup Coriander Leaves
2 Tablespoons Lemon Juice
1 Tablespoon Chilli Powder
½ Teaspoon Turmeric
Oil
Salt, to taste
Method
Wash rice well and soak it for 30 mins.
Make powder of ingredients 2 and keep aside.
Heat oil in a deep & heavy bottomed pan.
Add in spices given under ingredients 1 then add the spice powder made with ingredients 2, Saute for few seconds.
Then add ingredients 3 and sauté till onions are soft.
Now add tomato with little salt to speed up the process.
Once tomatoes are soft, add washed chicken and cook for 3 to 4 mins.
Then add in chilli powder, turmeric, salt and lemon juice and cook for 10 mins.
Then add mint and coriander leaves, mix well with the chicken.
Add water 1:1 (you can add water according to your rice), once water is boiling, add soaked rice.
Cover the pan with foil then put the tight lid and cook on medim heat for 10 mins.
Then cook for 5 mins on low heat.
Serve Chicken Biryani with Raita and Brinjal curry.
http://www.shadesofkitchen.com/chicken-biryani/
Recipe Credit: I got this recipe from my Co-sister. Her name is Mrs.Sasirekha. Thank you so much akka for your recipe. We enjoyed your biryani.
Serve with love