Hyderabadi Chicken Biryani | Chicken Biryani Recipe (VIDEO)
November 27, 2017

Chicken Biryani
December 27, 2017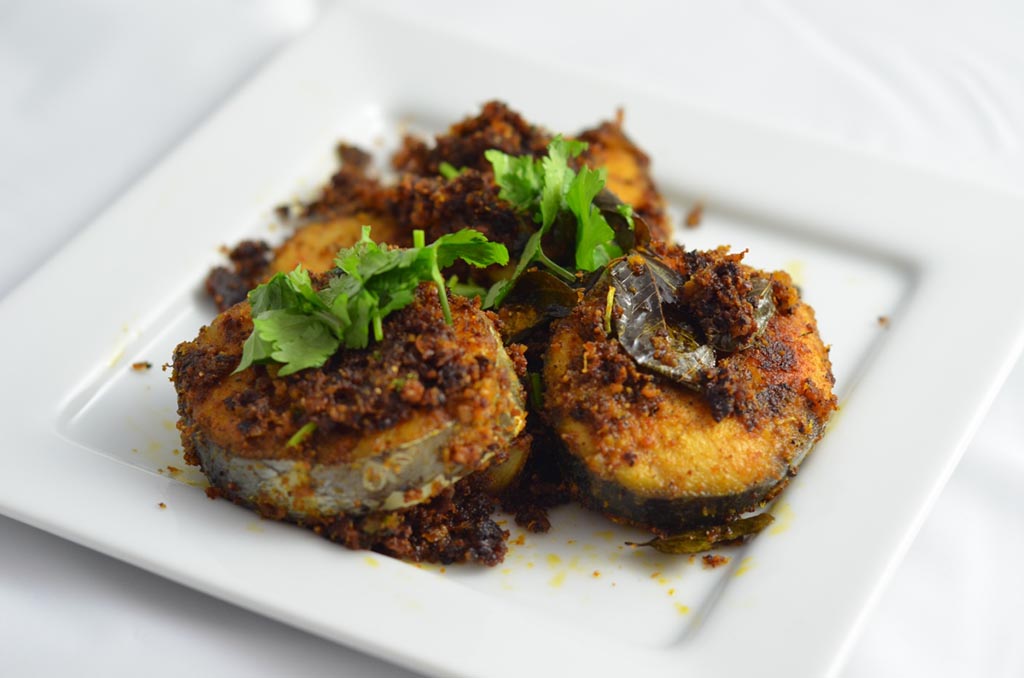 Fish Masala is the combination of spices and coconut. The aroma of poppy seeds and sesame seeds will enhance the taste. You can serve this with any pulao or biriyani. This is not our usual fish fry so give it a try.  Make sure you choose a fish with more flush to get the real taste of this dish.
Ingredients
500 gms of Fish, I have taken King Fish
Kashmiri Chilly Powder – 1/2 Tablespoon
Coriander Powder – 1/2 Tablespoon
Cumin Powder – 1/2 Tablespoon
1/4 Teaspoon of Turmeric Powder
1 Tablespoon of Ginger Garlic Paste
½ Lemon Juice
Few Curry Leaves
Oil
Salt, to taste
For Masala

1 inch Cinnamon
4 Cardamoms
4 Cloves
7 Peppercorns
½ Tablespoon of Poppy seeds
½ Tablespoon of Sesame Seeds
½ Cup Grated Coconut
1 Medium Size chopped Onion
Method
Spice Masala:

Heat a pan add to poppy seeds, sesame seeds, cardamoms, cinnamon, peppercorns. Once it is roasted add in grated coconut and roast for 2 mins. Allow the mixture to cool completely and make a fine paste.
In another pan add oil, sauté the onions till it becomes soft. Allow it to cool and add the onions along with the oil to the poppy seed masala and grind it again.
Marination:

In a bowl add fish pieces, ginger garlic paste, chilly powder, cumin powder, turmeric, coriander powder, salt, lemon juice, grinded poppy seed masala. Mix well with the fish. Allow it to sit for 45 mins.
Final stage:

Take a non-stick pan add the marinated fish in one layer. Cook on low flame to avoid burning. Sprinkle curry leaves on the top of the fish and allow the fish to cook well on one side, turn the fish and cook on the other side. Make sure your fish is cooked well on both the sides then add the coriander leaves.
Serve Fish Masala with Pulao or Biryani.
http://www.shadesofkitchen.com/fish-masala/
Serve with love