We are fortunate to live in a time were more readily available spices than ever before. I always find it interesting when I see different types of peppercorns on the supermarket shelf. I never knew there are many other varieties available. All I know from my childhood are 3 types of Peppercorns: black peppercorns, white peppercorns, and long pepper. I wonder if it is worth buying different varieties as I always look for some health benefits for my children in the food. Then I started researching this topic and came up with this post. I thought it might be useful for my readers too. Share your knowledge about peppercorns in the comment. I would like to read them all.
The medley which I found in the supermarket contains five peppercorns and it comes with a grinder. It includes Black peppercorns, White peppercorns, Jamaican pepper, Pink peppercorns, Dehydrated Green pepper.  I started using these medley peppercorns in all my dishes and they taste great. They give a different taste and smell to the dish. Peppers play a very important role in everyone's life. We use them in most of our cooking and it helps to relieve from cold.
Black Peppercorns: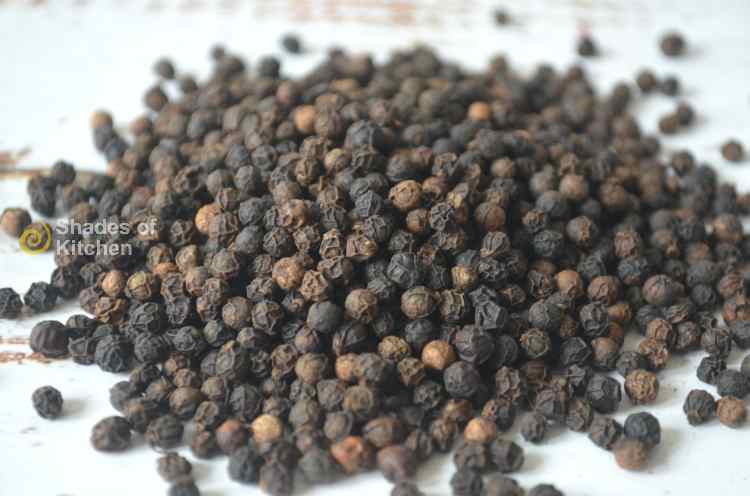 This is the most common variety. It is a staple ingredient in almost every household. It is also known as the "king of spices". We use both whole peppercorns or ground pepper in our daily cooking. Ground black pepper or whole black peppercorns in a jar with a grinder are common in supermarkets.
It acts as an antioxidant in our body. You can add black pepper to your diet in several ways. We use it in salads, soups, rice, pasta scrambled eggs, fruits, stir-fries, sauces, rasam, etc. I like to use it in making oil for my children when they have a cold.
These Indian peppercorns come from the Malabar coast in Southern India
Pepper and salt are widely used together in many dishes and it compliments each other in taste.  When stored in a cool, dry place, the shelf life of black pepper is up to two to three years.
To prepare oil for children when they have a cold:
Take 2 tbsp of coconut oil in a small tempering pan. Take 4 shallots, 2 garlic cloves, 1/2 tbsp peppercorns and crush them all using mortar & pestle. Now add the crushed ingredients to the coconut oil and start heating the oil on medium heat. When the oil is hot, add a pinch of camphor and mix well in the oil. You can also add a beetle leaf for more benefit. Now your oil is ready to use to treat cold and cough. Apply this oil on the head, behind the ears, on the chest and back of the body. Leave the oil for an hour and then give a bath. This will help to relieve cold and cough.
Benefits:
It is high in antioxidants. Free radicals are unstable molecules that can damage your cells.
It has anti-inflammatory properties.
It helps to lower cholesterol levels.
It contains cancer-fighting properties.
Helps to treat cold and cough.
It supports the immune system.
White Peppercorns: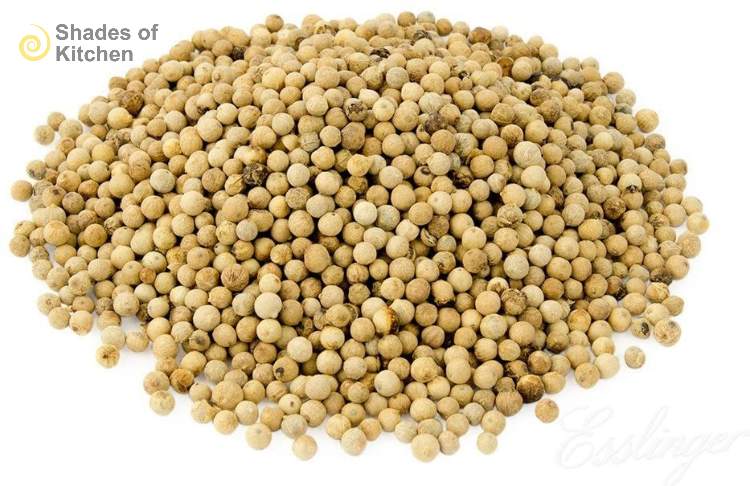 These light coloured peppercorns come from the same plant as black peppercorns but they are harvested at different times.
White peppercorns come from the ripe berries which are removed from their outer husk to achieve the white colour. These taste similar to black pepper but lack some of the pungent flavours. The process also involves soaking the berries in water for a few days.
These white peppercorns have a stronger aroma than other peppercorns.
It is usually used in white sauces, mashed potatoes or any other uniformly coloured dish where black pepper would visibly stand out. I like to use white pepper powder in Chinese food. They don't change the colour of the food when we add in fried rice or Chinese noodles.
White pepper contains a chemical called piperine. This chemical seems to have many effects on the body. It seems to reduce pain, improve breathing, and reduce inflammation.
Benefits of white peppercorns:
Helps in weight loss.
It cures minor headaches.
It helps to cure cough.
Helps to controls our blood pressure.
It cures toothache.
Long Pepper: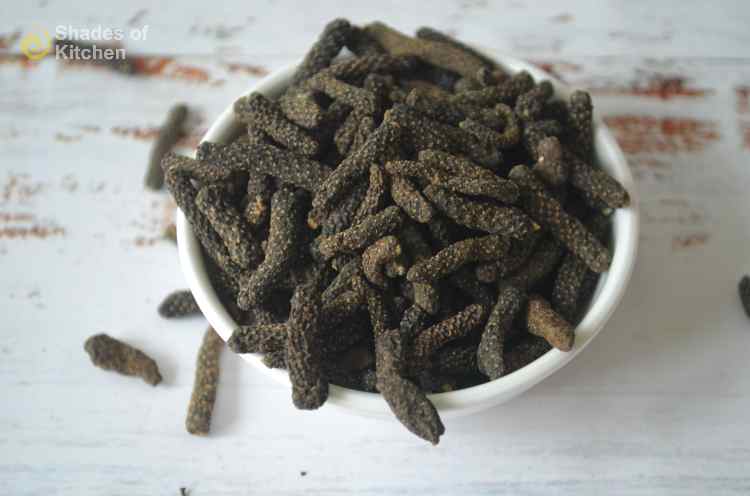 It is truly a wonderful enhancement to any dish but unfortunately, it is absent from the modern culinary world.
Long Pepper, the Indonesian variety, also known as Indian Long Pepper. This has a similar taste but slightly hotter than the usual pepper. The taste is wonderful, very aromatic and full of flavour. Alongside the peppery spiciness, Long Pepper delivers a taste similar to that of mixed spices.
Long Pepper can be used in place of regular black pepper. Naturally great in any savoury dish but also wonderful in sweet dishes. It is an important and common ingredient in many medicines of  Ayurveda.
Sprinkle on fresh pineapple slices or cut through the richness of a chocolate cake.
Though long pepper may not be as easy to find as black pepper, it's well worth seeking out. Try to add this long pepper to your diet to have better health and bring back your roots.
Pink Peppercorns: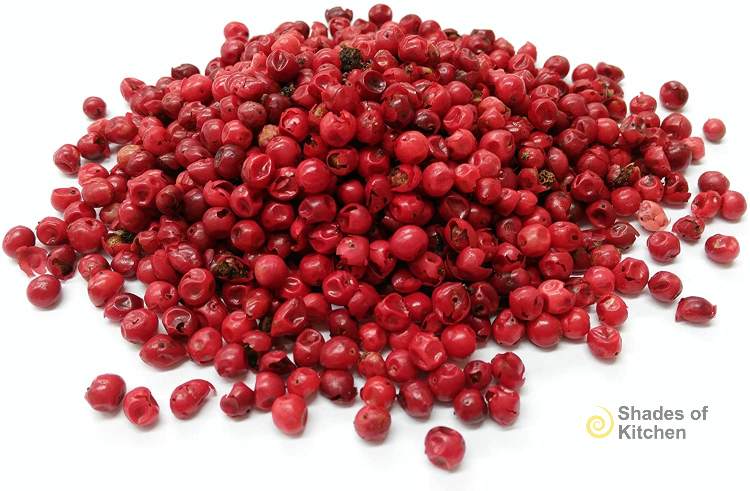 Unlike the above 3 varieties of peppercorns, the pink ones are in fact, not a true peppercorn. However, they're the same shape and size as regular peppercorns and possess a peppery flavour. They are berries from a South American shrub. As they impart a sweet peppery flavour these attractive pepper berries are often added to desserts.
It goes very well as a fish seasoning. They are great for garnishing. They are too soft to be ground by themselves, it is often mixed with black or white peppercorns.
This is milder, a tiny bit sweet and highly fruity. Pink pepper adds beautiful colour to your dish. These are a member of the cashew family than black pepper which means anyone with a cashew allergy would be better off avoiding them.
Jamaican Peppercorns: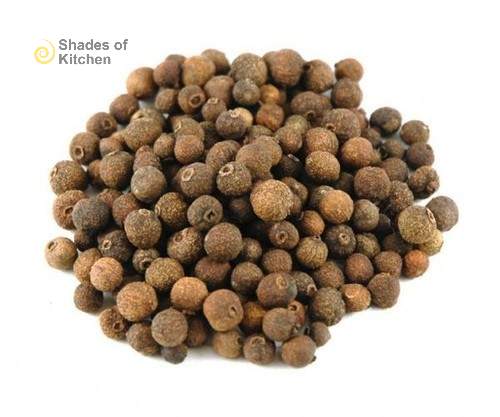 Grown in tropical regions, this is a variety of spice that is considerably larger than the traditional peppercorn. Jamaican peppercorn is more commonly known as allspice and it is rated as one of the most popular spices in the world. They are picked whilst unripe and dried in the sun.
It is light brown and grows to a diameter that is similar to soybean in size. It has an aroma similar to cloves, with flavours of cinnamon, nutmeg, cloves and black pepper.
Jamaican peppercorns are great addition while baking several cakes and pies. Not just baking, sweet potato dishes also benefit from the addition of Jamaican peppercorns as well.
Many recipes taste great by adding Jamaican peppercorns like condiments, meat dishes, sauces, baking, etc. Allspice is used in many Mexican dishes such as mole and most European cuisines, particularly in England in pickles, chutneys and cakes.
In addition to being sold in whole berry and ground forms, allspice is also available as an essential oil also known as clove pepper, jamaica pepper, new spice, myrtle pepper.
Dehydrated Green Pepper: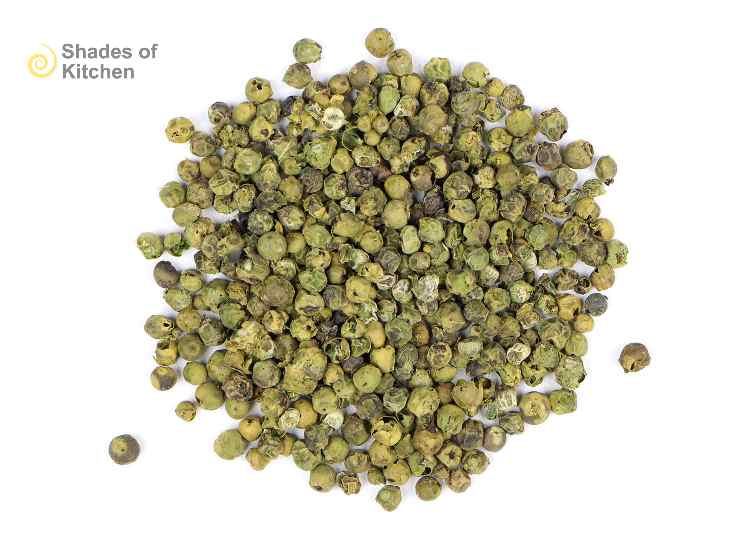 Green peppercorns are the same berry as black but they are picked earlier before the berries ripen (hence the green colour), then either air-dried or freeze-dried. They're aromatic, with a fresher, fruitier flavour than white or black pepper, but not as spicy as the black or white ones.
Green peppercorns are very famous in french cuisine. They are best used in dishes with a short cooking time to retain their fresh character.
They are similar to other peppercorns. You can add these green ones in sauces, stir-fries, sauces,
Benefits:
Helps to improve the digestive tract
It reduces gas.
It increases hydrochloric acid
Helps to reduce several types of stomach distress
It fights bacterial growth and high in iron, vitamin K, and antioxidants
I hope these pieces of information are useful to you and let me know if you have more details about peppercorns. I would love to read your comments.
Serve with Love