Coriander Mint Biryani | Coriander Mint Rice | Easy Rice Recipe (VIDEO)
January 23, 2018

Kabuli Biryani/Qabooli Biryani
February 8, 2018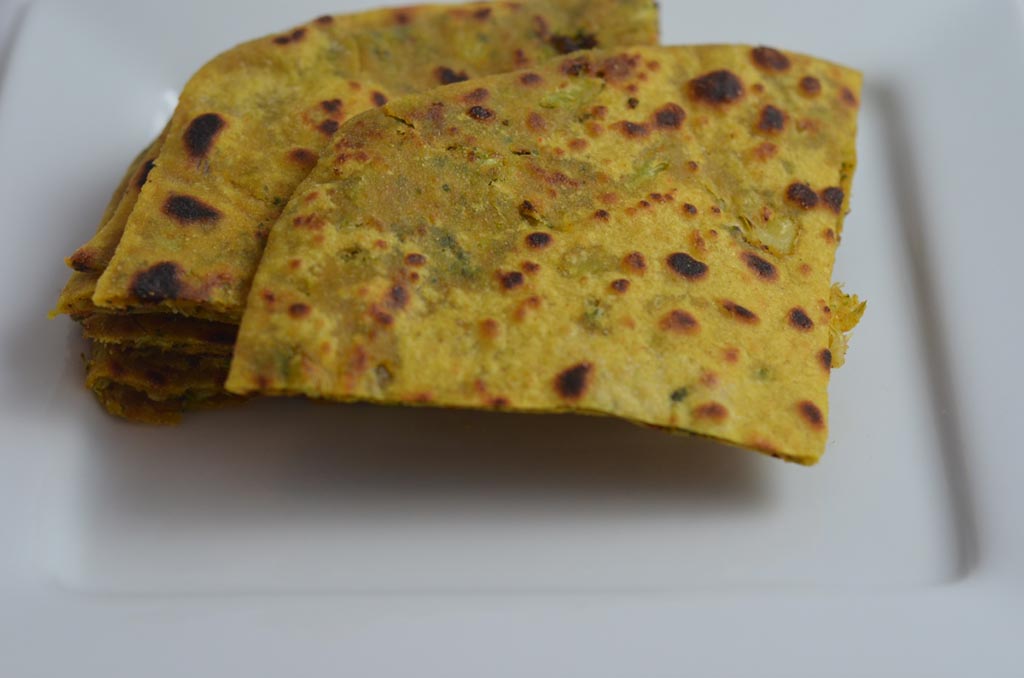 Broccoli is a great source of Vitamin K and C. This is delicious broccoli made into healthy stuffed paratha. Enjoy these parathas with Yogurt or pickle.
Ingredients
For the Dough

2 cups of Wheat flour
Salt, to taste
1 Teaspoon Oil
Water for kneading the dough
For the Stuffing

1 cup Broccoli, Grated or Shredded
3 Garlic cloves, finely chopped
½ Teaspoon Cumin powder
½ Teaspoon Chilli Powder
Salt, to taste
Oil
Method
For Stuffing

Heat oil in a pan, add chopped garlic and sauté for few seconds.
Then add grated broccoli, cumin powder, chilli powder and salt.
Saute the mixture for 5 minutes for the broccoli to get cooked. Keep aside to cool completely.
For Dough

Combine all the ingredients in a deep bowl. Add water a little at a time and knead to soft dough. Divide the dough into 6 to 8 small balls and keep it aside.
Final step:

Divide the broccoli filling into 6 to 8 equal portions. Now the final step is to fill the dough with broccoli filling.
Dust the wheat dough in flour and flatten it to 4 inches in diameter circle.
Place one portion of the broccoli filling in the centre, bring them together and seal it tightly.
Remove the little excess dough, which popped out when you brought them together.
Dust the stuffed broccoli paratha dough in wheat flour and roll it gently to 6 inches in diameter using rolling pin.
Heat a griddle on medium heat and place the broccoli filled paratha
Add a teaspoon of oil and spread. Cook the paratha till golden brown spots appear on one side and flip.
Cook the paratha evenly from inside out.
Repeat this process to make other parathas.
Serve the parathas with yogurt or pickle.
http://www.shadesofkitchen.com/broccoli-paratha/
Serve with Love