Gobi 65 | Chilli Cauliflower | Crispy Cauliflower Fry (VIDEO)
January 17, 2018

Brinjal Gravy for Biryani | Muslim Style Brinjal Gravy for Biryani (VIDEO)
January 22, 2018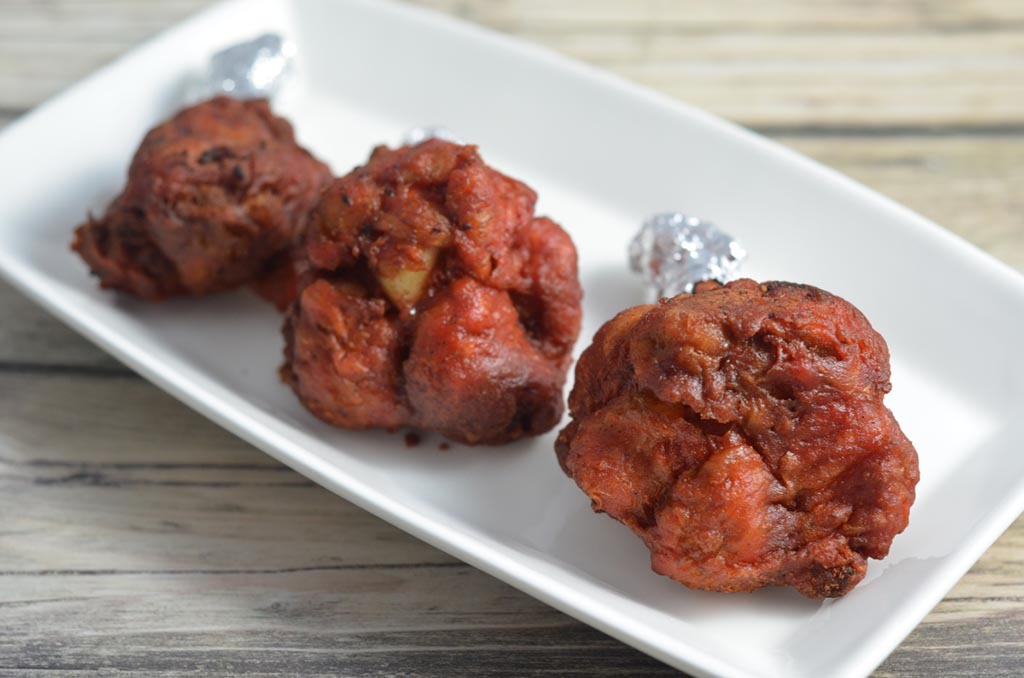 Chicken lollipop is usually everyone's favorite and the most popular appetizer in restaurants. It is very simple process to make lollies from the wings. Once you know the process then you will never buy chicken lollipops from outside restaurants. They are great for party appetizer; it will be a crowd pleaser. We stopped buying from restaurant since they add Chinese salt and food colour in the dish which is not good for the health. Here in the recipe, I have added light food colour to make it look good but usually I will never add any colour especially if I want to feed the children.
Chicken lollipop are quite famous in Indo-Chinese style cuisine. It is usually served hot with Szechuan sauce. I have tried different recipes and combination but this one is my favourite. They never go wrong if you follow the same measurements and ingredients. This can be done in varieties ways like the one in the recipe deep fried lollipop, Air fryer, Oven cooked or Shallow fried.
Chicken Lollipop is our favourite appetiser. It is prepared with chicken drumsticks. It is difficult to find ready-made drumsticks/drummettes so you can buy chicken wings and convert them into drumsticks. Drumsticks are different from Chicken leg so make sure you get the right part to prepare this dish.This recipe is a dry version of lollipop but you can also make crispy lollipop which tastes like KFC chicken or a semi dry chicken lollipop. In semi dry, we have to toss the chicken in a sauce at the end once the deep-fried lollies are ready. Try this recipe and let us know your feedback.
Ingredients
10 numbers Chicken Drumsticks
3 Tablespoons Corn Flour
1 Tablespoon Besan
1 Tablespoon Plain Flour
1 Tablespoon Ginger Garlic Paste
½ Teaspoon Turmeric
1 Teaspoon Chilli Powder
1 Teaspoon Pepper powder
1 Teaspoon Cumin Powder
1 Teaspoon Lemon Juice
1 Medium size egg
Oil, for frying
Salt, to taste
Method
Clean the chicken drumsticks and keep it aside.
In a bowl add all the ingredients except chicken and oil.
Mix all the ingredients, if it is too thick add 2 tablespoons water and make a batter for lollipop.
Marinate the drumsticks in the batter and leave it for at least 20 minutes.
Heat oil for deep frying, once oil is oil, drop chicken in the oil and cook till they are crispy.
Drain from oil and serve as an appetiser.
http://www.shadesofkitchen.com/chicken-lollipop/
Serve with Love