Dal Spinach is dal cooked with some spices and garlic along with a bunch of spinach.
Dal Palak is very easy and comfort food for most of us. We make dal almost every week. There are numerous ways to cook dal with spinach, but this is quick and easy recipe with less ingredients. This can be made with one or more dals. Today, I have used Toor dal but usually I make with 2 or more dals with spinach.
Dal is very common ingredient in every Indian household. If you have spinach, you can add otherwise just cook the dal and finish with tempering that makes a wholesome meal. Paruppu or Paruppu Keerai is the common term in Tamil.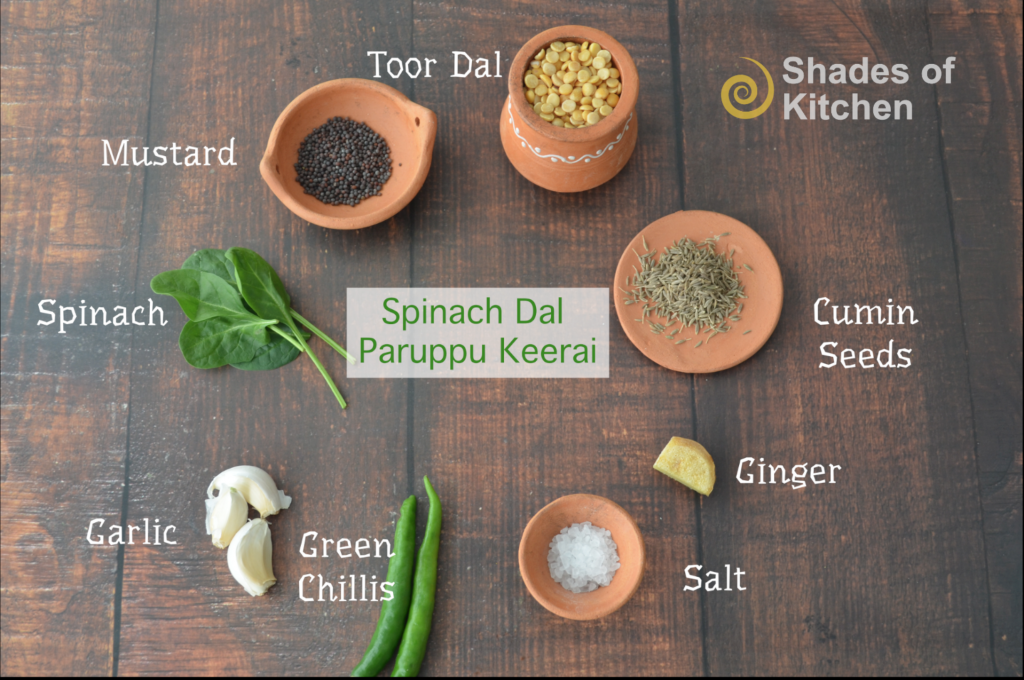 Dal goes well with rice or roti.
As I mentioned earlier, we can play with these 2 ingredients in various style. I will upload other variations soon. The most favorite dal recipe of mine is Uppu Paruppu, which they serve in marriages.
I made this dish with very few ingredients since most of us are running out of ingredients due to quarantine, but we should make sure to give healthy food to our children whatever the situation may be. We can add onions or tomato along with dal and spinach, but this is to keep it simple yet healthy. Let's take a look at the ingredients and method to make this delicious dish.
Dal with Spinach | Dal Palak Recipe
Ingredients
Toor Dal – 1 cup
Spinach – 1 cup (packed tightly)
Mustard – 1 tsp
Cumin Seeds – 2 tsp
Garlic – 5 cloves
Ginger – small piece
Green Chillies – 2 or 3 (according to your preference)
Salt, to taste
Ghee/Oil – 1 tbsp
Method
Take washed Toor dal in a pressure cooker along with little salt and add 2 cups of water.
Add little cumin seeds along with dal and cook for 3 to 4 whistles.
Once the pressure settles, remove the lid and mash the dal well and keep it aside.
In a kadai, add oil/ghee and add some mustard seeds and allow them to crackle.
Then add in remaining cumin seeds, ginger and garlic and saute for 30 seconds.
Now add cooked dal, green chillies and spinach and allow them to cook for 6 to 7 mins.
Check salt and add if you need more.
Spinach cooks fast but check if it is cooked well before your turn off the flame.
Serve with rice or roti. If you are serving with rice, then try with potato fry. They are heavenly delicious.
Tips and Variations:

There are many variations for Dal spinach, but this is very simple method which will be useful during quarantine.
Adding onions and tomatoes will add more flavor to the dish.
Do not cover while cooking the spinach with dal.
Dal should be cooked in the open pan.
You can add turmeric while cooking the dal but I tried to minimise the ingredients without compromising the taste.
http://www.shadesofkitchen.com/dal-with-spinach-dal-palak-recipe/
Serve with Love