Paneer Butter Masala/ Cottage Cheese in Red Curry
December 27, 2017

Prawn Masala/ Shrimp Masala/ Eral Masala
January 2, 2018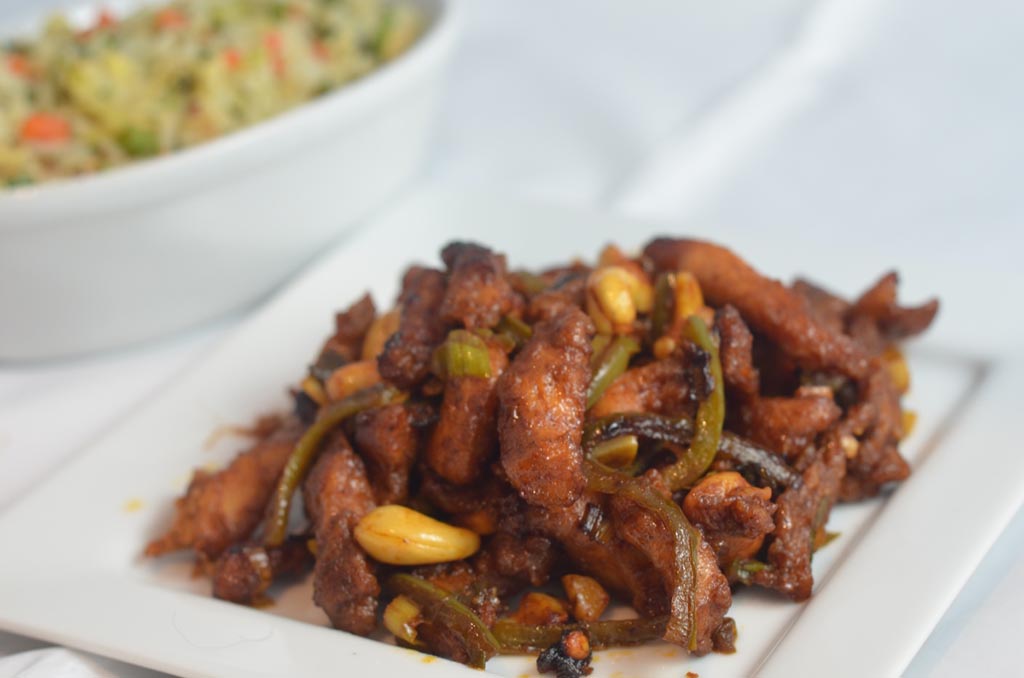 Dragon Chicken is similar to Chicken Manchurian with slight variations. This Indo-Chinese dish is a great accompaniment for Fried Rice. Dragon Chicken comes from the kitchens of Chinese. Chicken pieces can be fried and made ahead, when you are ready to eat toss the chicken pieces in the sauce.
Ingredients
For Marination

1 Tablespoon Pepper Powder
1 Big size Egg
2 Tablespoon Corn Flour
1 Teaspoon Ginger Garlic paste
1 Tablespoon Soya Sauce
Salt, to taste
For Sauce

1 Onion, thinly sliced
1 Pepper, thinly sliced
2 Tablespoons Spring onion, chopped
8 Cashews
4 Garlic Cloves, finely chopped
1 inch Ginger, finely chopped
1 Tablespoon Chilli Sauce
1 Tablespoon Tomato Ketchup
1 Teaspoon Dark Soya Sauce
Oil
Salt, to taste
Method
Cut the chicken pieces into thin slices and marinate them with the ingredients given below For Marination. Let it marinate for 15 minutes.
Heat oil in a pan, add chopped ginger, garlic and cashews and fry till cashews turn brown.
Then add sliced pepper and onion and toss well in the oil.
Now add in tomato sauce, chilli sauce, soya sauce and salt and mix well.
Cook the mixture for 2 mins and add in the fried chicken and toss well in the sauce.
Then add chopped spring onion and give it a quick mix.
Serve Dragon Chicken with any fried rice of your choice.
Tips and Variations:

Don't cut the chicken pieces into small pieces. It has to be thin slices for dragon chicken.
Never skip the cashews. It adds extra taste to the dish.
We can sprinkle pepper powder at the end. It is totally optional.
http://www.shadesofkitchen.com/dragon-chicken/
Serve with love