Maravalli Kizhangu Stir Fry/ Tapioca Stir Fry/ Kappa Masala (VIDEO)
November 24, 2017

Methi Thepla
November 27, 2017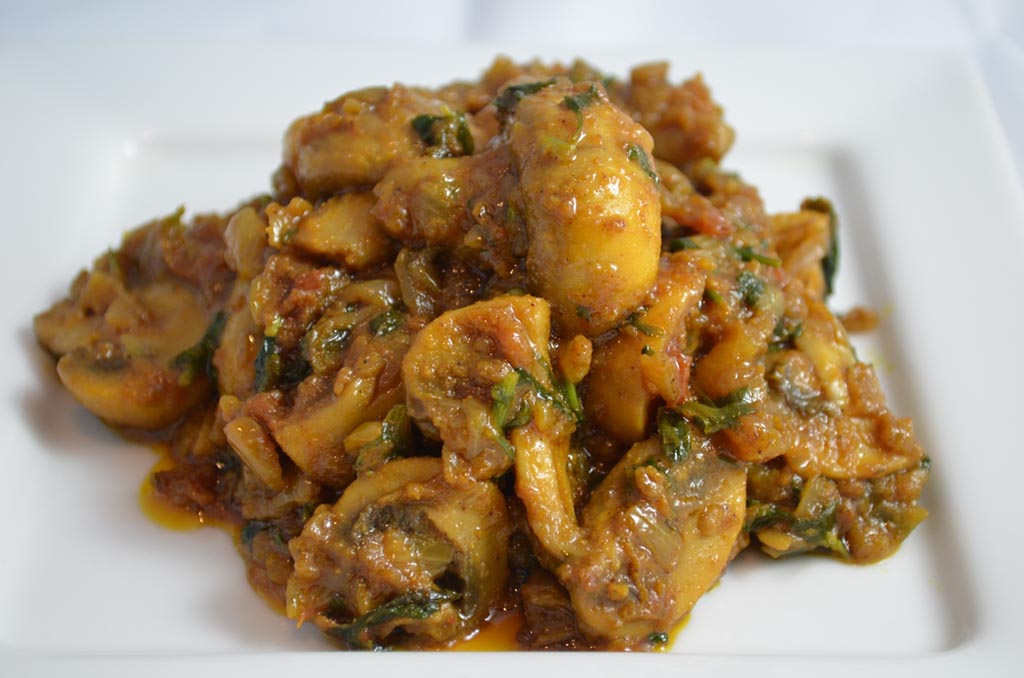 Mushroom curry is made with button mushroom. You can substitute mushroom with any of your favourite vegetable. I like to keep the gravy thick. You can make it thin by adding extra water. Don't add too much water otherwise the mushrooms will become mushy. This curry goes really well with naan, pulao, jeera rice or roti.
Ingredients
200 gms of Mushroom
2 finely chopped onions
2 finely chopped tomatoes
4 cloves of grated Garlic
1 inch grated Ginger
1 Teaspoon of Chilly Powder
1 Teaspoon of Coriander Powder
1 Teaspoon of Turmeric
1 Teaspoon of Cumin powder
1 Teaspoon of Garam masala
Kasthuri Methi
½ cup boiled milk or cream
Coriander leaves
Salt to taste
Oil
Method
Wash and cut mushroom into two or four pieces depends on the size of the mushrooms.
Heat a pan over medium heat and add oil
Once oil gets hot add in onions, sauté till it becomes brown. Make sure to cook the onions really well.
Now add grated ginger and garlic. Cook for 30 seconds
Then add chopped tomatoes. Let the tomatoes cook until you see oil leaving the sides of the pan.
Once the oil separates add all the spice masala. Chilly powder, coriander powder, turmeric, cumin powder, garam masala and kasthuri methi. Top with salt and continue to cook for 2 minutes more.
Now add chopped mushrooms, cover and cook mushrooms with the onion-tomato masala.
Add very little water and cook till mushrooms are soft.
Finally, add milk and give a quick mix and garnish with chopped coriander leaves.
Serve Mushroom masala with naan, jeera rice, pulao or roti.
http://www.shadesofkitchen.com/mushroom-curry/
Serve with love