Mushroom Curry
November 24, 2017

Plantain Coconut fry
November 27, 2017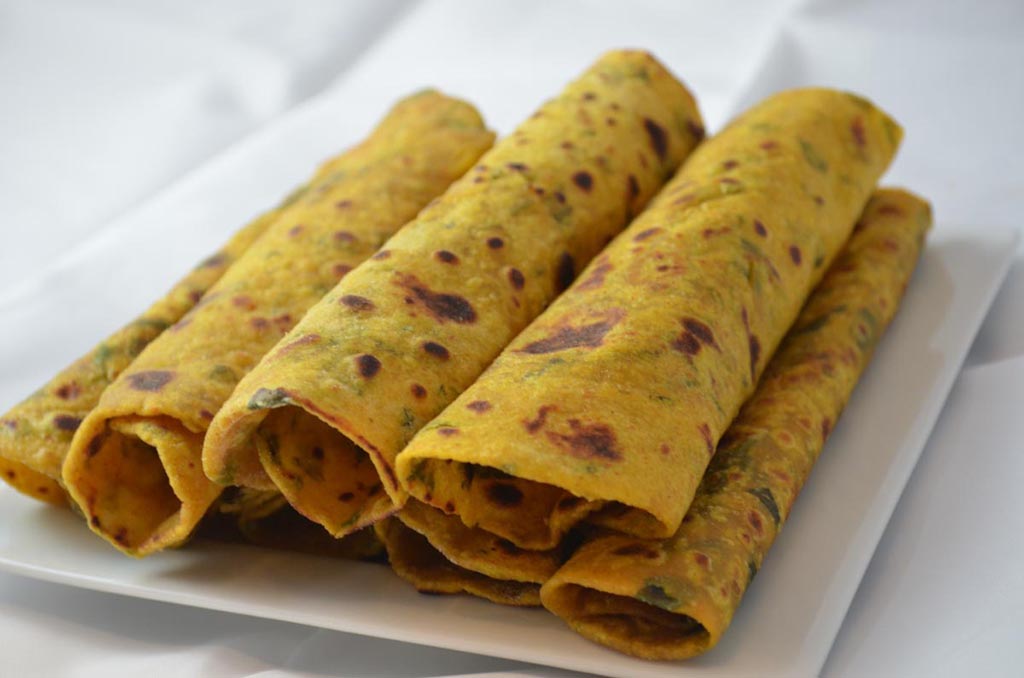 Theplas are flavored flatbread and regular meal for Gujaratis. It is easy to carry for long distance travel or a picnic. It can be eaten with yogurt or pickle. You can even add Jowar flour or Bajra flour, which will make the play even more healthy.
Ingredients
1 cup of Whole Wheat flour
½ cup of Methi leaves (Fenugreek Leaves)
2 Tablespoon of Besan flour
1 Tablespoon Yogurt/Curd
¼ Ajwain seeds
¼ Teaspoon Turmeric powder
1 Teaspoon Chilli Powder
1 Teaspoon Cumin Powder
¼ Teaspoon Sugar
Salt to taste
Oil for cooking
Method
Combine all the ingredients and knead into soft dough using enough water.
Cover and allow the dough to rest for 15 minutes.
Divide the dough into 10 equal portions and roll out each portion into a 6″ diameter circle using a little whole wheat flour for rolling.
Heat a non-stick tava (griddle) and cook each circle, on a medium flame, using a little oil, till it turns golden brown in colour from both the sides.
Continue the similar process with the remaining rolled out portions and stack the cooked theplas one above the other.
http://www.shadesofkitchen.com/methi-thepla/
Serve with love