Vegetable Fried Rice
February 10, 2018

Ennai Kathirikai Kulambu | Brinjal Curry (VIDEO)
April 26, 2018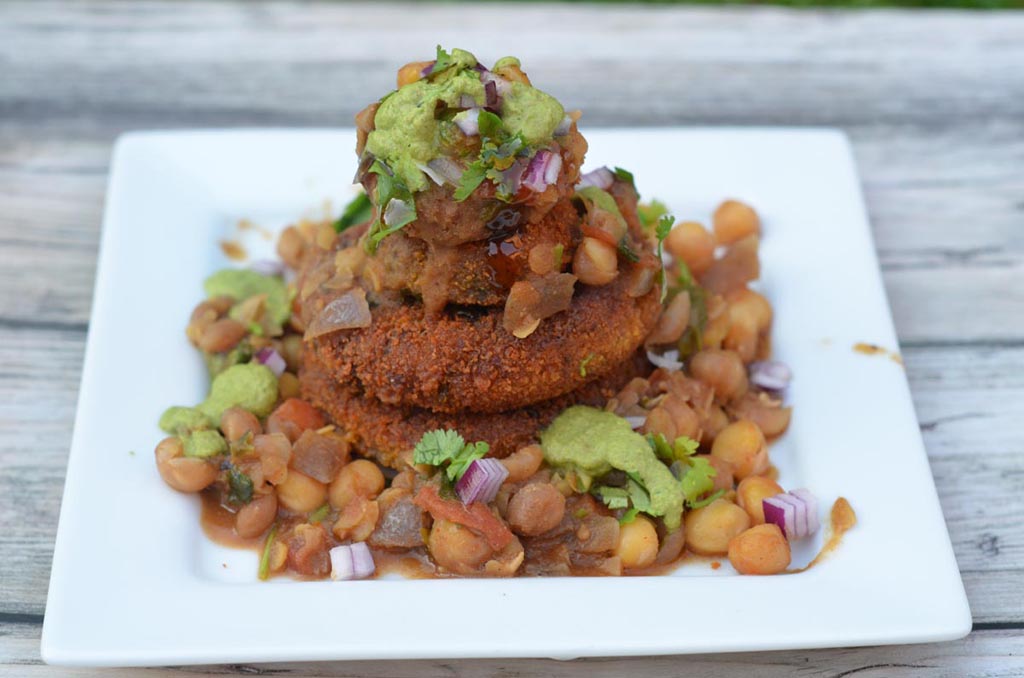 Ragda Patties is a famous street food. We use white peas to make ragda, which is served with aloo patties. Here ragda and patties both are mild in taste to make it kids friendly.
Ingredients
For Patties:

3 large Potatoes (Boiled and Mashed)
1 Tablespoon Cornflour
¼ cup Coriander, chopped
¼ cup Mint, chopped
1 Teaspoon Garam Masala
1 Teaspoon Chilli Powder
1 Teaspoon Cumin Powder
Salt, to taste
Oil, for frying
For Ragda

1 cup White Peas (Soaked and Boiled)
1 Onion, finely chopped
1 Tomato, finely chopped
1 Tablespoon Ginger Garlic Paste
1 Teaspoon Chilli Powder
1 Teaspoon Coriander Powder
1 Teaspoon Garam Masala
¼ cup Coriander Leaves
Salt, to taste
Oil
To Serve

Green Chutney
Tamarind Chutney
1 cup Sev
½ cup Onion, chopped
¼ cup Coriander
Method
For Patties

Boil, peel and mash the potatoes.
Add cornflour, coriander, mint, garam masala, chilli powder, cumin powder and salt.
Mix all the above ingredients well with the potatoes.
Make medium sized balls of the mashed potato mixture.
Flatten them, shape into round patties and keep aside.
Heat oil in the pan, shallow fry each patties on both the sides till they are golden brown.
Fry all the patties till they are done.
For Ragda

Soak the dried white peas overnight.
Pressure cook soaked peas for 2 to 3 whistles.
Heat oil in a pan, add chopped onion and sauté well.
Then add ginger garlic paste and cook for a minute.
Now add chopped tomato and sauté well with onion.
Add all the spice powder, salt and cooked peas.
Allow the peas to cook for 5 minutes along with other ingredients.
Once the gravy becomes thicker switch off the flame and keep aside.
How to proceed

For serving, place 1 or 2 patties on a plate and pour the ragda over.
Top with Coriander chutney, Tamarind chutney, onion, sev and coriander.
Serve immediately.
Tips and Variations:

I didn't have sev so I skipped but try not to skip since it adds extra taste to the dish.
Try to use only white peas.
http://www.shadesofkitchen.com/ragda-patties/
Serve with Love