Plantain Coconut fry
November 27, 2017

Peas Pulao
November 27, 2017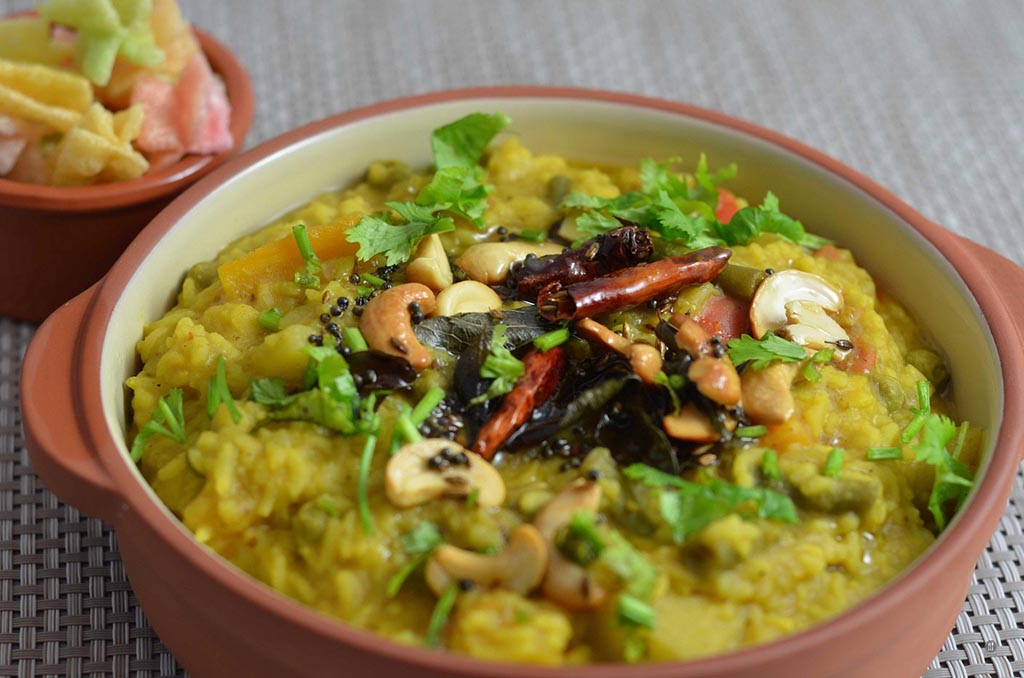 Bisi Bele Bhaat is one of the traditional Karnataka recipes. This scrumptious dish is very easy to make. It is served piping hot accompanied by pickle, raita or papads. You can use ready-made bisi bele bhaat masala but I prefer using homemade masala.
Ingredients
For Spicy Sambar:

1 Medium size Onion or 7 to 8 Shallots
2 Tomato, chopped
1 Large Carrot, diced
½ cup Beans (French/ Running Beans), diced
½ Bell Pepper (Any colour of your choice), diced
¼ cup Green Peas
1 Medium size Potato, Peeled and diced
1 Drumstick, cut into 1 inch pieces
1 cup Tamarind water
2 teaspoons Jaggery
Salt, to taste
For Bisi Bele Bhaat Spice Powder:

1 tablespoon Channa dal
1 tablespoon Urad dal
1 tablespoon Poppy seeds
1 tablespoon Coriander seeds
3 to 4 Cloves
2 Peppercorns
3 Cardamoms
1 inch Cinnamon
2 Dry Red chillies
1 teaspoon fenugreek seeds
¼ cup grated coconut
1 teaspoon Turmeric
½ Hing (Asafoetida)
For Rice:

1 cup Raw Rice
1 cup Toor dal
½ teaspoon Turmeric
1 tablespoon Ghee
Salt, to taste
Method
For Tempering & Garnish:
Step 1:
Bisi Bele Bhaat Spice Powder

Heat a pan, add in channa dal, urad dal roast it till slight brown. Once it is roasted add in cinnamon, cloves, coriander seeds, red chillies, cardamoms, poppy seeds. Roast them until you get the aroma from the spices. Now, will add coconut and roast till it loses its moisture. Finally, add in Hing and Turmeric.Allow the mixture to cool completely and make a fine powder.
Step 2:
Spicy Sambar

In a pressure cooker add all the ingredients under Spicy Sambar and Bisi Bele Bhaat spice powder. Stir all the ingredients well. Cook the vegetables for 2 whistles. Since the vegetables cook very quickly, we will release the pressure by running cold water over the pressure cooker. This process helps to bring the pressure down immediately.
Step 3:
Dal Rice

In another pressure cooker take washed rice, toor dal, turmeric, ghee and salt, 4 cups of water. Cover the cooker and cook for 2 whistles.
Step 4:
Tempering

Heat a small pan over medium heat. Add oil/ghee add mustard seeds and cumin seeds. Allow it to crackle. Then add curry leaves and red chillies. Once roasted keep it aside.
Step 5:

Now, will add the spicy sambar with the cooked rice and dal. Stir all the ingredients well and the mixture looks like a mish-mash. At this stage add the tempering and transfer the bisi bele bhaat to a serving bowl. Add 1 tablespoon of ghee (Optional). Sprinkle the chopped coriander leaves.
Serve Bisi bele bhaat with boondi or pickle.
http://www.shadesofkitchen.com/bisi-bele-bhaat/
Serve with love