Lamb chops | Mutton chops | Spicy Lamb Chops
January 19, 2020

Egg Curry | Muttai Kulambu | South Indian Style Egg Curry
February 3, 2020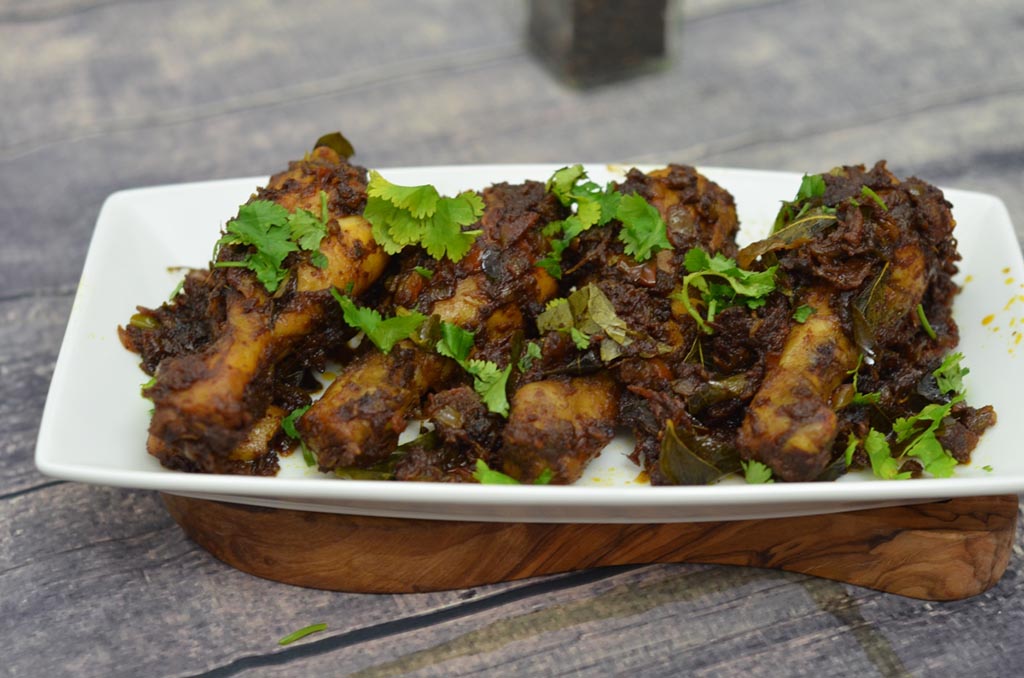 Chicken is always a crowd pleaser and can be prepared in many different ways. For this recipe, you can use any part of chicken but I am using drumstick. There are no difficult or fancy ingredients in this dish. You can find the ingredients in your regular pantry. If you are in hurry to make something to satisfy your family then just go ahead and do this.
This recipe calls for basic Indian spices which gives authentic taste to the dish. I made this with egg curry and the combination was so delicious.
Chicken Drumstick Fry:
Chicken cooked with onion and tomato with some cinnamon, cardamom, cloves, peppercorns and other spice powders.
Please try this recipe and give your feedback.
Ingredients
Chicken Drumstick – 8 pieces
Onion – 2 big size (finely chopped)
Tomato – 2 numbers (finely chopped)
Ginger Garlic Paste – 1 tbsp
Fennel Seeds – 1 tsp
Cinnamon – 1 small
Cardamom – 5 numbers
Cloves – 5 numbers
Peppercorns – 1 tsp (pounded)
Green Chilli – 2 number or adjust to taste (chopped)
Curry Leaves – 2 springs
Chilli Powder – 1 tbsp
Coriander Powder – 1½ tbsp
Turmeric – ½ tsp
Cumin Powder – 1 tsp
Garam Masala Powder – 1 tsp
Coriander Leaves – 2 tbsp
Oil
Salt, to taste
Method
Remove the skin from the chicken and make some slit and set it aside.
Heat ¼ cup oil in a pan, add fennel seeds, cinnamon, cardamom and cloves and saute for few seconds.
Then add in onion and cook for 3 to 4 minutes on medium heat.
Now add ginger garlic paste and cook for 30 second and then add tomatoes, green chillies and curry leaves and cook until they combine and mashed well with onions (you can add little water to avoid burning).
While the onion and tomato are cooking add in spice powders (Turmeric, Chilli Powder, Coriander Powder, Cumin Powder, Garam Masala Powder and Salt).
After adding the spice powder cook until oil separates from the curry.
Now add the chicken drumstick and combine well with masala.
Add little oil if needed and also ½ cup water and cover and cook for 5 minutes.
Check in between and saute well.
After 5 minutes of cooking, bring the heat to low and add the pounded peppercorns then roast the chicken for another couple of minutes.
Finally sprinkle the chopped coriander leaves.
Serve with any rice or roti of your choice. I made this with egg curry and the combo was so delicious.
Tips and Variations:

You can use any part of chicken.
I have added more than ¼ cup oil but if you want you can reduce the oil.
Make sure to give some slit if you are using the drumstick so that the taste will get inside the chicken.
http://www.shadesofkitchen.com/chicken-drumstick-fry/
Serve with Love