Podi Idly | Mini Idly | Gunpowder Idly
January 19, 2020

Chicken Drumstick Fry
January 24, 2020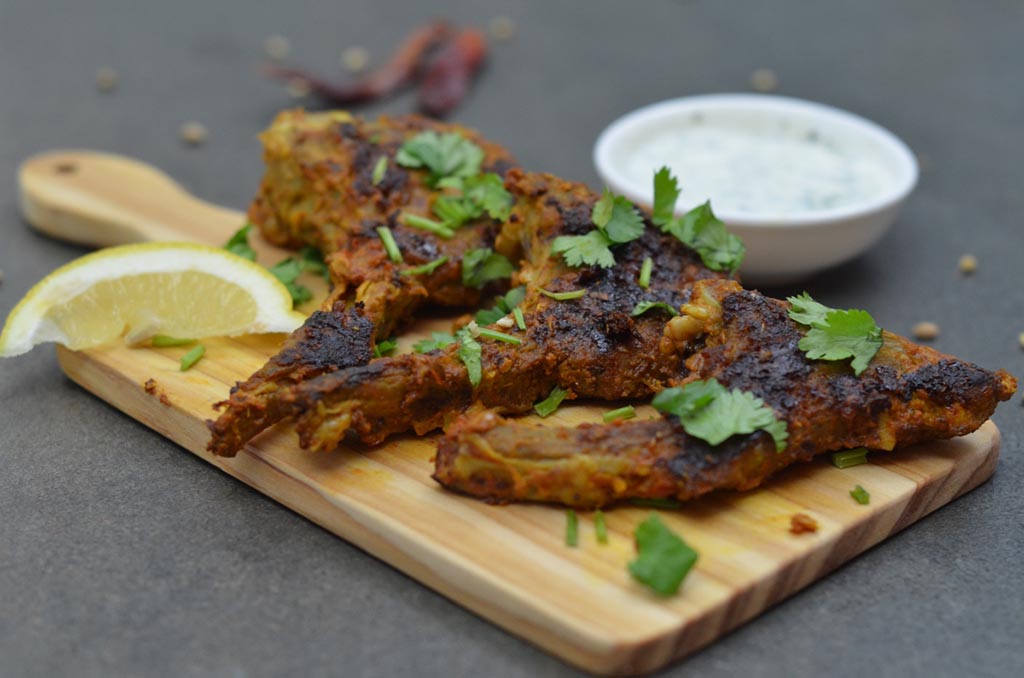 Do you like Lamb chops??? Then don't miss to try this recipe. This is a spicy recipe but you can always reduce the spiciness according to your taste. Lamb chops are tender so they cook fast depending on thickness and remain juicy inside but if you are using mutton chops, cooking time will be little longer. Lamb chops seasoned with spice powder and hand pound paste gives a unique flavor to this recipe. You can serve this as a starter or sides for biryani or pulao. Serve lamb chops with Mint Chutney and Kachumber.
Lamb chops | Mutton chops | Spicy Lamb Chops
Ingredients
Lamp Chops - 4 pieces
Garlic Cloves - 4 to 5 numbers
Coriander Seeds - 1 tbsp
Dry Red Chilli - 4 to 5 numbers (adjust to taste)
Kashmiri Chilli Powder - 1 tbsp
Cumin Powder - 1 tsp
Turmeric - 1 tsp
Ginger Garlic Paste - 1 tsp
Yogurt/Curd - 2 tbsp
Salt to taste Oil - 2 tsp
Method
Take garlic, dry red chillies and coriander seeds in mortar and pestle and pound them to a coarse paste.
Keep the pounded paste aside.
In a bowl, take mutton chops and add the remaining ingredients and also the handmade coarse paste except oil.
Once everything is mixed well, allow it to marinate.
Take a pan, brush little oil and place the marinated chops and cook it on medium heat.
Add 1 tsp oil and keep flipping the chops to avoid burning.
Add remaining oil and keep cooking for few more minutes and check if the meat is cooked well.
Serve hot with mint chutney and Kachumbar.
Tips and Variations:

You can also use Mutton Chops instead of lamb Chops.
Adjust chilli powder according to your taste.
You can use the blender to pound the masala instead of Mortar and pestle.
My favourite is grinding with ammikal.
Keep flipping the chops to avoid burning.
Use this for basic marination and you can use any meat of your choice.
http://www.shadesofkitchen.com/lamb-chops-mutton-chops-spicy-lamb-chops/
Serve with Love