Everyone's favourite egg manchurian! The egg is rich in protein and good to consume frequently. When it comes to boiled egg it is tasteless and we don't take it regularly in our meal so egg manchurian adds flavour to the egg and makes it easy to feed children. Manchurian is a famous dish when it comes to Indo-Chinese food which is usually prepared with meatballs or fried chicken. In this video, you will get to know how to prepare egg manchurian. This recipe will be very spicy and tasty. I have added chilli sauce, tomato sauce, and soy sauce which will enhance the taste of the egg manchurian and get you the exact restaurant-style dish. I have tried different manchurians like Gobi Manchurian, Chicken Manchurian and Veg Manchurian but this is similar to them which goes well with chapati or roti.
Try once at home and there will be demand for chapathi, everyone will eat more than usual. The spicy flavour of pepper will elevate the fragrance of the dish and will inspire people to consume it. This can also be served as an appetizer and it is easy to make it when you host the post. Usually manchurian goes well with fried rice so this can also be served with fried rice. There is another method of making egg manchurian, instead of boiled eggs, we use steamed egg. That tastes good too. I like both versions of manchurian.
Egg manchurian is made with hard-boiled eggs which are dipped in the batter to fry them crispy then we add them in the manchurian sauce. I have used dark soy sauce to get a good colour for the sauce, but you can also use light soy sauce. Chilli sauce is optional so if you don't have chilli sauce then just skip. I have shown semi gravy manchurian to go well with roti, but you can make it dry by reducing the water. This dish is very spicy so reduce the pepper if you don't prefer spicy food. If you are making this for your party or guest, keep the fried eggs and manchurian sauce ready and toss them together just before serving.
Check out the recipe video here:
How does an egg elevate your health?
1) Egg is the most nutritious food.
2) It raises the good cholesterol level.
3) It provides choline which most people do not get in other foods.
4) Egg reduces the risk of heart disease.
5) It has the major antioxidants that are good for eye health.
6) It has high-quality proteins and amino acids.
7) Reduces the risk of stroke.
 Here is my version of Egg Manchurian:
Take 3 hard-boiled eggs (it yields 12 pieces) and cut them lengthwise. Make 4 pieces in one egg (to get yolk in all pieces). Cut them the way I have shown below.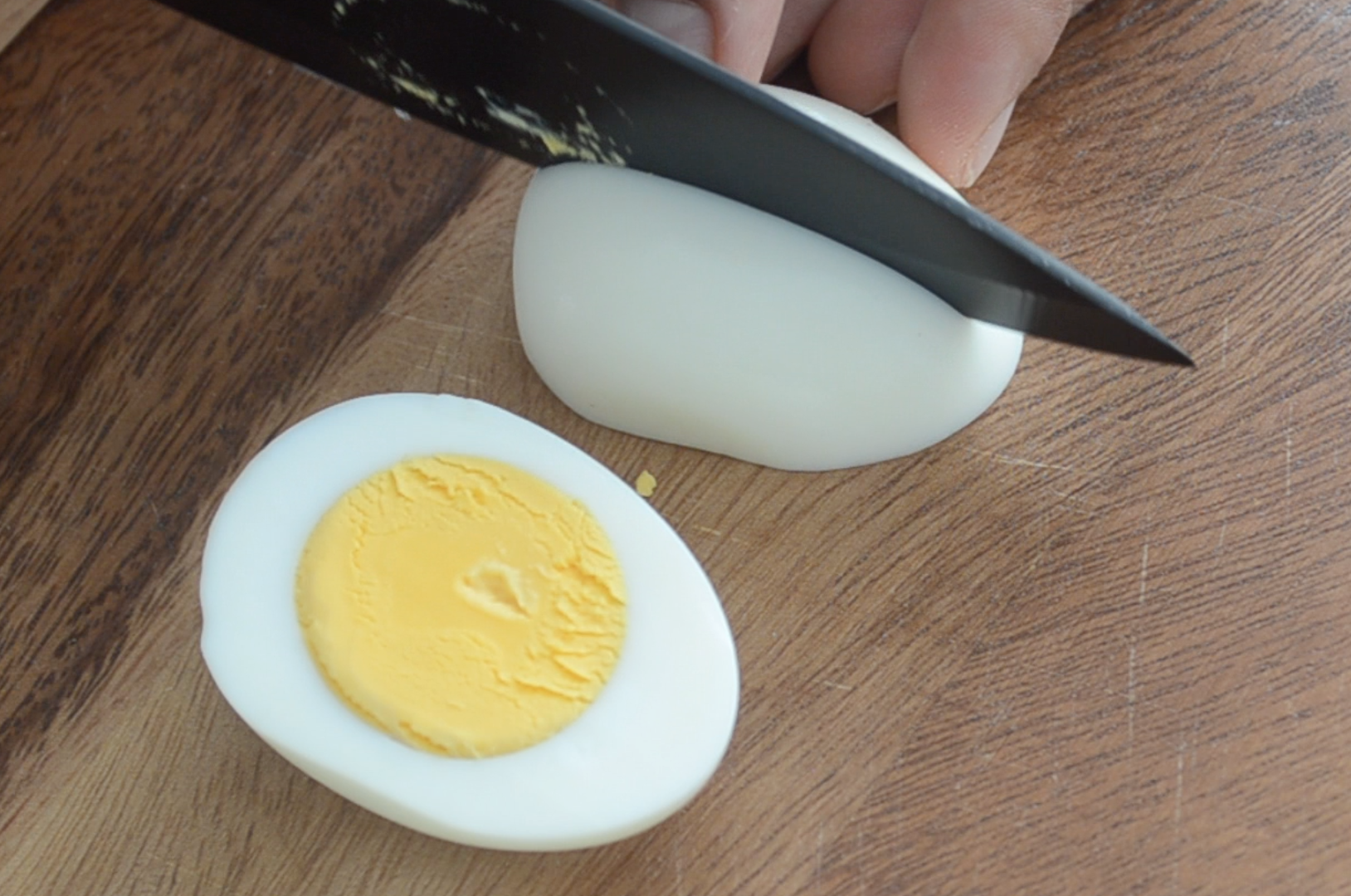 Take 1/2 cup all-purpose flour, 1/2 cup cornflour, salt to taste and 1/2 tsp pepper powder (adjust to your preference) in a bowl. Mix all the dry ingredients before adding water.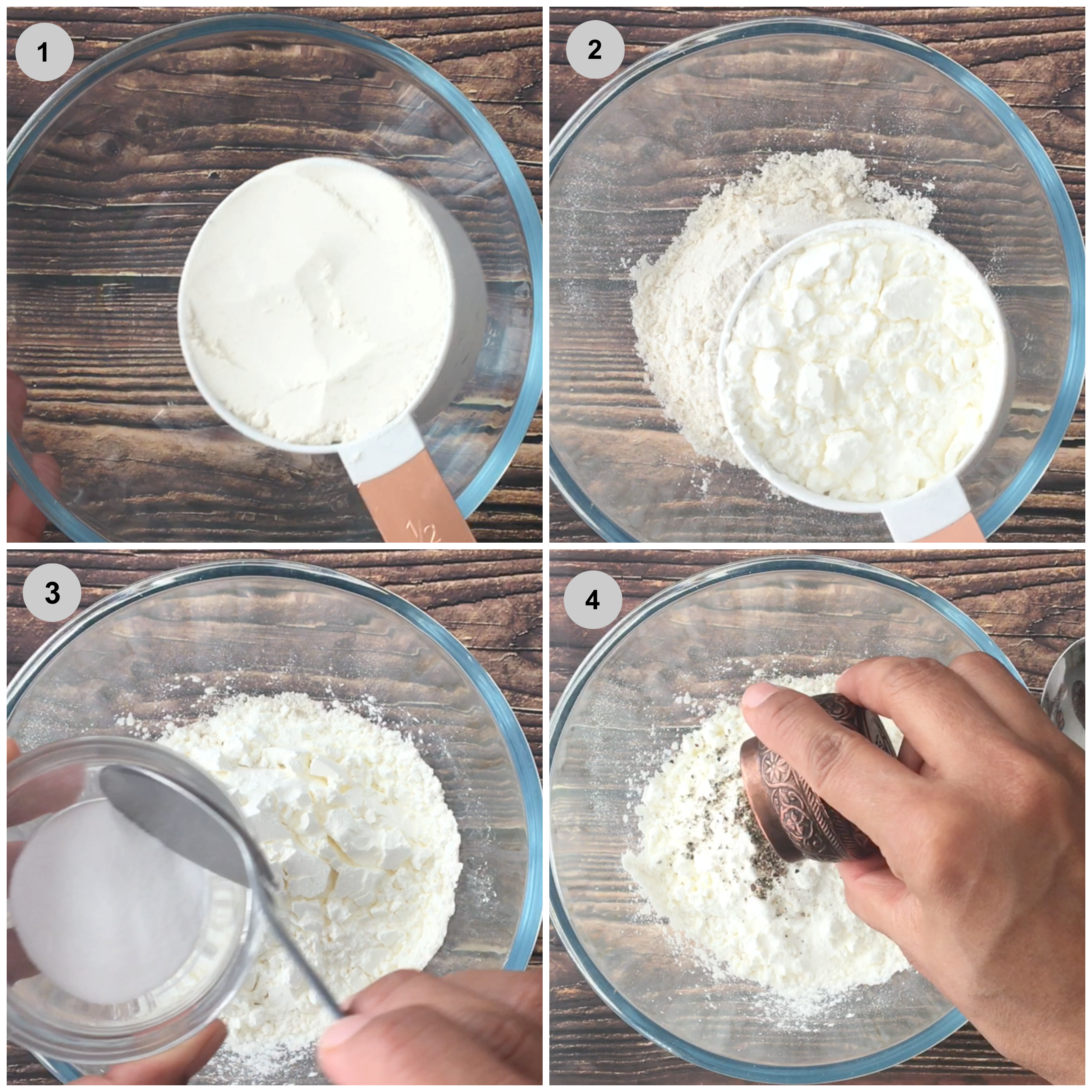 Mix all the dry ingredients and add water slowly and make a thick batter. The batter should be thick to dip the egg and fry them in the oil.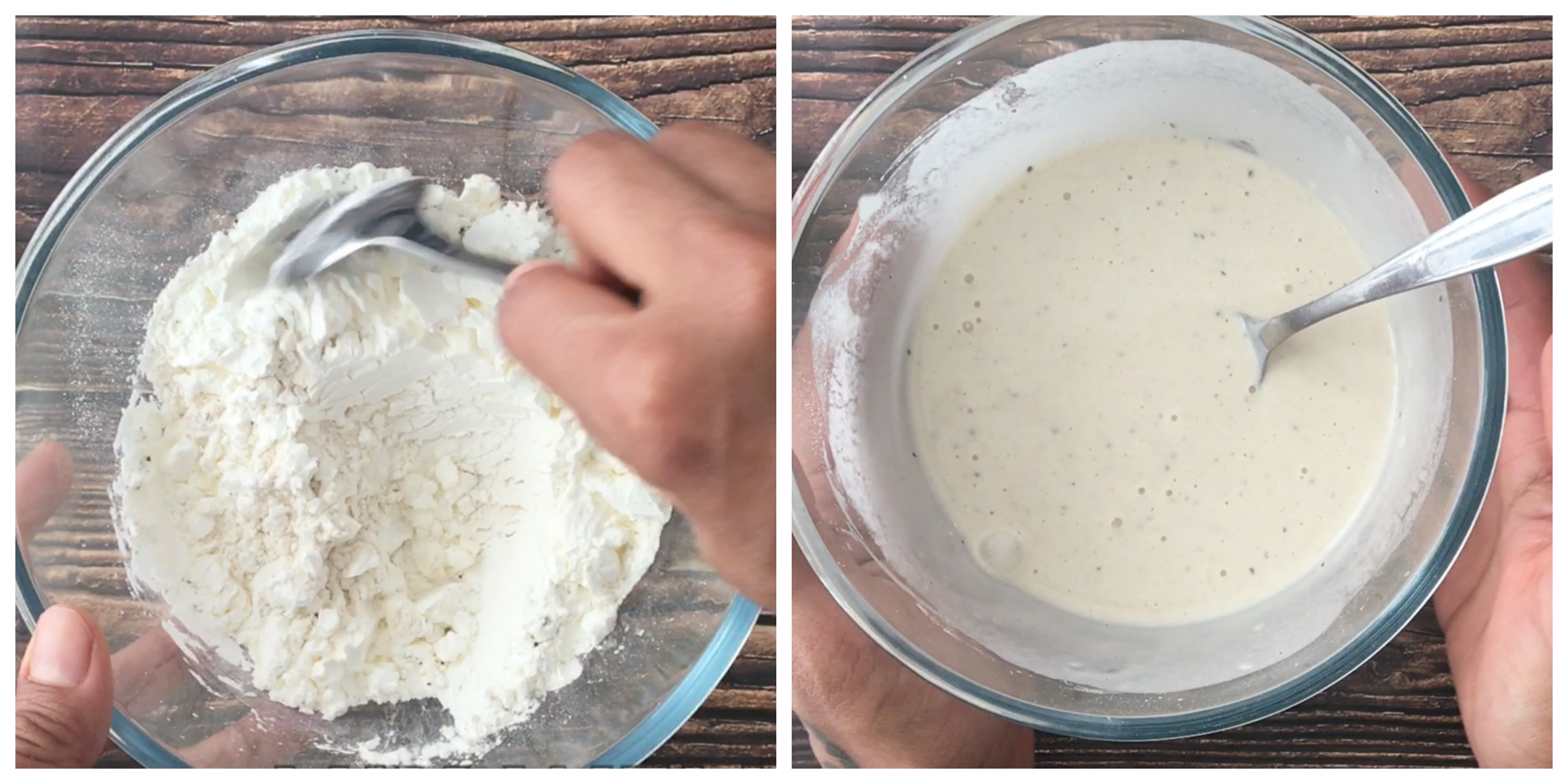 Take the sliced egg and dip in the batter and drop it in the hot oil one by one. Don't fry everything in one batch. Fry in 2 or 3 batches. Don't crowd the pan while frying. Fry them till they are crispy and set it aside. Let's prepare a sauce and toss the fried eggs in the sauce.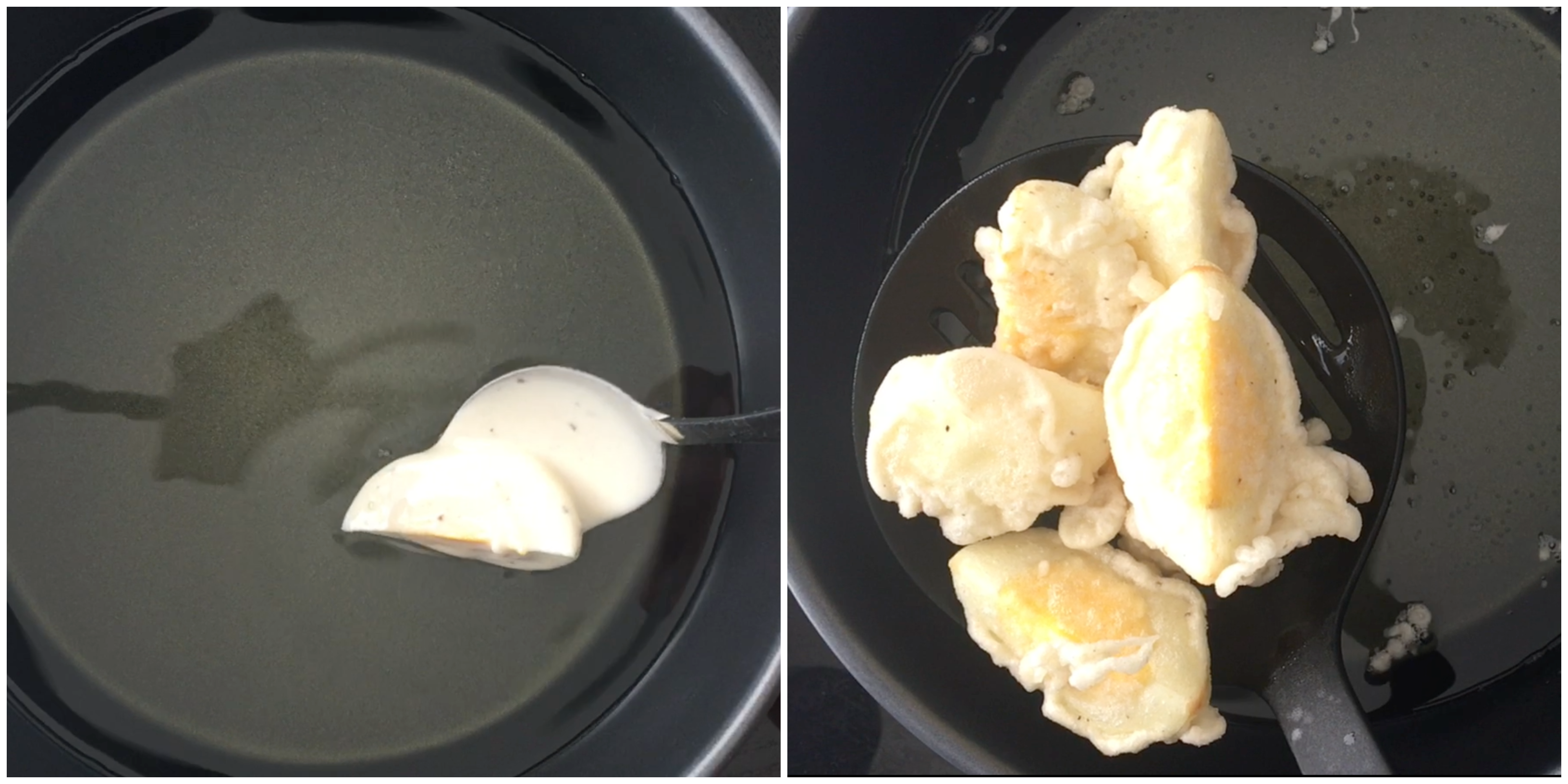 Take a pan, add some oil and add 1 tsp finely chopped ginger, 2 garlic cloves finely chopped, 1 green chilli finely chopped and 1 onion chopped finely. Saute everything well for a minute on medium heat.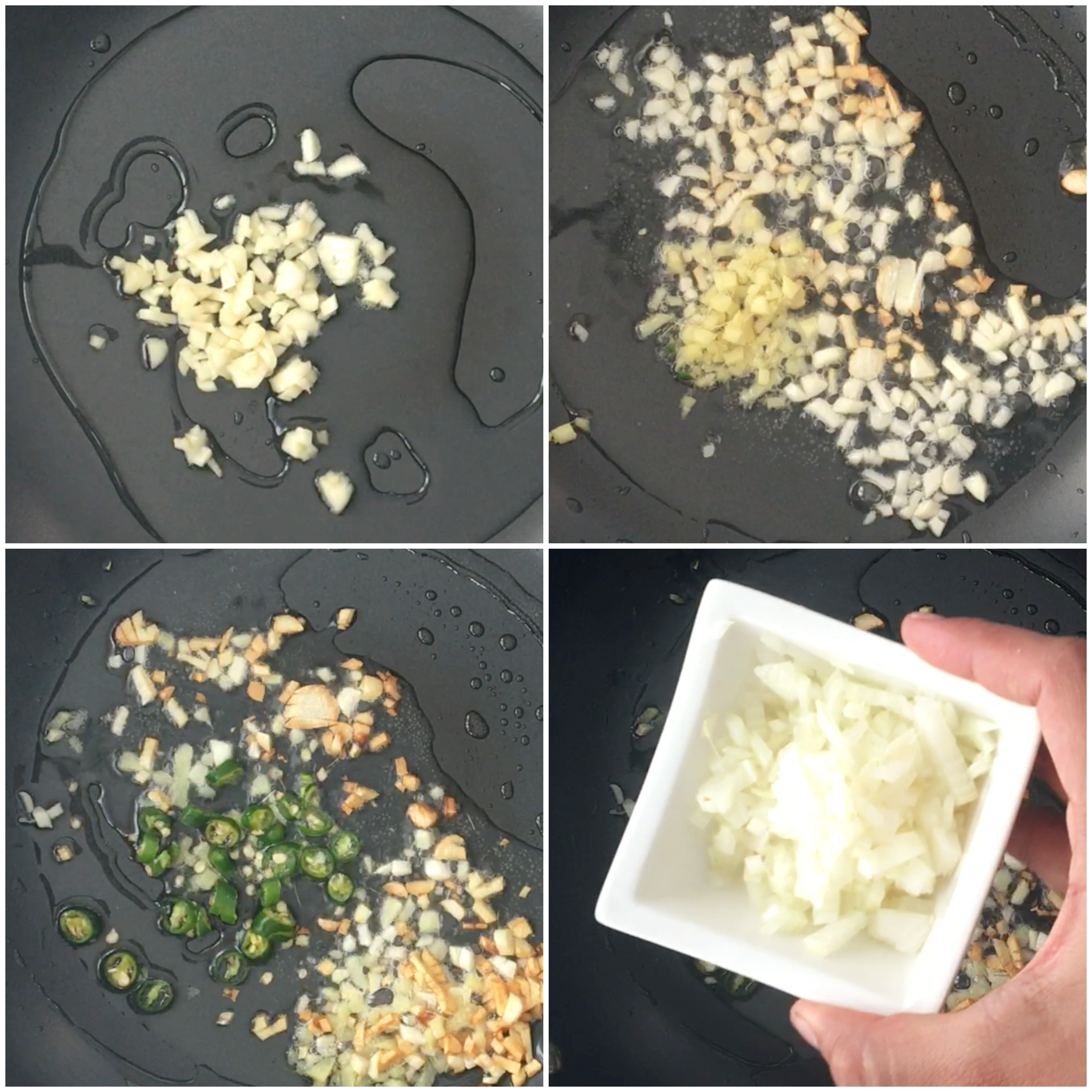 Now add 1/2 tsp white pepper powder, 1/2 tsp black pepper powder, 1 tsp chilli sauce(optional), 1 tbsp tomato sauce and 1 tbsp soy sauce (I have used dark soy sauce for colour, you can use light soy sauce as well). Soy sauce has salt so adjust salt accordingly.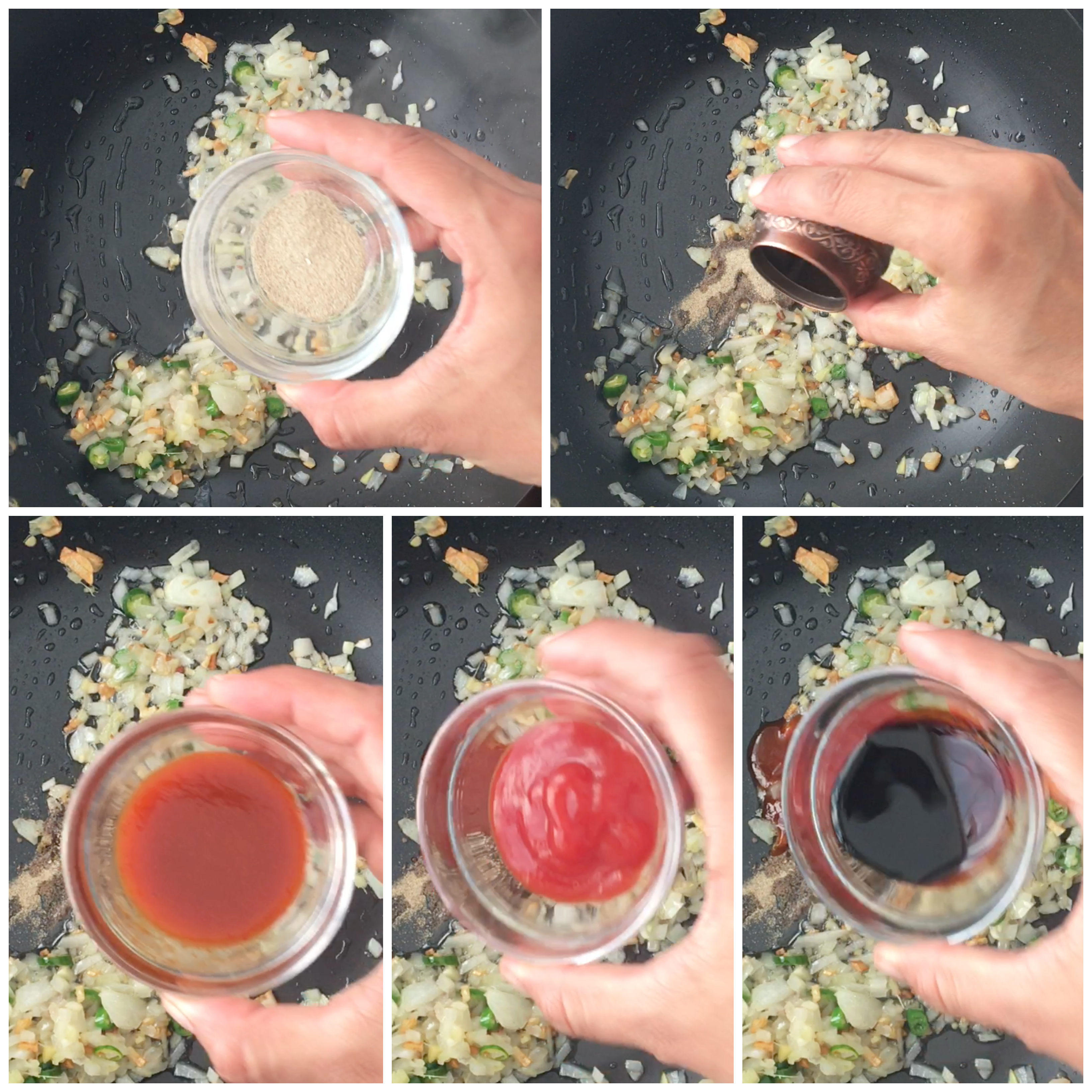 To make the gravy thick. Take some water in a bowl and add 1 tsp cornflour and mix together and add in the pan to make the gravy thick. It gives good texture and consistency for the gravy.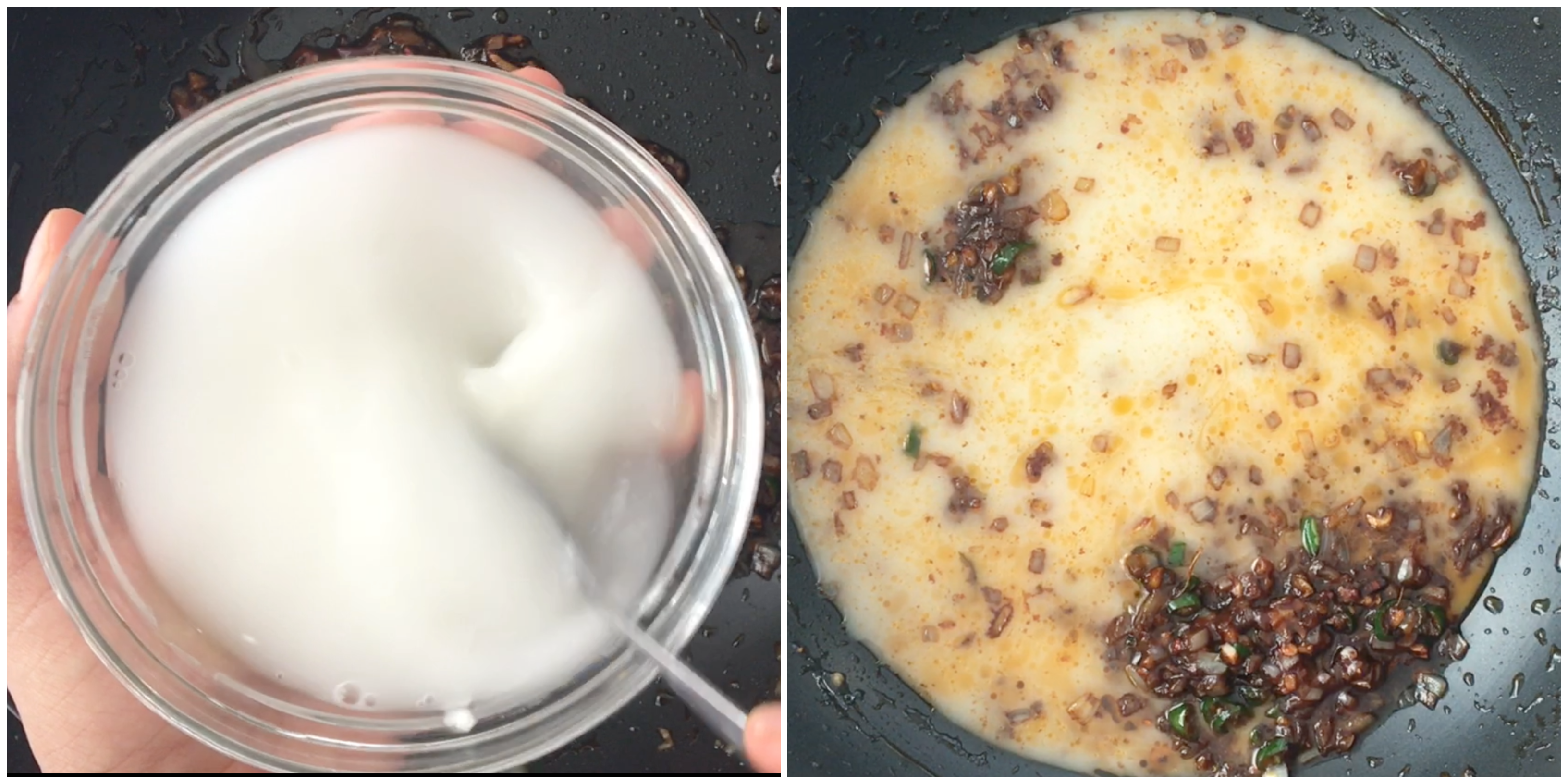 Mix everything well on low flame. Once cornflour is added, curry becomes thick very quickly so keep the fried eggs ready to add. You can adjust the gravy consistency by adding extra water. Check for salt at this stage and adjust.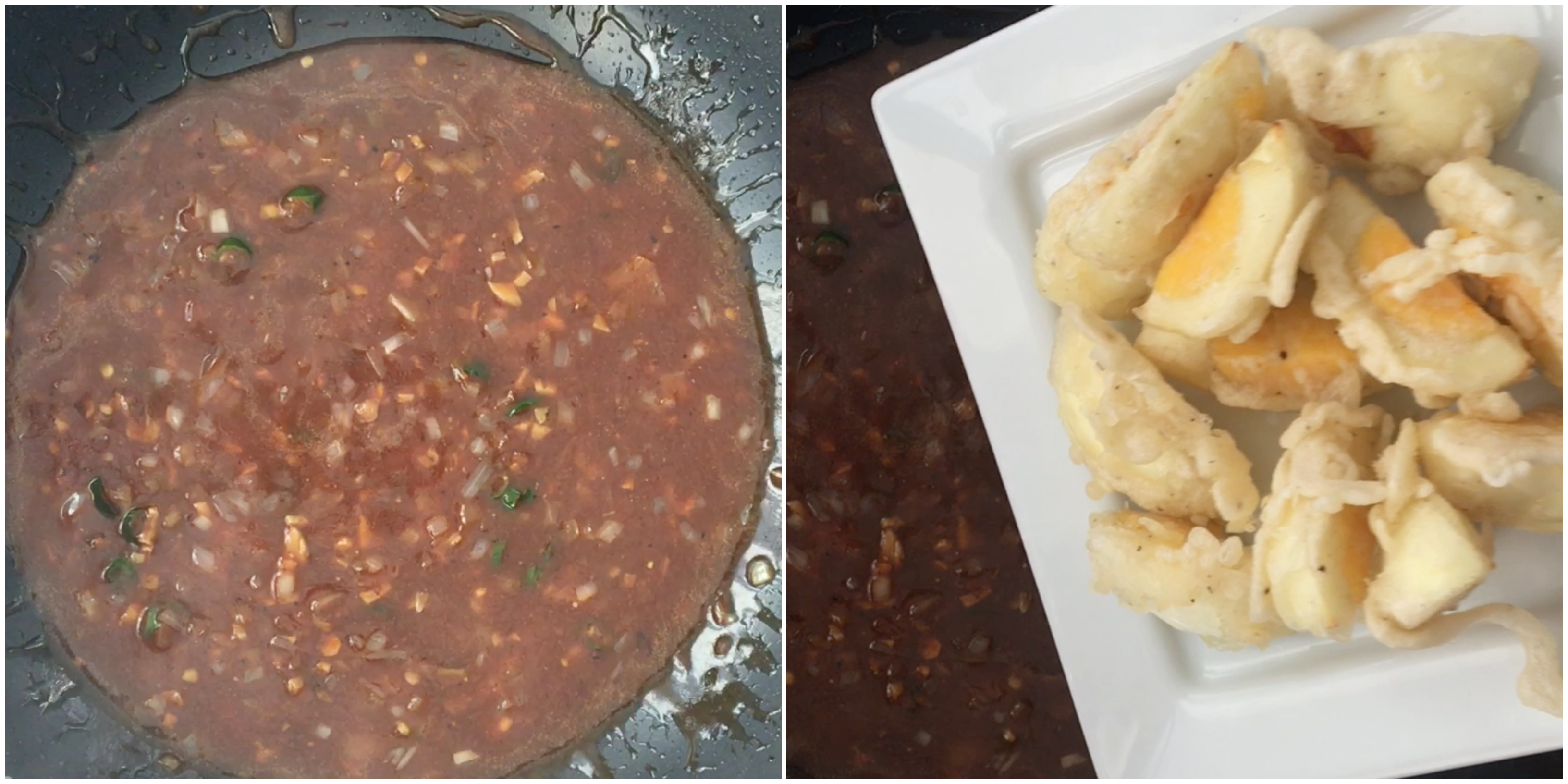 Mix well and finally add 2 tbsp spring onion and give it a toss.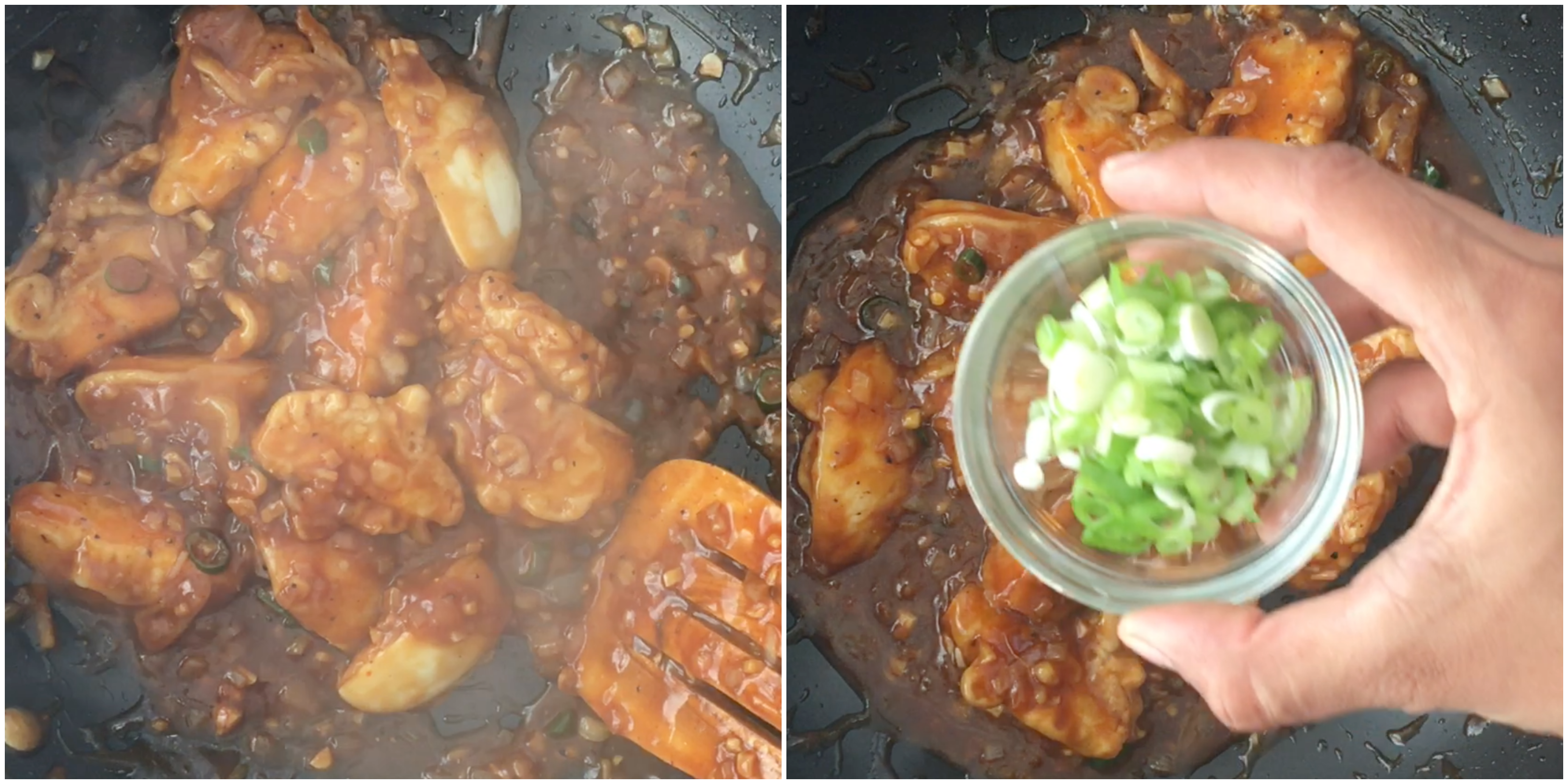 Egg Manchurian is ready to serve with Chapathi, Roti or Paratha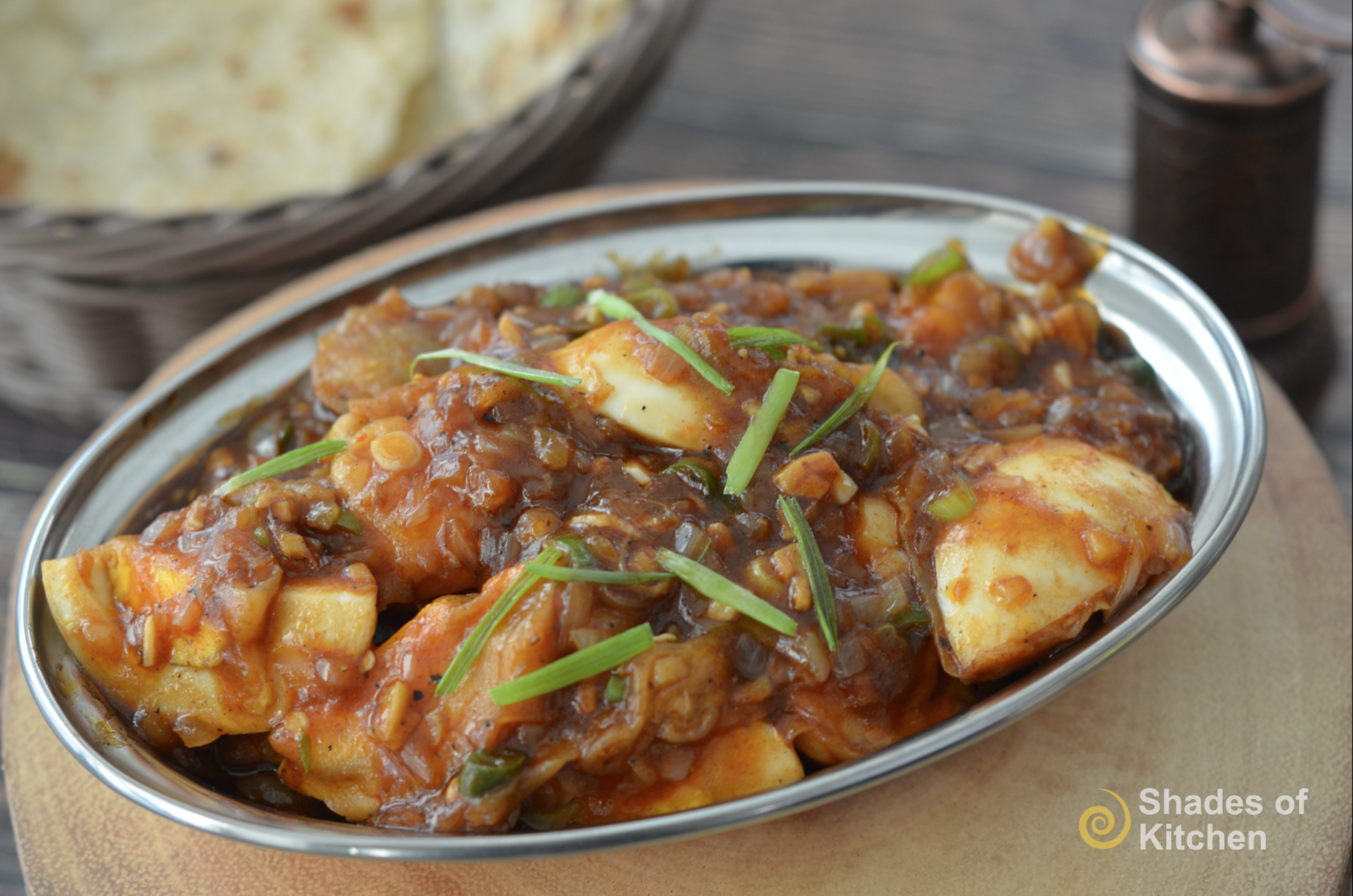 You may also like
Gobi Manchurian
Chicken Fried Rice
Veg Fried Rice
Dragon Chicken
Egg Manchurian | Indo-Chinese Egg Manchurian | (VIDEO)
Ingredients
Hard boiled eggs - 3 nos
All-purpose flour - 1/2 cup
Corn flour - 1/2 cup + 1 tsp for slurry
Pepper powder - 1 tbsp
Ginger - 1 tsp (finely chopped)
Garlic - 2 cloves (finely chopped)
Green chilli - 1 no (finely chopped)
Onion - 1 large (finely chopped)
White pepper - 1/2 tsp
Tomato sauce - 1 tbsp
Chilli sauce - 1 tsp
Soy sauce - 1 tbsp
Spring Onion - 2 tbsp
Oil
Salt - to taste
Method
Cut the 3 hard boiled eggs lengthwise.
Now in a bowl take 1/2 cup of all-purpose flour, 1/2 cup corn flour, salt to taste, 1/2 tsp pepper powder and mix well.
Add water and make it a thick batter.
Dip the egg in the batter and deep fry.
Take a frying pan and add some oil.
Add 2 cloves of finely chopped garlic and saute well, then add finely chopped ginger and 1 number of finely chopped green chilli.
Then add onion and saute well for a minute.
Now add 1/2 tsp white pepper, 1/2 tsp black pepper, 1 tsp chilli sauce, 1 tbsp tomato sauce, 1 tbsp soy sauce and mix well.
Now take 1 cup of water and 1 tsp corn flour, mix well and add it to the mixture.
Add a little salt and mix well till the gravy thickens.
Now add the deep-fried eggs to it and mix well, add 2 tbsp of spring onion and mix well.
Egg manchurian is now ready to serve with chapati, roti or paratha.
Tips and Variations:

I have added dark soy sauce, but you can even use light soy sauce.
You can adjust the consistency by adding extra water. I have made semi gravy to serve with roti.
Adjust pepper powder according to your preference.
http://www.shadesofkitchen.com/egg-manchurian-indo-chinese-egg-manchurian-video/
Serve with Love