Everyone would have heard about the virus spreading fast and affecting many people's lives! To avoid and to stop the virus infecting people, everyone should consume immunity-boosting foods that keep people healthy.
Ginger is highly beneficial with its Vitamin C and other minerals like calcium, zinc, sodium, etc. Ginger is also known for treating morning sickness during pregnancy. Crystalised ginger is a very good remedy for nausea. Ginger tea can also be consumed to treat morning sickness or vomit, you can drink a cup of ginger tea in empty stomach to treat the sickness.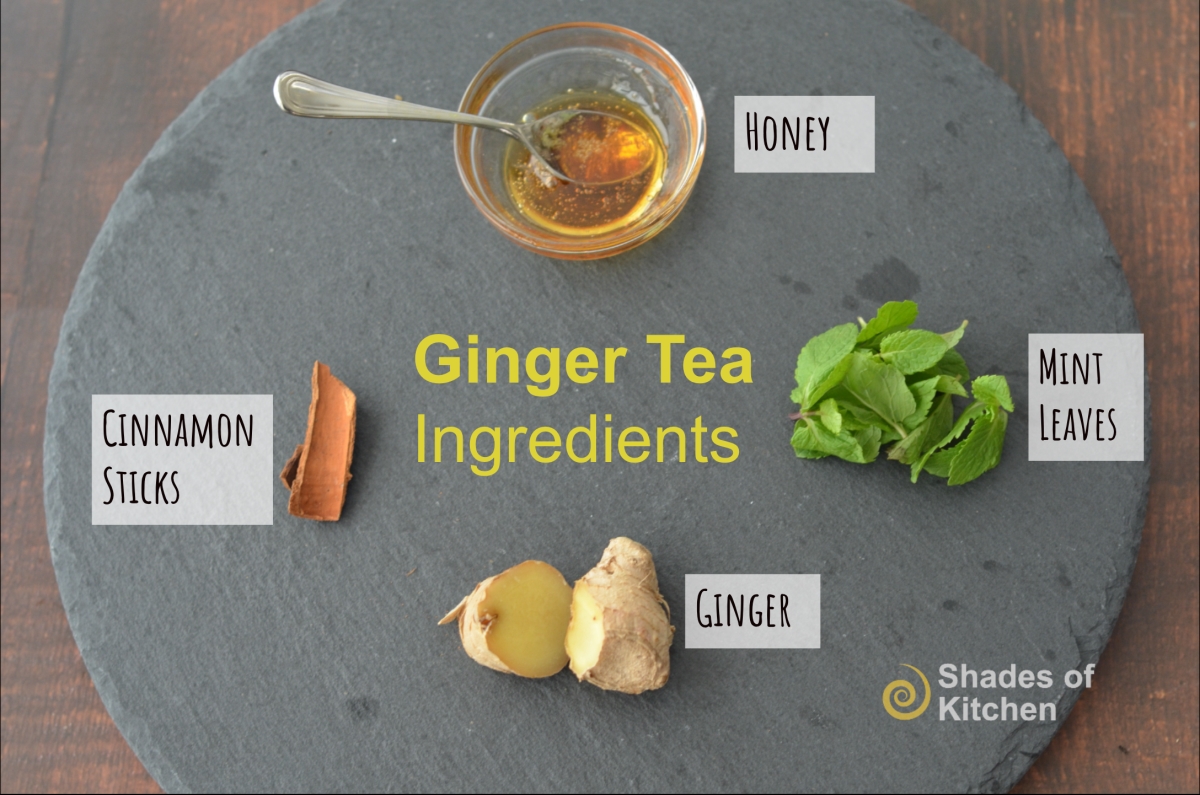 Ginger helps in improving our immunity. It also helps with digestion. Ginger has healing properties and calming properties which helps to lower our stress and tension.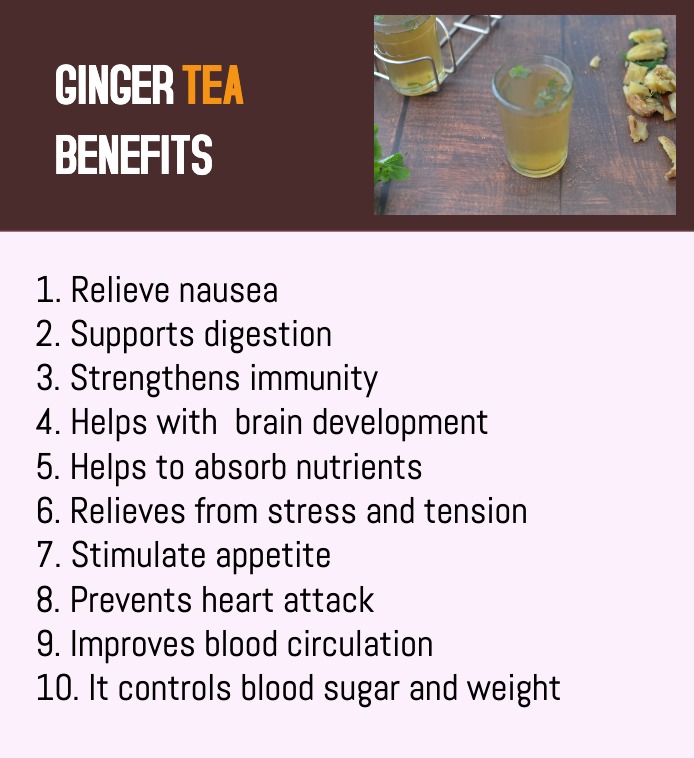 Check out the recipe video here:
Ginger Tea is very easy to make with fewer ingredients. Take two small pieces of ginger in the mortar and pestle (Don't bother to remove the skin since we are going to discard the skin later). I prefer adding more ginger but if you want to reduce, you can use only one ginger piece instead of 2. Coarsely pound the ginger. Pounding helps to get maximum benefits from ginger. You can even cut the ginger into small pieces but pounding is better.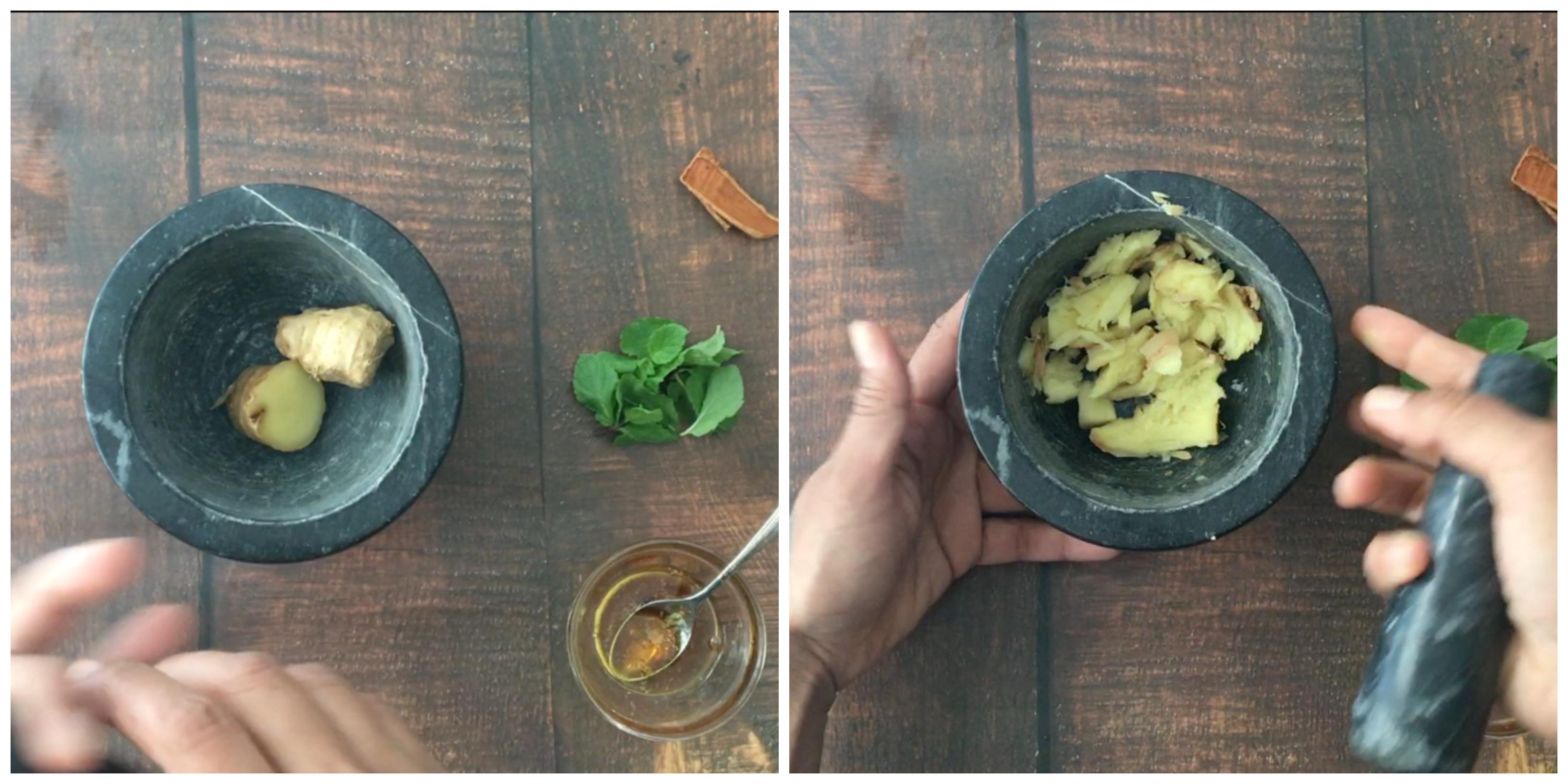 Now take 1 or 2 cups of water in a saucepan. If you prefer strong ginger tea then take 1 cup. We are going to boil the water along with few ingredients so take a little extra.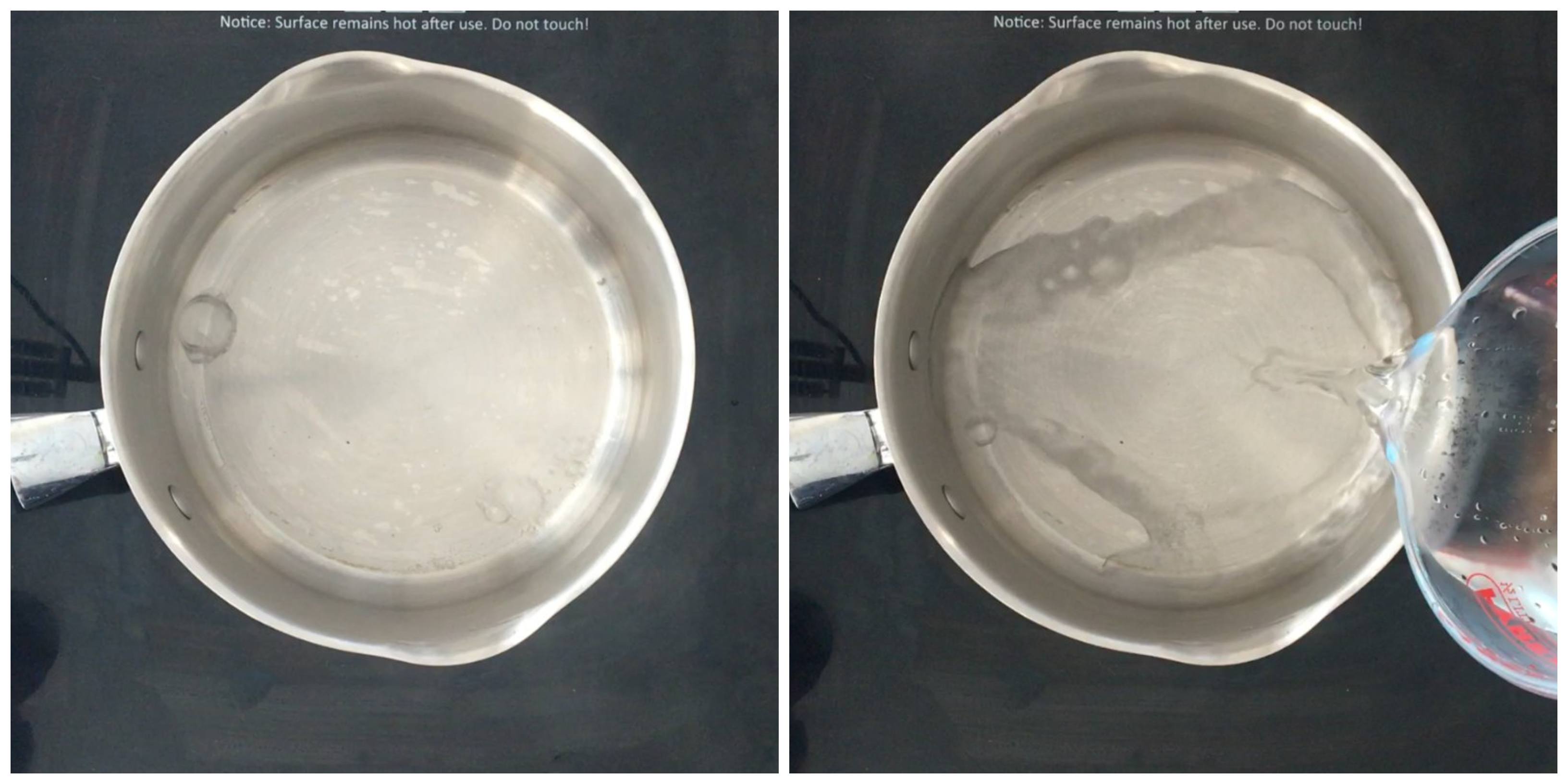 Once water is hot, add pounded ginger and cook on medium heat for 2 minutes or till it starts to boil. Water will change its colour once it starts to boil. It changes to yellow because of the ginger.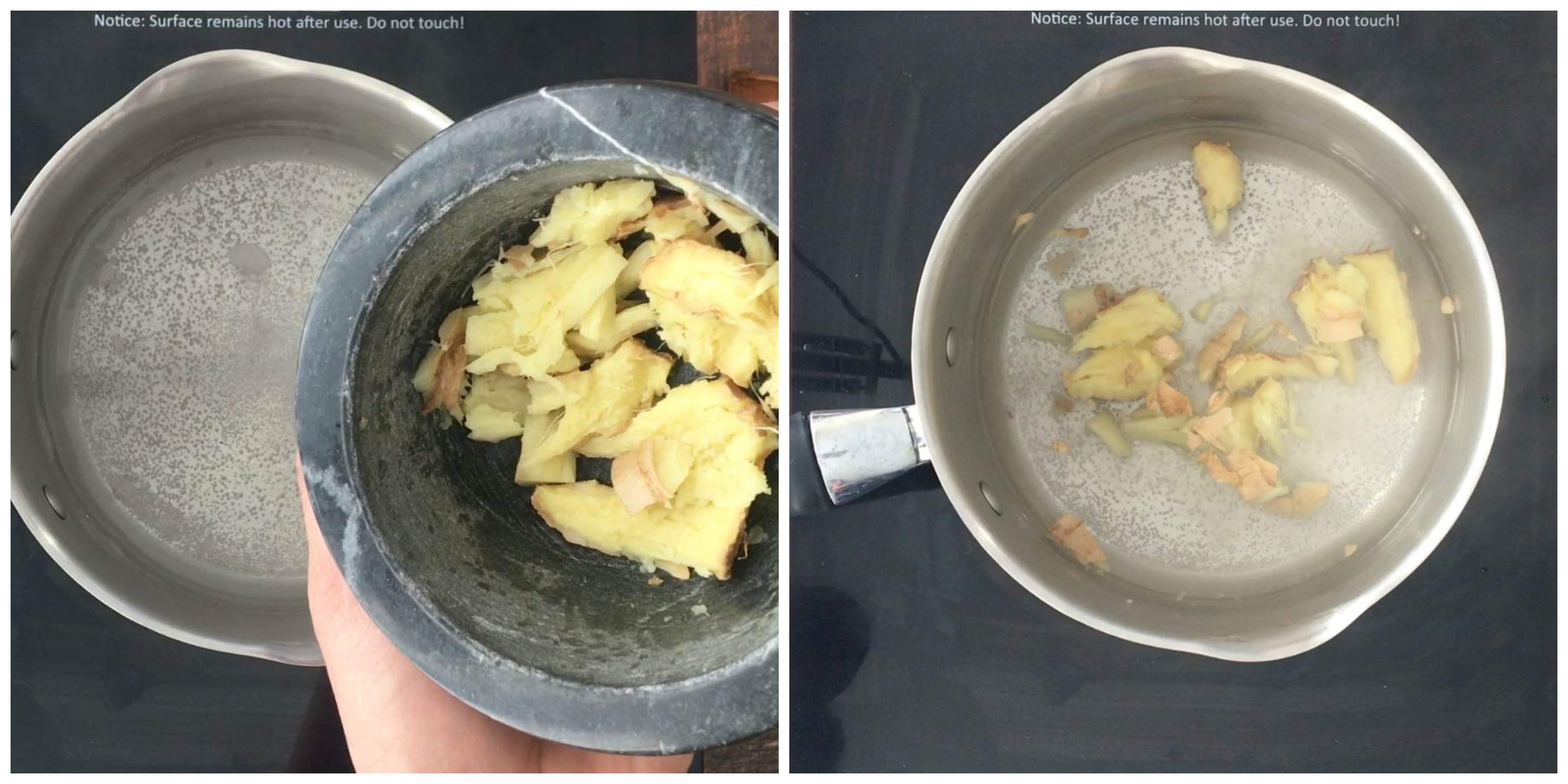 Then add 2 small pieces of cinnamon sticks. Cinnamon gives a good flavour to the tea. Allow the cinnamon to sit in the water for a few minutes while it's boiling. Cinnamon has many medicinal properties. It adds benefit to the tea.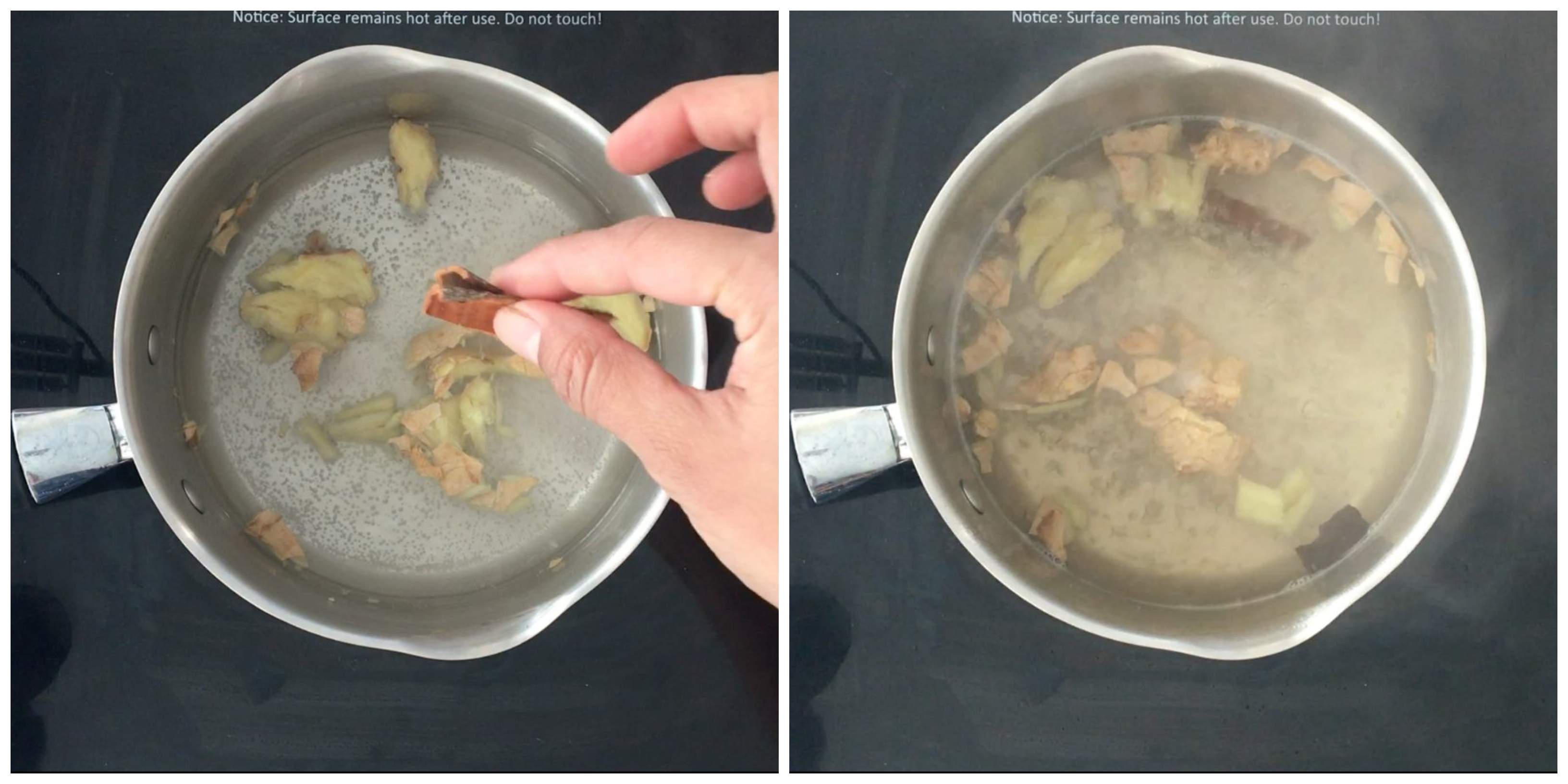 Once the water is boiled with ginger and cinnamon sticks, add a handful of mint leaves and switch off the flame. We don't want to cook once we add the mint leaves. Let it sit for 10 minutes in the water. You can see in the below second picture for how the leaves have changed after 10 minutes.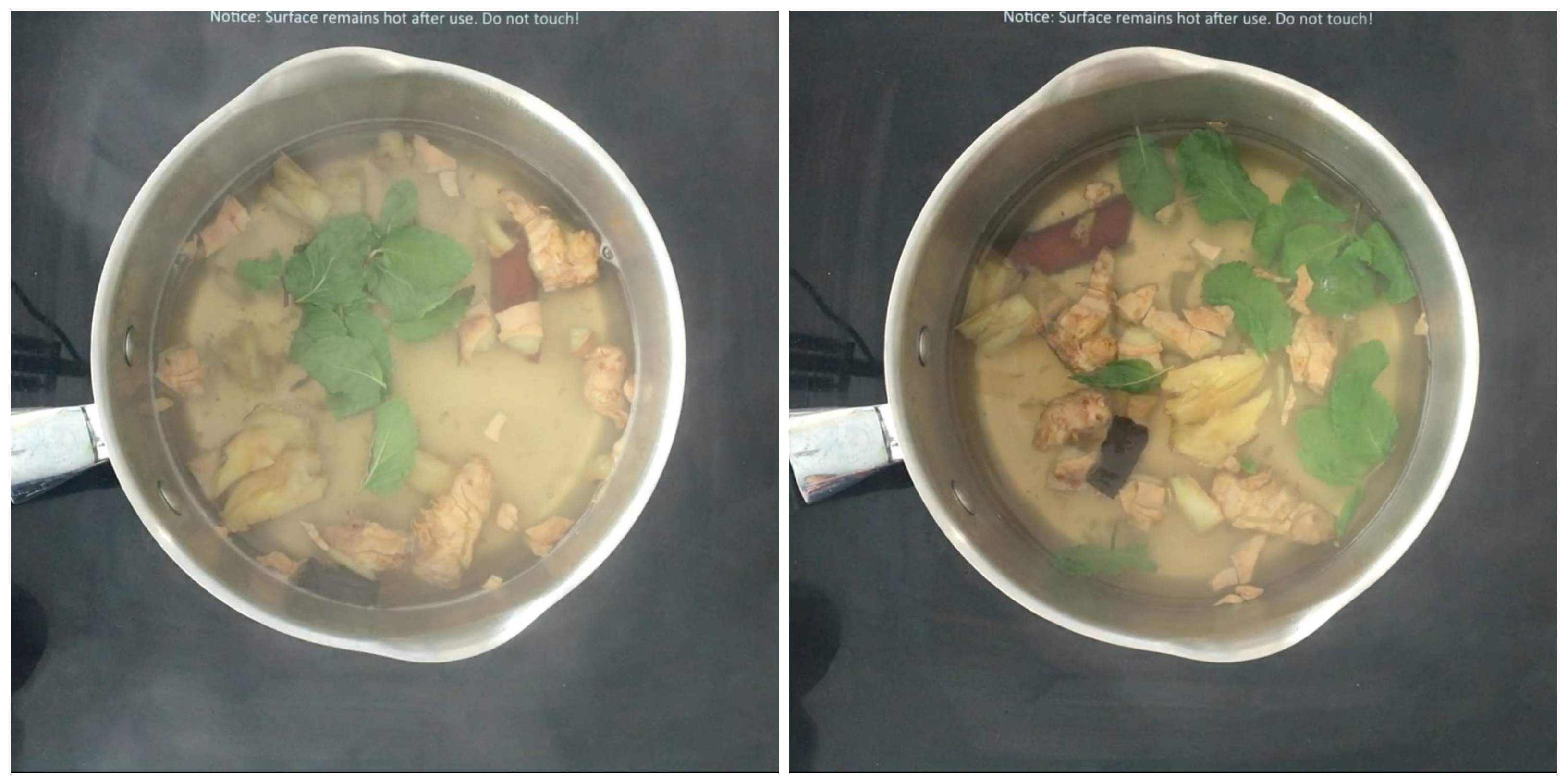 After 10 minutes, filter tea in a serving cup or glass and add 1 tsp of honey. I have added manuka honey for extra benefits but you can use any honey. Then sprinkle some mint leaves and serve hot to cure a cold, cough or just a replacement for regular tea.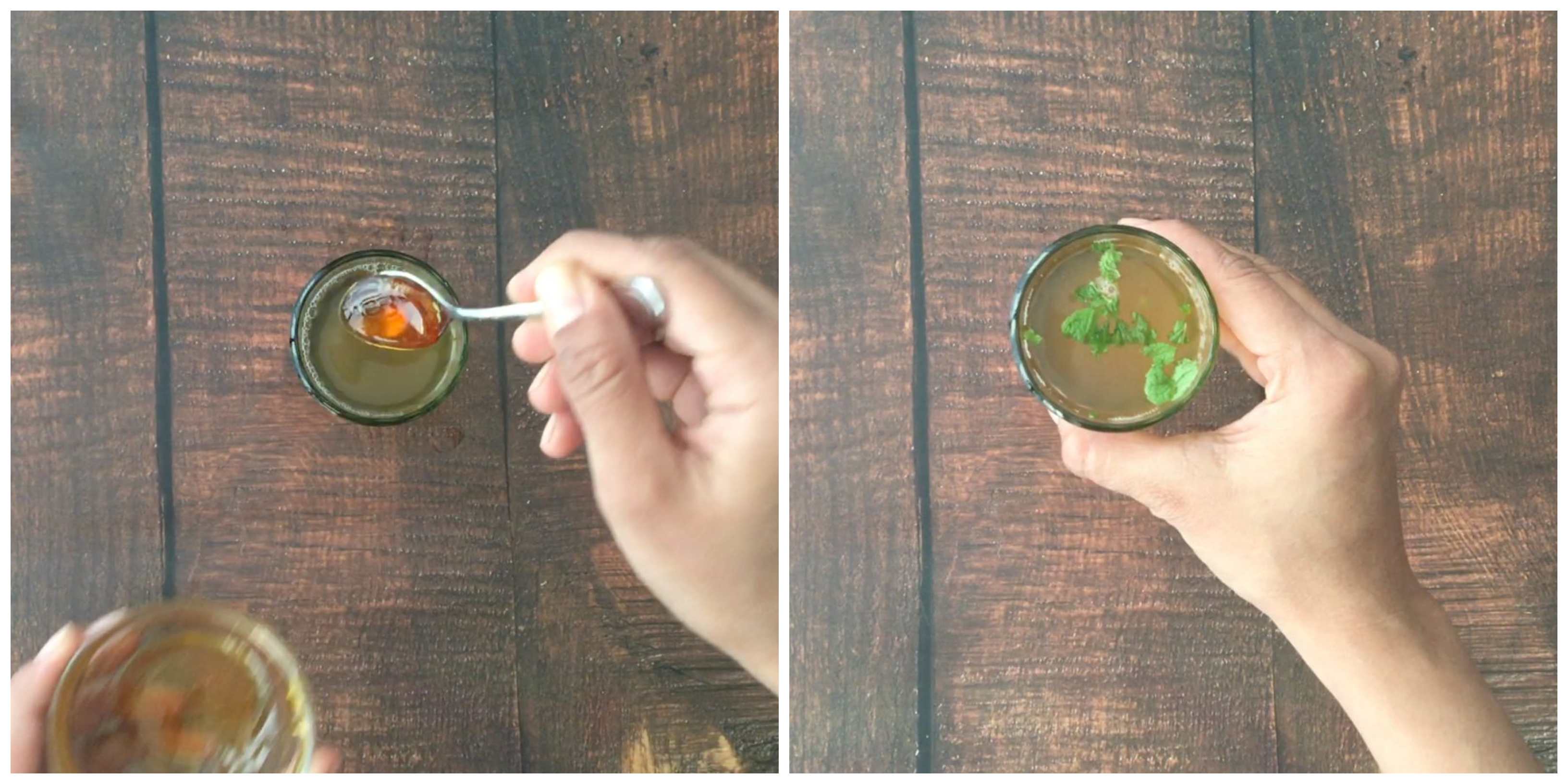 Healthy Ginger Tea is ready to serve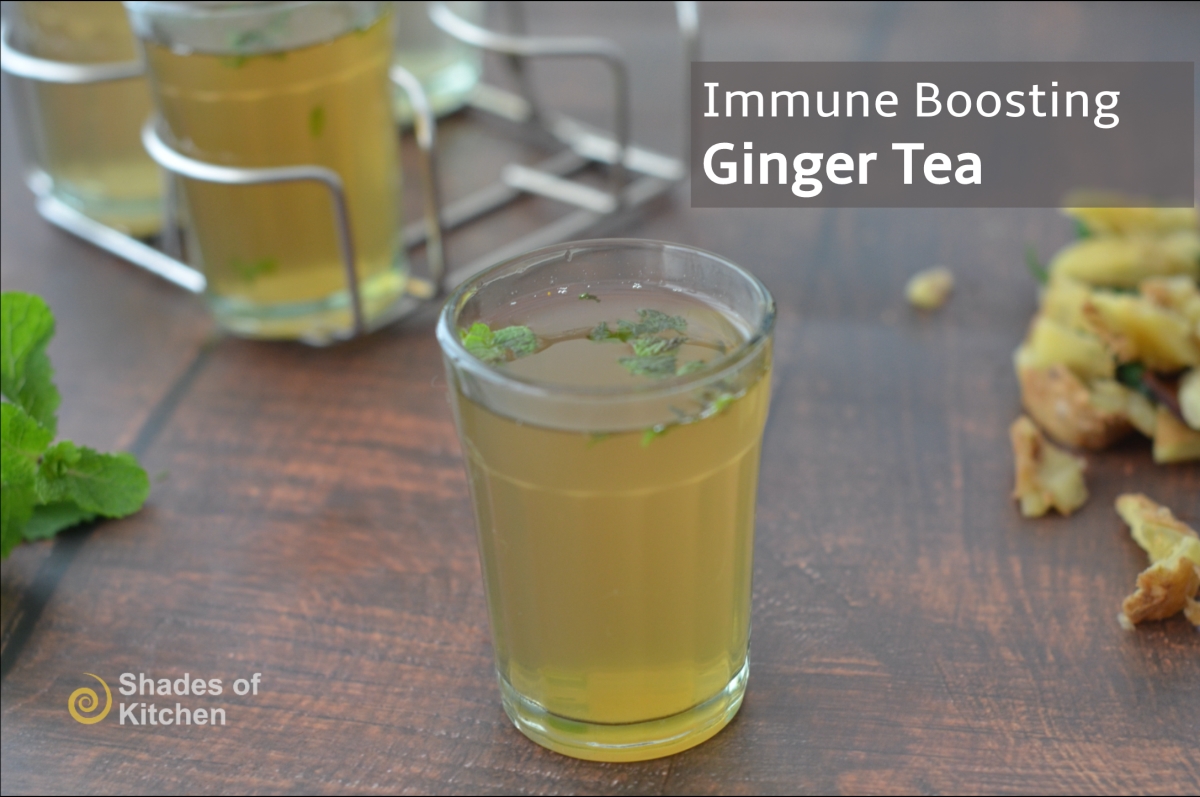 You may also like
Neer Mor
Masala Buttermilk/Masala Chaas
Detox Water/Slimming Water
Golden Milk
Ginger Tea | Immune Boosting Ginger Tea (VIDEO)
Ingredients
Ginger - 2 small pieces
Cinnamon - 2 small pieces
Mint, handful
Honey - 1 tsp
Water - 1 cup
Method
Pound 2 pieces of ginger roughly (In mortar and pestle)
In a pan take some water, once the water turns hot add the pounded ginger, 2 small pieces of cinnamon.
Now allow the water to boil for 2 to 3 minutes.
Switch off the flame once the colour of the water changes.
Now add 1 tbsp of mint leaves and allow the mint leaves to sit in the water for 8 to 10 minutes.
Then filter the water in a glass or cup.
Add 1 tsp of honey and mix well, sprinkle some mint leaves.
Ginger Tea is now ready to serve.
Tips and Variations:

You can use palm sugar in the place of honey. I have used Manuka honey, but you can use any honey. Try to use unprocessed honey for better results.
In Ginger Tea, I have added more ginger, but you can reduce or increase according to your preference.
http://www.shadesofkitchen.com/ginger-tea-immune-boosting-ginger-tea-video/
Serve with Love