Kollu Parupu is Horse Gram. It's famous in Kongu Samayal. We all know horse gram since it is the main food for horses, but many people don't know they are the best to treat cold. Horse gram is not famous in many places. I am from Coimbatore and this is popular in my city but people from other places never eat Horse gram.
I try to add Kollu in our diet especially during winter. Kollu Parupu with kollu rasam is heavenly delicious. I follow the same method to make green gram chutney. I don't like to have bits while eating Kollu or Green Gram, so I grind them after adding all the ingredients.
The important thing is Horse gram is very good if you want to lose weight in a healthy way. Horse gram needs a good clean before cooking. It has small stones and dust particle in this lentil. I always clean 2 to 3 times before I pressure cook them. This lentil takes time to cook so I soak them in lukewarm water for 20 minutes before I pressure cook. This need to cook for 4 to 5 whistles to get mashed lentil.
Horse Gram lentil needs proper storing after cooking. Store the left-over chutney in the fridge otherwise it will go waste. We have added shallots to get the authentic taste. Don't cook onions and coriander seeds for a long time because they give authentic taste to the dish. This reminds me of my childhood days where we eat this very often with hot steam rice with a spoonful of ghee.
Serving Ideas:
Kollu Parupu or Horse Gram Lentil can be served with white rice along with Kollu Rasam. I like to have some spicy sides and my favourite is Potato fry or Yam fry.
Here is the detailed recipe:
Take 300 gms of horse gram in a pressure cooker. I have washed and soaked the lentil for 20 minutes for fast cooking. Add 2 cups of water and cook for 4 to 5 whistles.
Note: Horse Gram takes a very long time to cook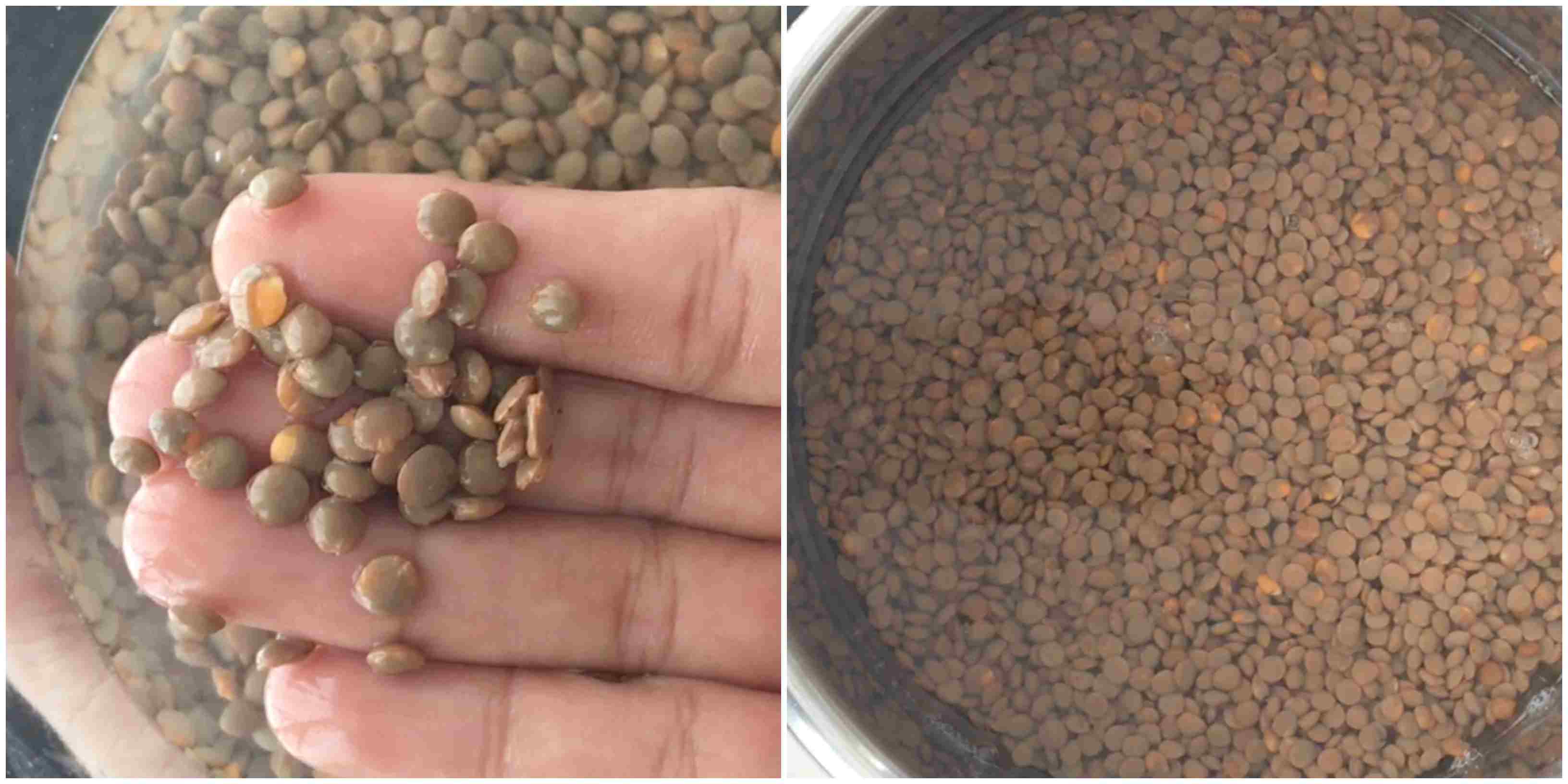 Add 1 tomato (make small slits on the top) and add along with the lentils.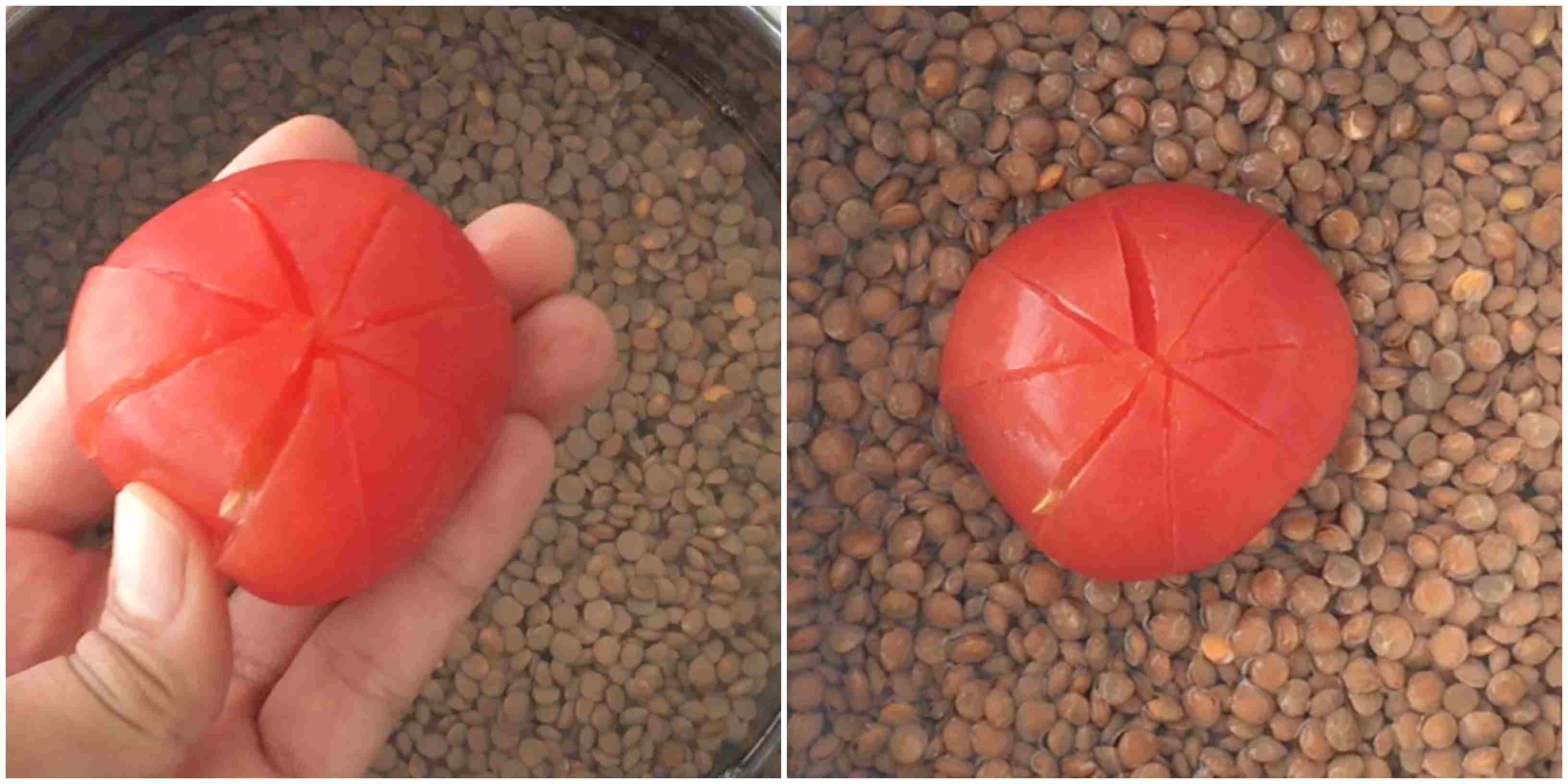 Add some salt to taste and 1 tsp turmeric.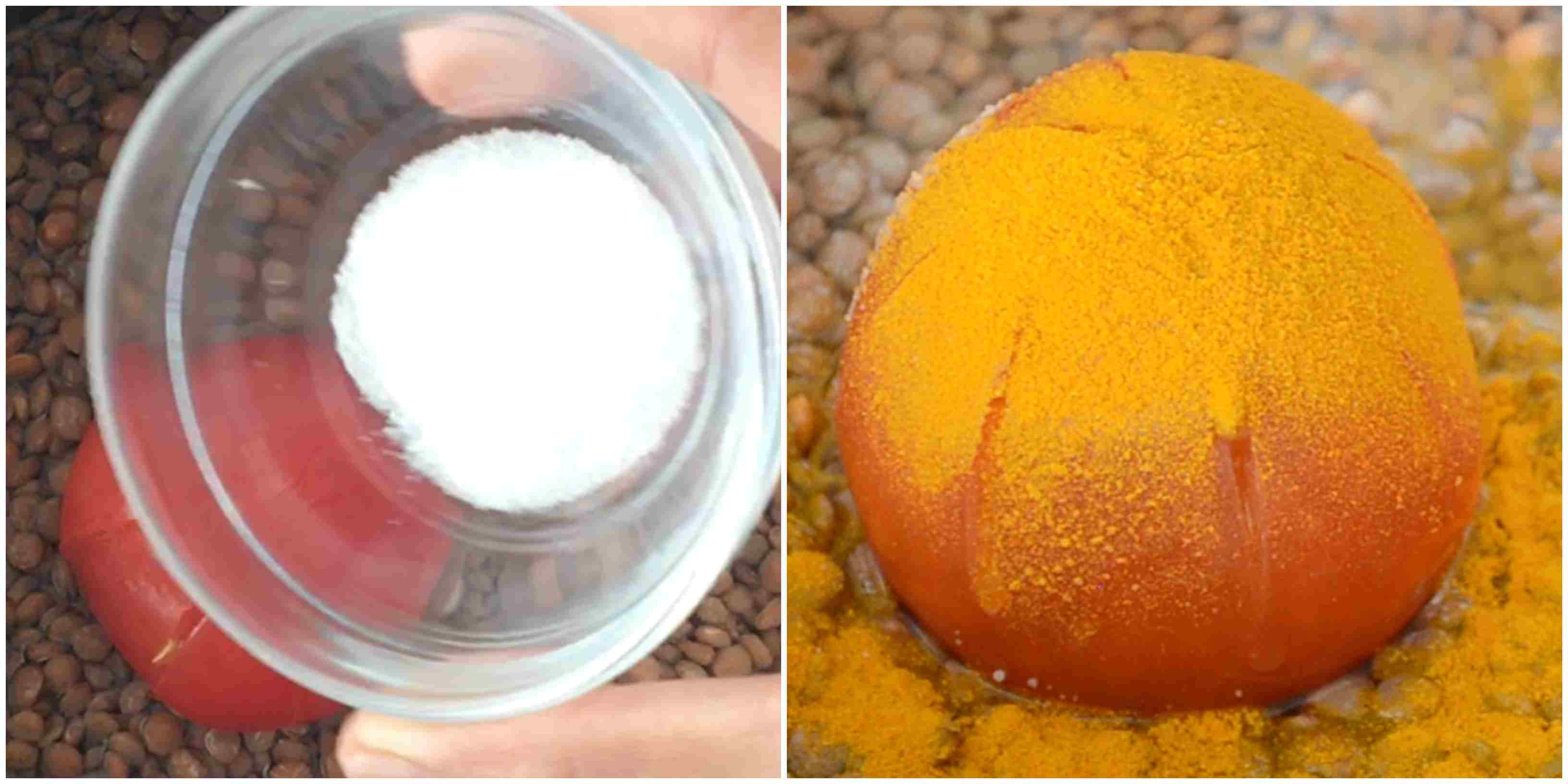 Add 1 tsp castor oil and cover and cook for 4 to 5 whistles.
Note: Adding castor oil helps in cooking. You can even add any normal cooking oil.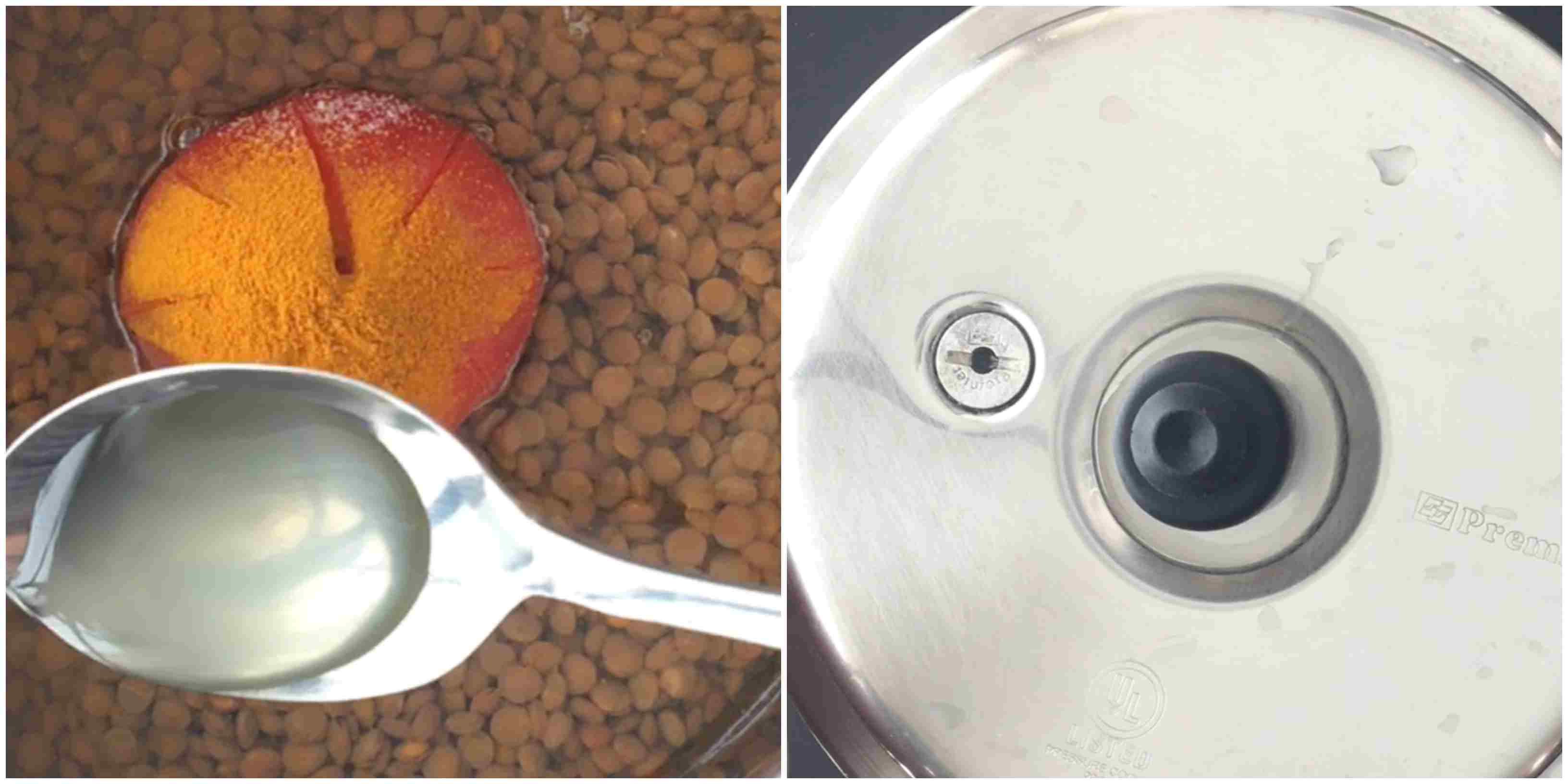 Once the pressure is released, open the pressure cooker. This is how the lentil looks after it is cooked. Mix well and set it aside.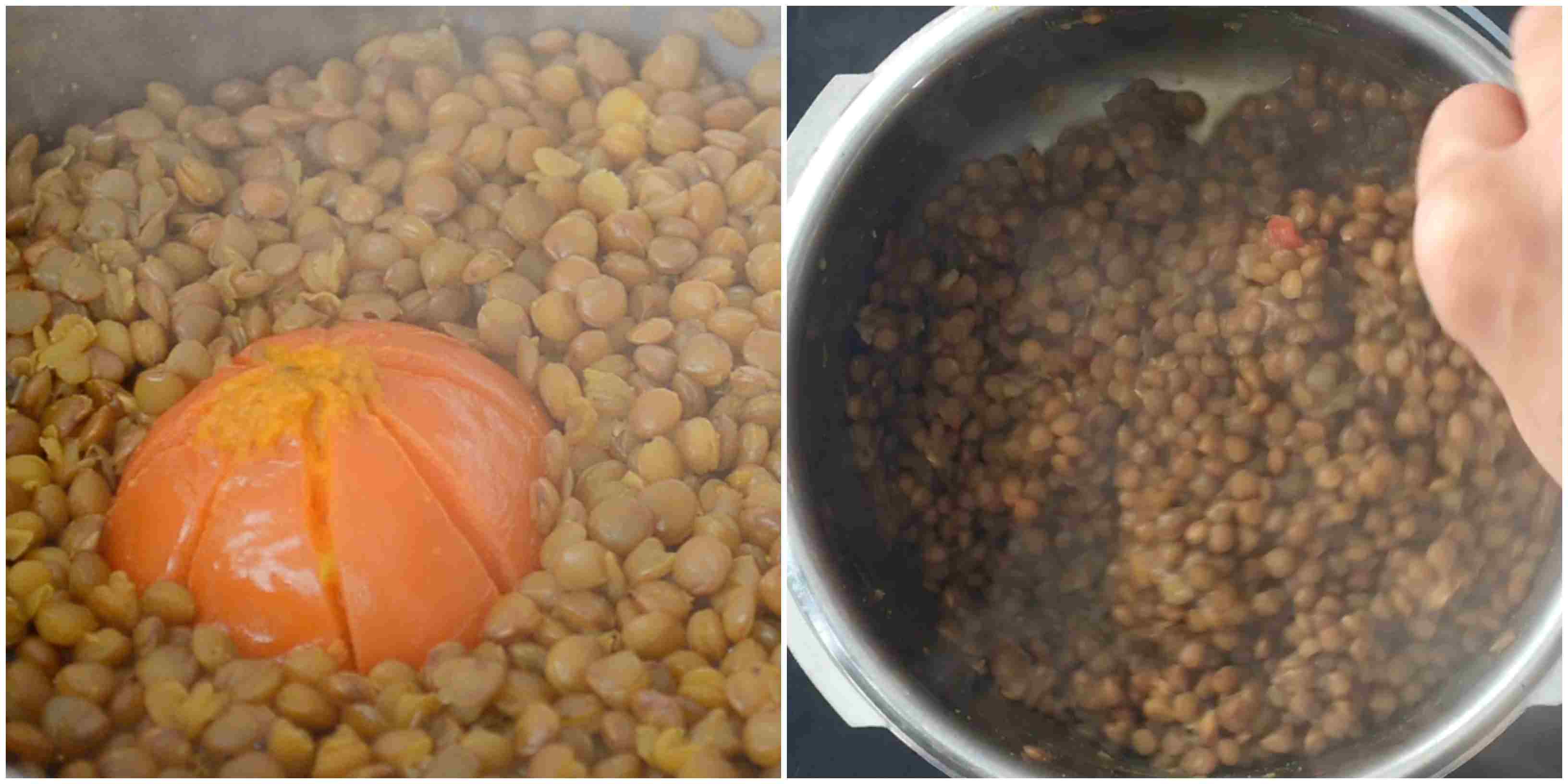 Take a pan, add 2 tbsp oil and add 4 to 5 shallots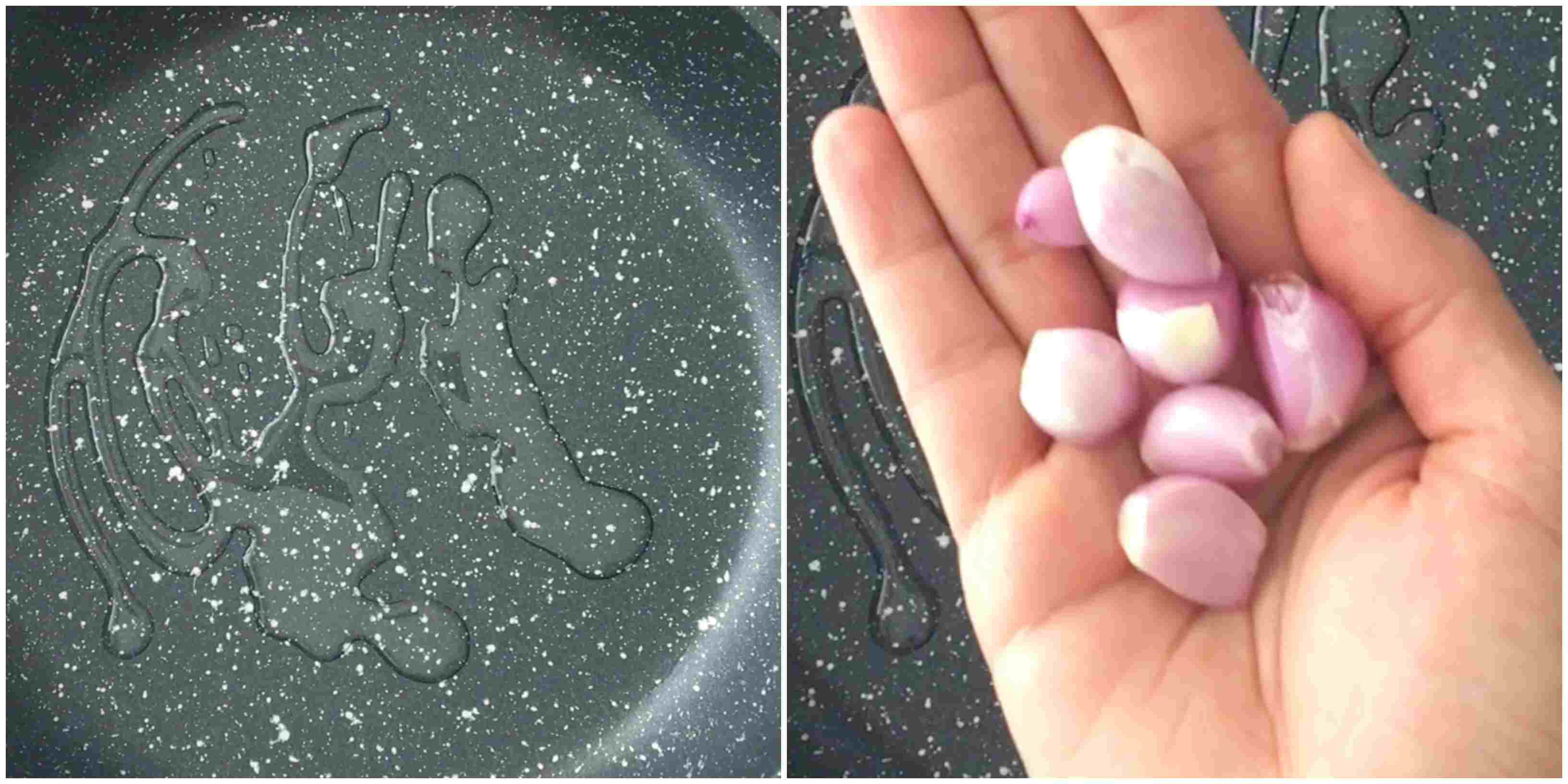 Then add 3 garlic cloves and 2 red chillies.
Note: You can add more red chillies if you prefer spicy masiyal.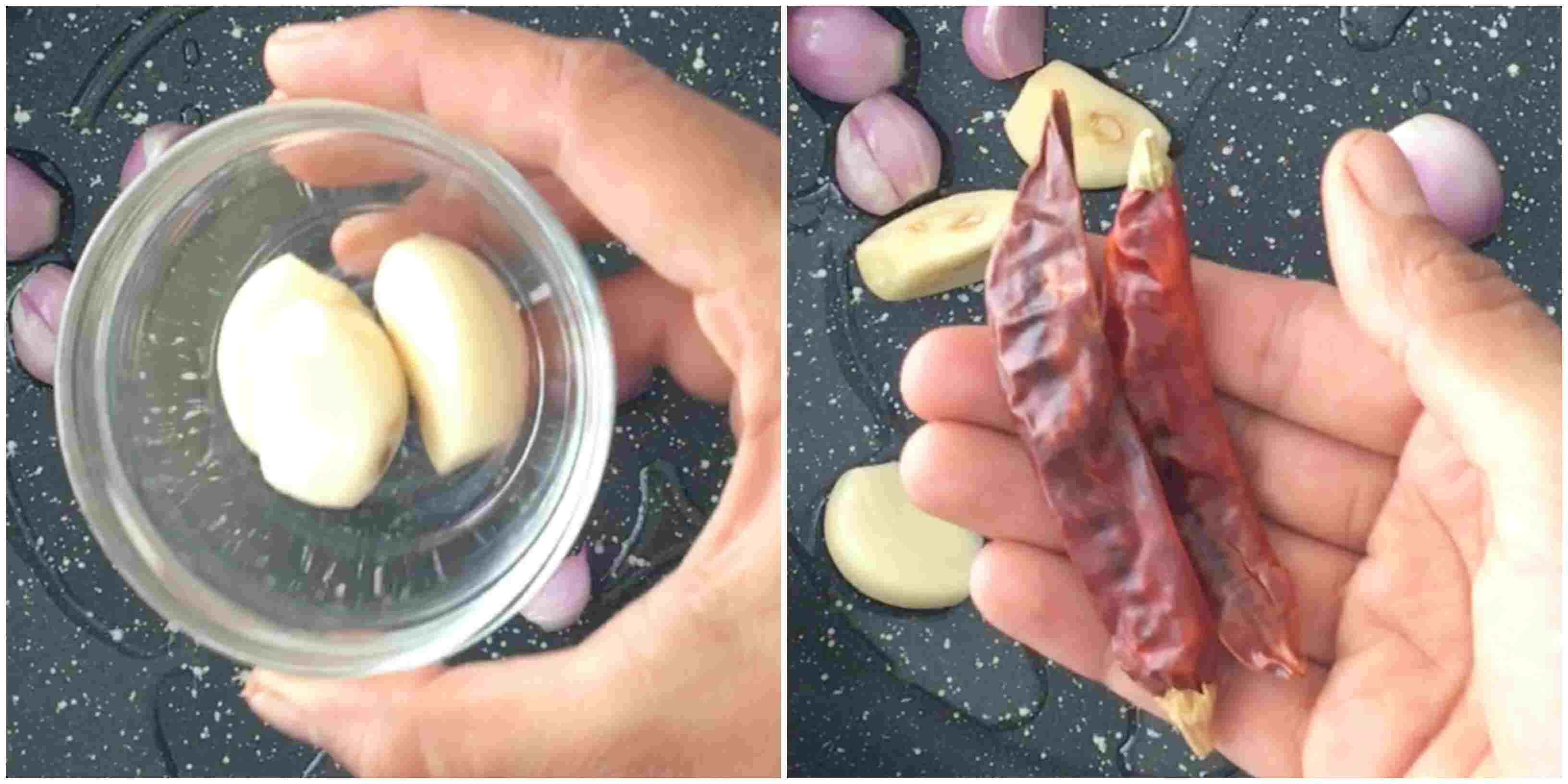 Then add 1 tsp cumin seeds and 1 tbsp coriander seeds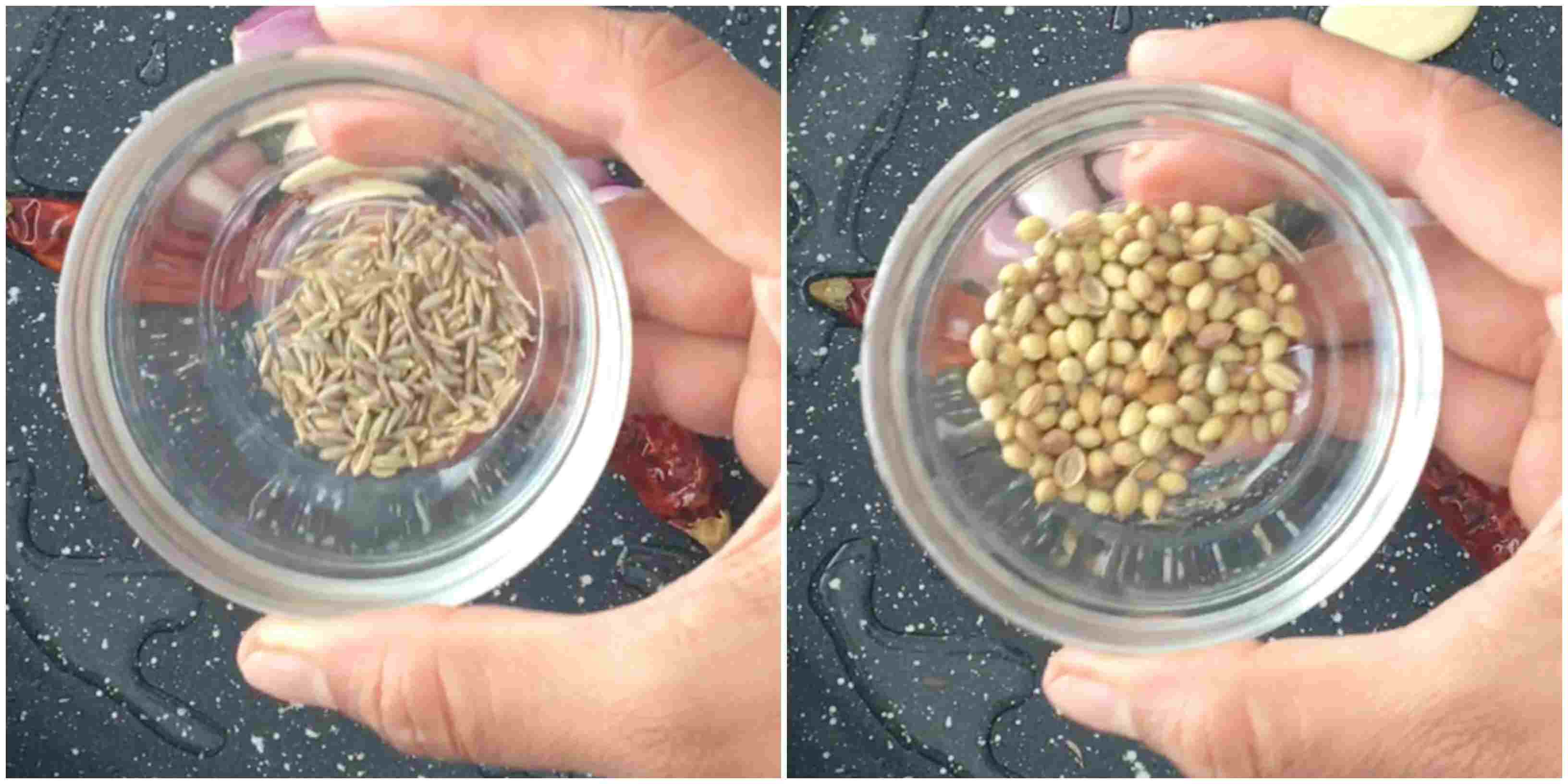 Now add 1 tsp peppercorns and mix well for few seconds. Don't cook for too long since we want to get the raw smell from onions and coriander seeds.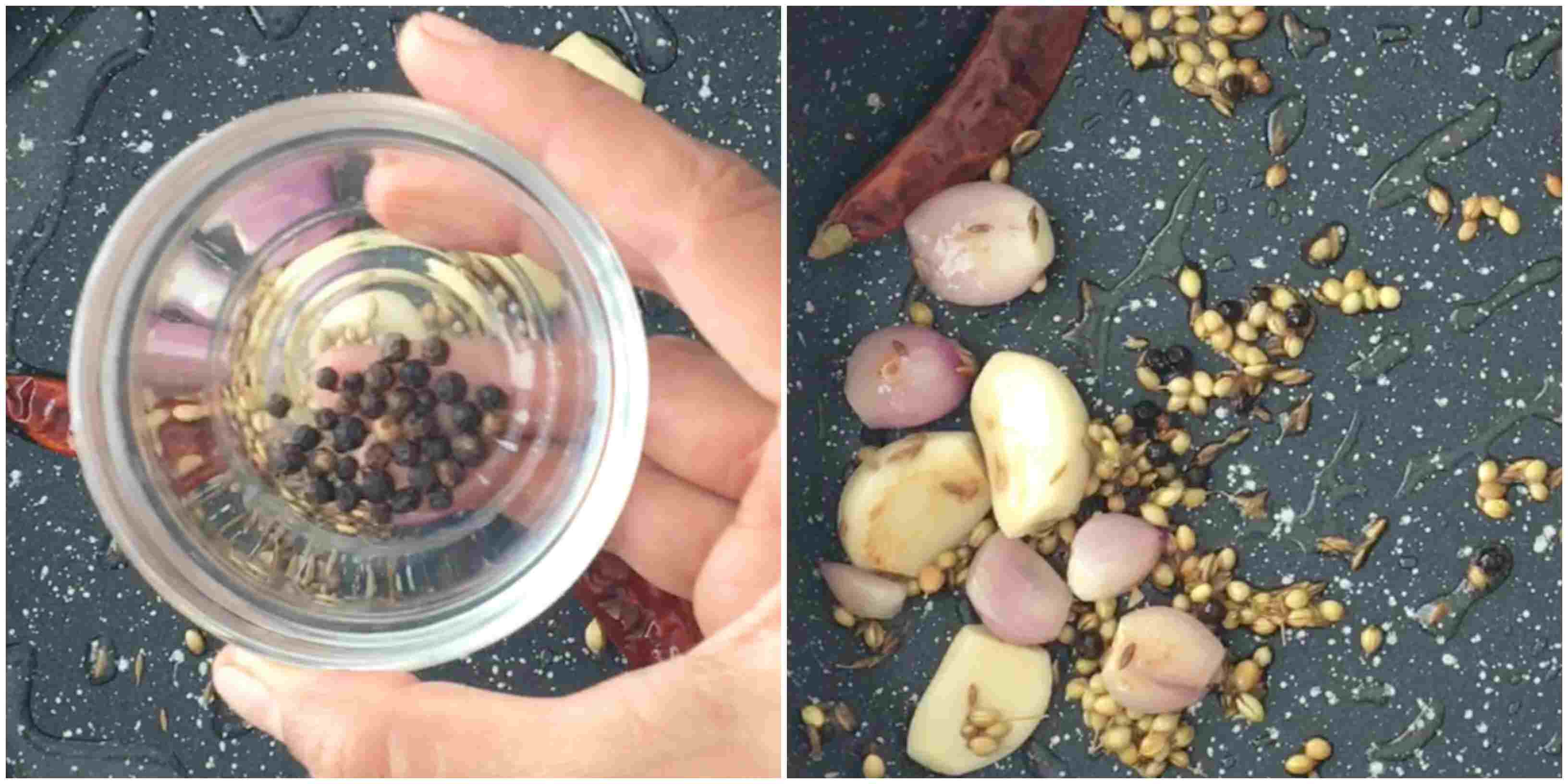 Add the fried ingredients along with the cooked lentil and add few curry leaves.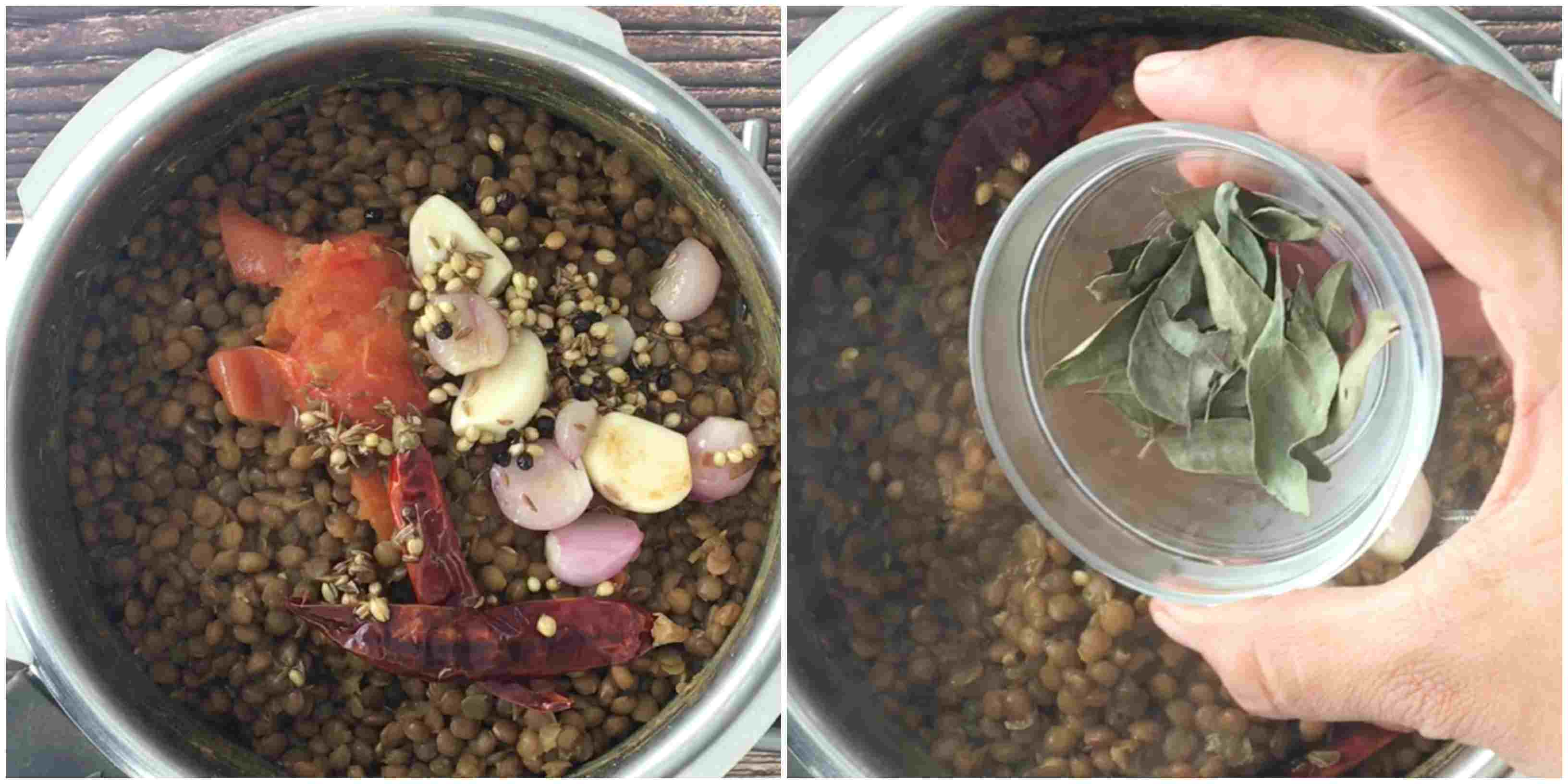 Now take everything in a blender and grind it to a smooth paste.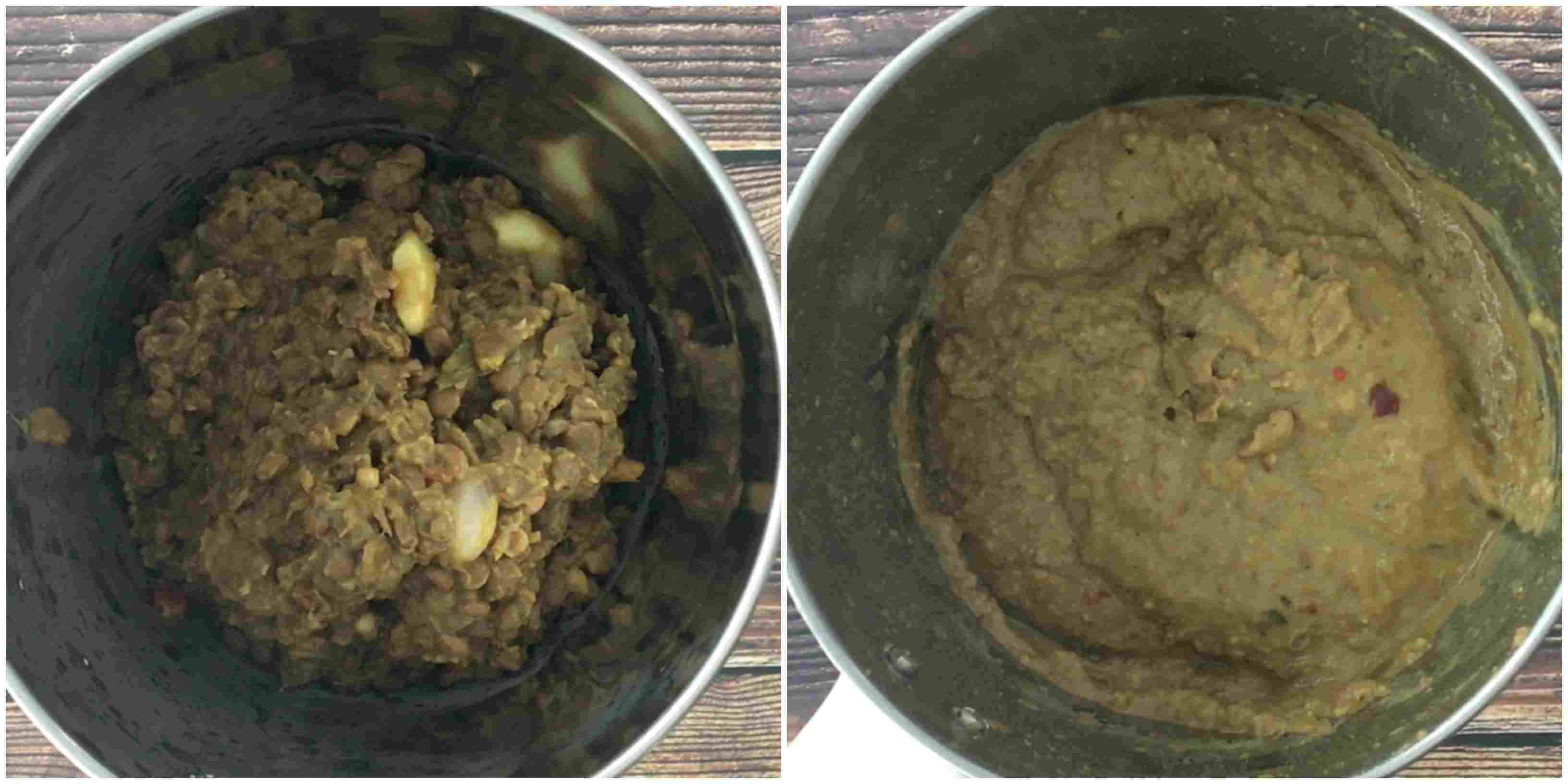 Horse Gram Masiyal/கொள்ளு பருப்பு மசியல் is ready to serve with rice and ghee.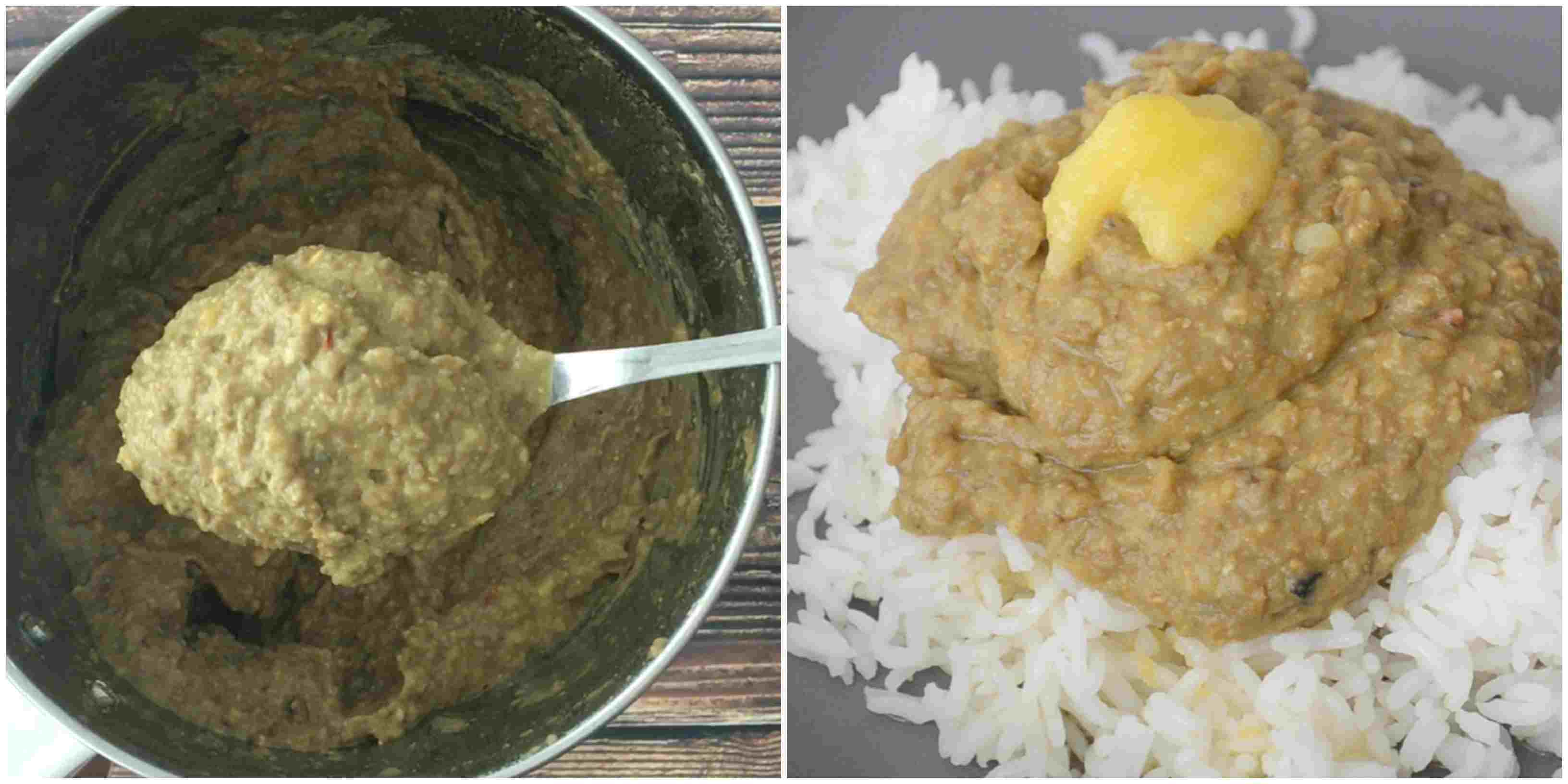 Kollu Parupu Masiyal is Ready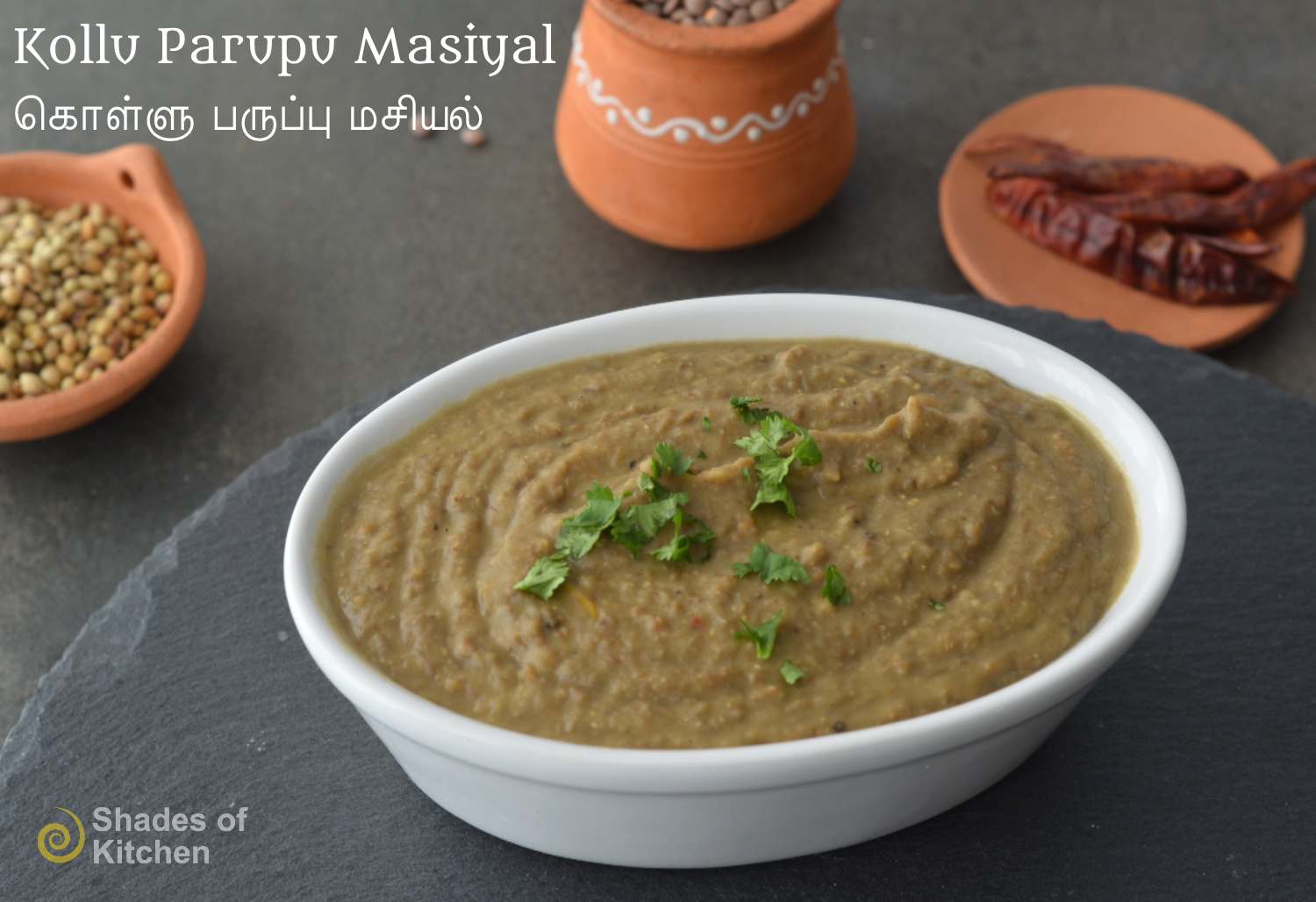 You may also like:
Vendakkai Sadham/Ladies Finger Rice
Bitter Gourd Chips/Karela Chips
Kurkuri Bhindi/Crispy Ladies Finger
Kollu Parupu Masiyal | கொள்ளு பருப்பு மசியல் | Horse Gram Masiyal
Horse gram is cooked with shallots and other flavourful ingredients to make this authentic Horse Gram Lentil Curry which is serve with hot rice with a dollop of ghee
Ingredients
Horse Gram/Kollu Parupu – 300 gms
Shallots – 4 to 5 numbers
Tomato – 1 number
Garlic Cloves – 3 numbers
Peppercorns – ½ tsp
Coriander Seeds – 1 tbsp
Cumin Seeds – 1 tsp
Red Chillies – 2 numbers (adjust to your preference)
Curry Leaves – 1 Sprig
Turmeric – 1 tsp
Salt, to taste
Oil
Method
Step 1:

Take horse gram, slit tomato, turmeric and oil in the pressure cooker along with 1 cup water and cook for 5 to 6 whistles.
Step 2:

Heat 1 tbsp oil in a pan, add shallots, garlic cloves, peppercorns, cumin seeds, red chillies, coriander seeds, curry leaves. Fry for a minute. Don't cook for longer time. We want shallots and coriander seeds to remain half cook to get the authentic taste. Once cooked allow the mixture to cool down completely.
Step 3:

Take the pressure-cooked horse gram and add the fried ingredients in the blender and grind it to a smooth paste.
Notes
1. Allow Horse Gram to soak in water for 20 minutes before cooking. Horse Gram takes longer time to cook so soaking process helps us to get soft and mushy horse gram.
2. You don't have to cut the tomatoes while adding with horse gram. Just make some slits.
3. Don't fry the ingredients for longer time since we want the raw smell from onions and coriander seeds.
4. Try to add shallots to get nice flavour but you can always replace shallots with big onions. If you are using big onion take ½ onion.
5. Do not add much water while grinding. Blend them to a smooth paste.
6. You can use the same method to make green gram chutney as well.
http://www.shadesofkitchen.com/kollu-parupu-masiyal/
Serve with Love